For more than a century, MacDowell, a leading artist residency program in the United States, has given artists, including fellows James Baldwin, Aaron Copland, and Willa Cather, a place to be inspired and create work with the potential to move society forward.
New Hampshire PBS – one of the Granite State's most trusted storytellers –joins MacDowell in celebrating the resilience of artists in the wake of the COVID-19 pandemic with a half-hour program chronicling the presentation of the 2021 Edward MacDowell Medal. This year's recipient, Rosanne Cash, is the first female composer to receive the honor. The ceremony takes place on the 450-acre artist sanctuary in Peterborough, NH  and includes a performance of Cash's music by the beloved singer/songwriter Emmylou Harris.
Watch the NHPBS broadcast of ROSANNE CASH AT MACDOWELL, August 8th at 7:30pm on New Hampshire PBS and on the NHPBS Facebook page.
---
MACDOWELL GIVEAWAY
We're celebrating the arts and our newest local production, ROSANNE CASH AT MACDOWELL. In anticipation of the broadcast we're putting your MacDowell knowledge to the test with three fun quizzes!
WHAT PRIZE COULD YOU WIN?
The winner will enjoy this set of six books  - five books from MacDowell and one book from NHPBS TV personality and host of Windows to the Wild, Willem Lange, along with other NHPBS trinkets.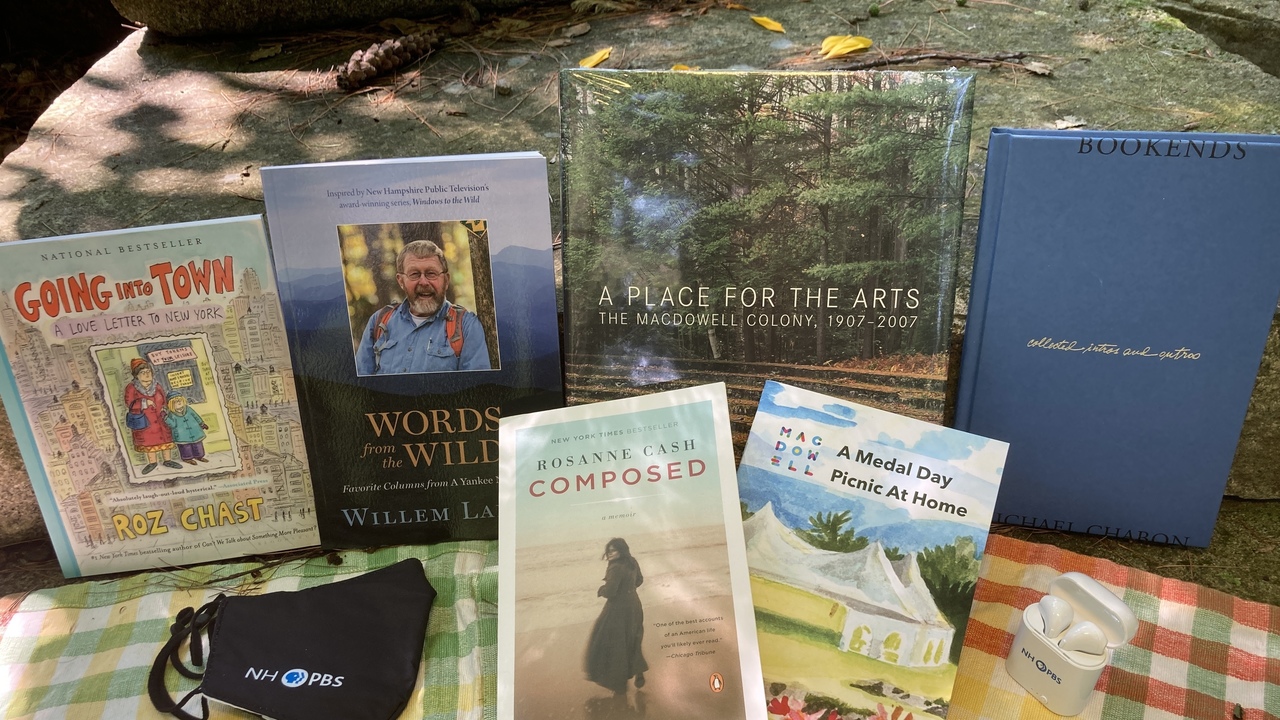 Willem Lange has been exploring the wilds and waters (and skies) of New England for more than sixty years. Words from the Wild is a collection of essays highlights his adventures on the New Hampshire PBS show Windows to the Wild.MacDowell

Fellow and former Chairman of the Board Michael Chabon released a special limited-edition hardcover of Bookends: Collected intros and outros in 2019. It's a brilliant, idiosyncratic collection of introductions and afterwords he's written, as well as some liner notes.

Rosanne Cash's 2010 best-selling memoir, Composed, was called "one of the best accounts of an American life you'll likely ever read" by The Chicago Tribune.

Going Into Town is New Yorker cartoonist Roz Chast's funny and wonderfully illustrated 2019 love letter to New York, written from the point of view, she says in the introduction, as a mother's observations and advice for a daughter preparing to move to the city for college.

A Place for the Arts is a coffee table book of wonderful photography, history, and numerous essays by MacDowell Fellows published in 2006 as a celebration of the artist residency program on the occasion of its centennial in 2007.

This MacDowell recipe booklet, created by MacDowell staff, celebrates 2021 Edward MacDowell Medal winner Rosanne Cash. It features eight delicious dishes perfect for a summer picnic, including marinated grilled shrimp tikka and roasted trio of cherry tomato salsa. It features stories from the MacDowell kitchen, a tiki cocktail from a renowned bartender, and other odes to summertime at MacDowell, including found poetry, recipe illustrations, and beautiful watercolor landscapes.
Winners of the MacDowell drawing will be on Monday, August 16th at noon on the NHPBS Facebook page. Check out contest rules.
---
Support for Rosanne Cash at MacDowell is provided by Boston Private, an SVB Company, Welch and Forbes, LLC, Northeast Delta Dental, Franklin Pierce University, McLane Middleton, Melanson, Monadnock Paper Mills, Inc, RiverMead, Upton & Hatfield, LLP and CGI Business Solutions
---
Photos from Production
---
Watch Online
61st Edward MacDowell Medalist Rosanne Cash talks about the importance of the arts.