Looking For Teams!
IS YOUR SCHOOL READY FOR THE CHALLENGE?
GRANITE STATE CHALLENGE is looking for high school teams to participate in one of the longest-running high school quiz shows on TV! 
REGISTER YOUR TEAM NOW FOR THE GRANITE STATE CHALLENGE SUPER SATURDAY QUALIFYING EVENT SATURDAY, NOVEMBER 18, 2023 AT PLYMOUTH REGIONAL HIGH SCHOOL
GRANITE STATE CHALLENGE offers the best and brightest young minds in New Hampshire the chance to test their mettle against their peers from other schools! 
FIELD A TEAM
Teams of up to six players (from grades 9 - 12) will take a written test as a team to qualify for one of the 16 places in this season's matches. The 14 top-scoring teams will advance to the on-air game. Four additional participating teams will be randomly selected to play in two non-televised wild card games at NHPBS in Durham on Saturday, December 16, 2023. The two winning teams will move on to play in the televised games.
CLICK HERE to see how you would have fared on the 2022 qualifying test.
DEADLINE: Friday, November 3, 2023 
SCHOOLS THAT HAVE SIGNED UP AND ARE READY FOR THE CHALLENGE!
Academy for Science and Design
Belmont High School
Bow High School
Bishop Guertin High School
Conval High School
Dover High School
Kingswood High School
Londonderry High School
Manchester Central High School
Mascoma Valley Regional High School
Merrimack High School
Nashua High North
Newfound Regional High School
Oyster River High School
Plymouth Regional High School
Portsmouth High School
Profile School
Raymond High School
Salem High School
Sanborn Regional High School
Trinity High School
Winnacunnet High School

Merrimack Snags It's 3rd Championship in Four Years
Merrimack High defeated Plymouth Regional High in the Granite State Challenge championship game. This is Merrimack's third title in four years. They were the champions in 2020 when they defeated Plymouth Regional and in 2021 when they bested Bow High. They fell to Portsmouth High in 2022. Plymouth was the champion in 2019 defeating Littleton High, in 2013 they bested Hanover High for the title, and in 1996 they defeated Woodsville High.  
Congratulations to all of the teams that participated in Granite State Challenge!  It was a great season.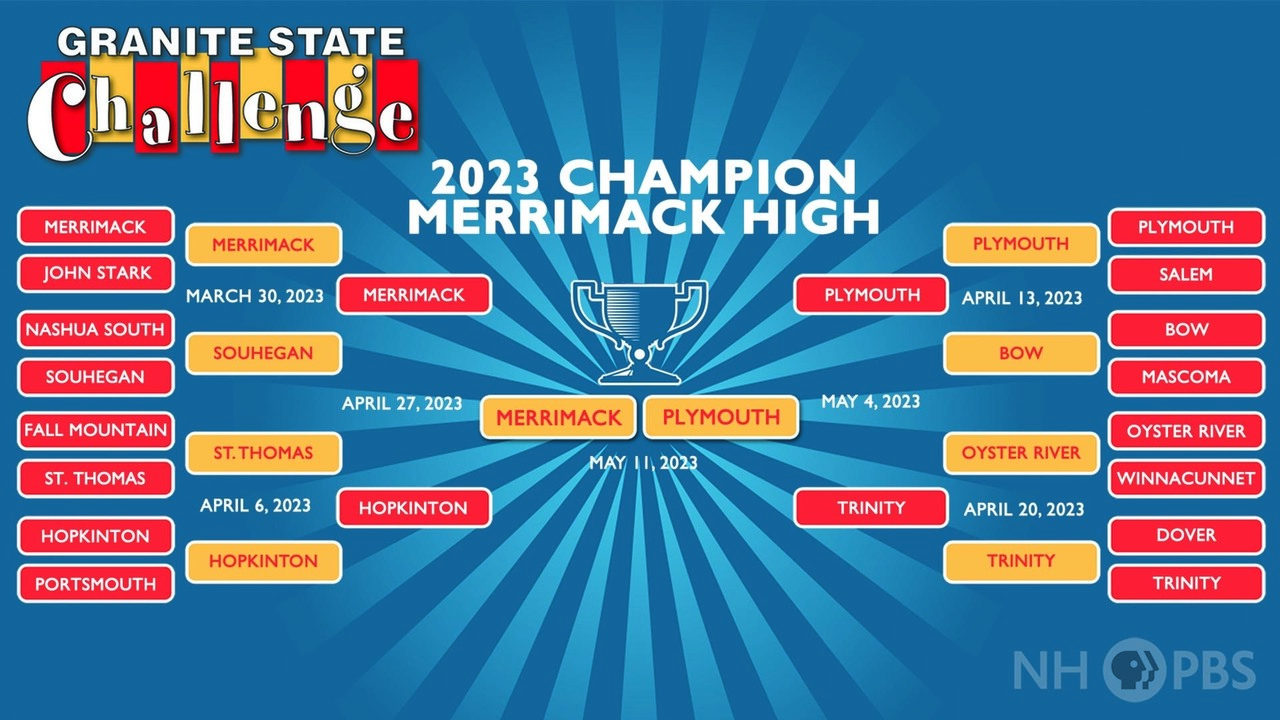 GRANITE STATE CHALLENGE Gives academically talented students a platform to receive the same accolades and recognition and generate school spirit in the same manner as their athletic peers. Develops and fosters good relations with participant schools, teachers, and students. Introduces viewers to a representative sample of the future of New Hampshire. Serves as an educational resource for schools, parents, and students.
Major funding provided by 

Additional funding is provided by NEA New Hampshire, Safety Insurance, The New Hampshire Lottery, D.F. Richard Energy, Cognia, and  HRCU.
---