PORTSMOUTH WINS IT ALL!!!
Congratulations to Portsmouth High on their championship win against a tough team from Merrimack High!
30 high school teams from across New Hampshire took a 100-question test to qualify for 16 spots on GRANITE STATE CHALLENGE.  The 14 top-scoring teams secured an automatic spot.  The two winning wildcard teams filled in the last two spots. You can take the test here and see how you might have fared!
2022 GRANITE STATE CHALLENGE TEAMS
Academy for Science and Design - Nashua
Bow High School
ConVal High School - Peterborough
Fall Mountain Regional High - Langdon
Hopkinton High
Littleton High School
Londonderry High School
Manchester Central High School
Merrimack High School*
Nashua South
Plymouth Regional High School
Portsmouth High School
Salem High School
Winnacunnet High School – North Hampton
Kingswood Regional High School - Wolfeboro
Mascoma Valley Regional High School - Canaan
*Defending Champ 
GRANITE STATE CHALLENGE Gives academically talented students a platform in which they can receive the same accolades and recognition and generate school spirit in the same manner as their athletic peers. Develops and fosters good relations with participant schools, teachers, and students. Introduces viewers to a representative sample of the future of New Hampshire. Serves as an educational resource for schools, parents, and students.
---
GRANITE STATE CHALLENGE 2022 Season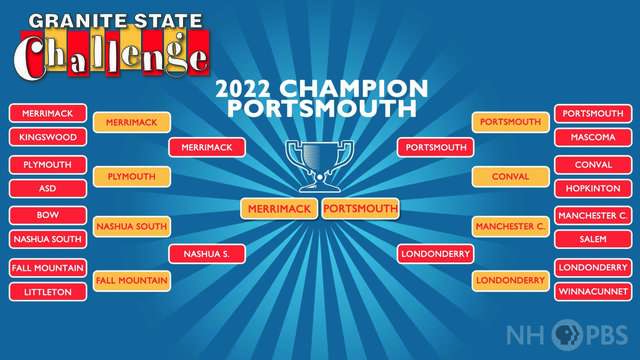 Major funding provided by 

Additional funding provided by NEA New Hampshire, Safety Insurance, New Hampshire Lottery, D.F. Richard, Cognia, and  HRCU.
---