Conducting an Election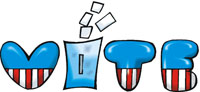 How you conduct your election is entirely up to you. Some schools contact their local election officials for help, other schools look to their student councils to run the election, some schools host voting in the classroom, other schools set up voting booths in a large room like the library or gym. Mock Election voting is scheduled for Thursday, November 3, 2016, but you can conduct your election between October 31 and November 3, 2016.
Reporting Results
Results can be faxed to New Hampshire PBS at 603-868-7552, emailed to sadams@nhpbs.org, or phoned in to NHPTV at 1-603-868-4455 at any time. Results will be posted on this web site as they come in on November 3 and final results will be posted by 10 a.m. on November 4.
Online Voting
There are two online ballots. One for Congressional District One and one for Congressional District Two. Students will need to select the correct congressional district. Students will need to enter their school name and city or town and select their grade and gender on the online ballot. They will also need to enter a secret word," cat". The secret word lets us know that the person voting is from a registered school or group. If students select the wrong secret word, that is fine their vote will still be counted!
We are using Survey Monkey to collect online votes. After a student votes, they should click the "VOTE NOW" button to submit their vote. A page thanking them for voting will load and they, or the next student in line, can click the "VOTE NOW" button again to load a blank ballot.
Please remember that students should use the ballot that aligns to their congressional district. Students do not need to vote in all races to participate.
Paper Ballot Choices
We have a number of different paper ballot options for you to use. You can also make your own ballots!

Choices 1 and 2 are ballots for students featuring the major candidates with pictures of the candidates.
Choices 3 and 4 are are ballots for students featuring the major candidates with no pictures of the candidates.
Choice 5 will take you to the web site for the NH Secretary of State's Office where you can get sample ballots for your town or district. These ballots include choices for races we are not tallying for the NH MOCK ELECTION (we are only tallying the presidential, gubernatorial, and U.S. house and senate races) If you choose to use these ballots, you should click on your town or district and then scroll down. You will find your ballot on the bottom of the page. To print the ballot, put you cursor over the top of the ballot and a drop down should appear with a download and print icon.
Choices 6 and 7 are generic copies of the official state sample ballots with no town assigned to them.
1. Major Candidate Ballots- District 1 - pictures
2. Major Candidate Ballots- District 2 - pictures

3. Major Candidate Ballots- District 1 - no pictures
4. Major Candidate Ballots- District 2 - no pictures

5. Sample Official Ballots- NH Elections Division
6. Sample Official Ballot - District One
7. Sample Official Ballot - District Two
NH Congressional Districts