Podargidae - frogmouths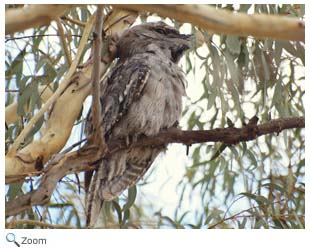 The Podargidae family includes 15 species of frogmouths. Frogmouths are found in India, Asia, and Australia.
Frogmouths have a large, flattened, hooked bill that looks like a frog's mouth when it is open! During the day, they stretch out horizontally on tree branches and sleep. Their cryptic coloration helps them blend in with the bark on trees. Frogmouths are nocturnal and they eat insects and small animals like frogs and mice. They often beat their prey against rocks after they capture it.
People sometimes confuse frogmouths with owls, but they don't have talons like owls; in fact their feet are very small! They are more closely related to nightjars.
World Status Key


Least Concern

Near Threatened

Vulnerable

Endangered

Critically Endangered

Extinct in Wild

Extinct
Status and range is taken from ICUN Redlist. If no status is listed, there is not enough data to establish status.
US Status Key


Threatened in US

Threatened in NH

Endangered in US

Endangered in NH

Introduced
Status taken from US Fish and Wildlife and NH Fish and Game
New Hampshire Species

North/Central American Species

None
None

Other Species Around the World

Africa Asia Australia/Oceania Europe North America South America NH Species

Blyth's Frogmouth - Batrachostomus affinis
Large Frogmouth - Batrachostomus auritus
Sunda Frogmouth - Batrachostomus cornutus
Dulit Frogmouth - Batrachostomus harterti
Hodgson's Frogmouth - Batrachostomus hodgsoni
Javan Frogmouth - Batrachostomus javensis
Bornean Frogmouth - Batrachostomus mixtus
Sri Lanka Frogmouth - Batrachostomus moniliger

Short-tailed Frogmouth - Batrachostomus poliolophus
Philippine Frogmouth - Batrachostomus septimus
Gould's Frogmouth - Batrachostomus stellatus
Marbled Frogmouth - Podargus ocellatus
Papuan Frogmouth - Podargus papuensis
Tawny Frogmouth - Podargus strigoides
Solomon Islands Frogmouth - Rigidipenna inexpectata

Additional Information

Key: Profile Photos Video Audio

Gould's Frogmouth - Batrachostomus stellatus
Gould's frogmouth is found in Brunei Darussalam; Indonesia; Malaysia; and Thailand.
Source: Internet Bird Collection Intended Audience: General Reading Level: Middle School

Gould's Frogmouth - Batrachostomus stellatus
Gould's frogmouth is found in evergreen forests.
Source: Arkive Intended Audience: General Reading Level: Middle School

Hodgson's Frogmouth - Batrachostomus hodgsoni
Hodgson's frogmouth is found in Bangladesh; Bhutan; China; India; Laos; Myanmar; Thailand; and Vietnam.
Source: Internet Bird Collection Intended Audience: General Reading Level: Middle School

Javan Frogmouth - Batrachostomus javensis
The Javan frogmouth is found in Brunei Darussalam; Indonesia; Laos; Malaysia; Myanmar; the Philippines; and Thailand.
Source: Internet Bird Collection Intended Audience: General Reading Level: Middle School

Large Frogmouth - Batrachostomus auritus
The large frogmouth is found in Brunei Darussalam; Indonesia; Malaysia; and Thailand.
Source: Internet Bird Collection Intended Audience: General Reading Level: Middle School

Large Frogmouth - Batrachostomus auritus
The large frogmouth is found in lowland evergreen forests.
Source: Arkive Intended Audience: General Reading Level: Middle School

Marbled Frogmouth - Podargus ocellatus
The marbled frogmouth is found in Australia, Indonesia, Papua New Guinea, and the Solomon Islands.
Source: Internet Bird Collection Intended Audience: General Reading Level: Middle School

Papuan Frogmouth - Podargus papuensis
The Papuan frogmouth is found in Australia; Indonesia; and Papua New Guinea.
Source: Internet Bird Collection Intended Audience: General Reading Level: Middle School

Philippine Frogmouth - Batrachostomus septimus
The Philippine frogmouth is found in the Philippines.
Source: Internet Bird Collection Intended Audience: General Reading Level: Middle School

Short-tailed Frogmouth - Batrachostomus poliolophus
The short-tailed frogmouth is found in Indonesia.
Source: Internet Bird Collection Intended Audience: General Reading Level: Middle School

Short-tailed Frogmouth - Batrachostomus poliolophus
The short-tailed frogmouth is found in lowland forests in Sumatra, Indonesia.
Source: Arkive Intended Audience: General Reading Level: Middle School

Sri Lanka Frogmouth - Batrachostomus moniliger
The Sri Lanka frogmouth is found in India and Sri Lanka.
Source: Internet Bird Collection Intended Audience: General Reading Level: Middle School

Tawny Frogmouth - Podargus strigoides
The tawny frogmouth is found in Australia.
Source: Internet Bird Collection Intended Audience: General Reading Level: Middle School

Tawny Frogmouth - Podargus strigoides
During the day tawny frogmouths sleep perched lengthwise on a branch with their heads up and their eyes closed.
Source: Honolulu Zoo Intended Audience: General Reading Level: Middle School

Tawny Frogmouth - Podargus strigoides
Most of the tawny frogmouth's diet is made up of nocturnal insects, worms, slugs, and snails.
Source: Australian Museum Intended Audience: General Reading Level: Elementary School

Tawny Frogmouth - Podargus strigoides
Tawny frogmouths have enormous, wide, frog-like mouths.
Source: Sea World Animal Bytes Intended Audience: Students Reading Level: Elementary School