Caprimulgidae - Nightjars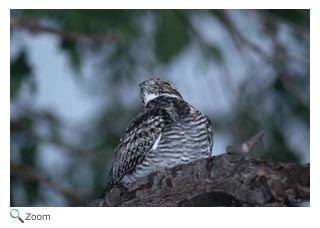 The Caprimulgidae family includes 92 species of birds. Nightjars are medium-sized birds with short legs, small feet, long wings, and short bills. They are nocturnal and eat insects.
Some species in this family perch along the length of a tree branch in the same way cats stretch out on a branch. This helps conceal them from predators when they are sleeping during the day.
Nightjars are very hard to spot because their plumage looks like tree bark and leaf litter!
Nightjars are also known as goatsuckers. It was once thought that they used their wide mouths to milk goats. In fact, the word for goat-milker in Latin is Caprimulgus.
Nightjars are found all over the world. The whip-poor-will and the common nighthawk are two species found in New Hampshire.
World Status Key


Least Concern

Near Threatened

Vulnerable

Endangered

Critically Endangered

Extinct in the Wild

Extinct
Status and range is taken from ICUN Redlist. If no status is listed, there is not enough data to establish status.
US Status Key


Threatened in US

Threatened in NH

Endangered in US

Endangered in NH

Breeds in NH

Introduced
Status taken from US Fish and Wildlife and NH Fish and Game
New Hampshire Species

North/Central American Species

Common Nighthawk - Chordeiles minor
Whip-poor-will - Antrostomus vociferus

Tawny-collared Nightjar - Caprimulgus salvini
Dusky Nightjar - Caprimulgus saturatus
Lesser Nighthawk - Chordeiles acutipennis
Antillean Nighthawk - Chordeiles gundlachii
Short-tailed Nighthawk - Lurocalis semitorquatus
Common Pauraque - Nyctidromus albicollis
Eared Poorwill - Nyctiphrynus mcleodii
Ocellated Poorwill - Nyctiphrynus ocellatus
Yucatan Poorwill - Nyctiphrynus yucatanicus
Common Poorwill - Phalaenoptilus nuttallii
Nacunda Nighthawk - Podager nacunda
Jamaican Pauraque - Siphonorhis americana
Least Pauraque - Siphonorhis brewsteri

North/Central American Species

Yucatan Nightjar - Caprimulgus badius
Chuck-will's-widow - Caprimulgus carolinensis
White-tailed Nightjar - Caprimulgus cayennensis
Cuban Nightjar - Caprimulgus cubanensis
Hispaniola Nightjar - Caprimulgus ekmani
Puerto Rican Nightjar - Caprimulgus noctitherus
Buff-collared Nightjar - Caprimulgus ridgwayi
Rufous-cheeked Nightjar - Caprimulgus rufigena
Species Around the World

Africa Asia Australia/Oceania Europe North/Central America South America NH Species

Egyptian Nightjar - Caprimulgus aegyptius
Savanna Nightjar - Caprimulgus affinis
Scrub Nightjar - Caprimulgus anthonyi
Indian Nightjar - Caprimulgus asiaticus
Jerdon's Nightjar - Caprimulgus atripennis
Yucatan Nightjar - Caprimulgus badius
Bates's Nightjar - Caprimulgus batesi
Brown Nightjar - Caprimulgus binotatus
Chuck-will's-widow - Caprimulgus carolinensis
White-tailed Nightjar - Caprimulgus cayennensis
Sulawesi Nightjar - Caprimulgus celebensis
Vaurie's Nightjar - Caprimulgus centralasicus
Slender-tailed Nightjar - Caprimulgus clarus
Long-tailed Nightjar - Caprimulgus climacurus
Sunda Nightjar - Caprimulgus concretus
Cuban Nightjar - Caprimulgus cubanensis
Donaldson-smith's Nightjar - Caprimulgus donaldsoni
Hispaniola Nightjar - Caprimulgus ekmani
Collared Nightjar - Caprimulgus enarratus
Eurasian Nightjar - Caprimulgus europaeus
Golden Nightjar - Caprimulgus eximius
Square-tailed Nightjar - Caprimulgus fossii
Sombre Nightjar - Caprimulgus fraenatus
Todd's Nightjar - Caprimulgus heterurus
Pygmy Nightjar - Caprimulgus hirundinaceus
Gray Nightjar - Caprimulgus indicus
Plain Nightjar - Caprimulgus inornatus
Band-winged Nightjar - Caprimulgus longirostris
Large-tailed nightjar - Caprimulgus macrurus
Spot-tailed Nightjar - Caprimulgus maculicaudus
Cayenne Nightjar - Caprimulgus maculosus [dd]
Madagascar Nightjar - Caprimulgus madagascariensis
Sykes's Nightjar - Caprimulgus mahrattensis
Philippine Nightjar - Caprimulgus manillensis
Mees's Nightjar - Caprimulgus meesi
Swamp Nightjar - Caprimulgus natalensis
Blackish Nightjar - Caprimulgus nigrescens
Black-shouldered Nightjar -Caprimulgus nigriscapularis
Puerto Rican Nightjar - Caprimulgus noctitherus
Nubian Nightjar - Caprimulgus nubicus
Little Nightjar - Caprimulgus parvulus
Fiery-necked Nightjar - Caprimulgus pectoralis
Montane Nightjar - Caprimulgus poliocephalus
Itombwe Nightjar - Caprimulgus prigoginei
Salvadori's Nightjar - Caprimulgus pulchellus
Buff-collared Nightjar - Caprimulgus ridgwayi
Red-necked Nightjar - Caprimulgus ruficollis
Rufous-cheeked Nightjar - Caprimulgus rufigena
Rufous Nightjar - Caprimulgus rufus
Ruwenzori Nightjar - Caprimulgus ruwenzorii
Tawny-collared Nightjar - Caprimulgus salvini
Dusky Nightjar - Caprimulgus saturatus
Silky-tailed Nightjar - Caprimulgus sericocaudatus
Nechisar Nightjar - Caprimulgus solala
Star-spotted Nightjar - Caprimulgus stellatus
Freckled Nightjar - Caprimulgus tristigma
Whip-poor-will - Antrostomus vociferus
Roraiman Nightjar - Caprimulgus whitelyi
Lesser Nighthawk - Chordeiles acutipennis
Antillean Nighthawk - Chordeiles gundlachii
Common Nighthawk - Chordeiles minor
Least Nighthawk - Chordeiles pusillus
Sand-colored Nighthawk - Chordeiles rupestris
Sickle-winged Nightjar - Eleothreptus anomalus
White-winged Nightjar - Eleothreptus candicans
Mountain Eared-nightjar - Eurostopodus archboldi
Spotted Eared-nightjar - Eurostopodus argus
Sulawesi Eared-nightjar - Eurostopodus diabolicus
Great Eared-nightjar - Eurostopodus macrotis
White-throated Eared-nightjar-Eurostopodus mystacalis
Papuan Eared-nightjar - Eurostopodus papuensis
Malaysian Eared-nightjar - Eurostopodus temminckii
Ladder-tailed Nightjar - Hydropsalis climacocerca
Scissor-tailed Nightjar - Hydropsalis torquata
Rufous-bellied Nighthawk - Lurocalis rufiventris
Short-tailed Nighthawk - Lurocalis semitorquatus
Standard-winged Nightjar - Macrodipteryx longipennis
Pennant-winged Nightjar - Macrodipteryx vexillarius
Long-trained Nightjar - Macropsalis forcipata
Common Pauraque - Nyctidromus albicollis
Eared Poorwill - Nyctiphrynus mcleodii
Ocellated Poorwill - Nyctiphrynus ocellatus
Choco Poorwill - Nyctiphrynus rosenbergi
Yucatan Poorwill - Nyctiphrynus yucatanicus
Band-tailed Nighthawk - Nyctiprogne leucopyga
Plain-tailed Nighthawk - Nyctiprogne vielliardi
Common Poorwill - Phalaenoptilus nuttallii
Nacunda Nighthawk - Podager nacunda
Jamaican Pauraque - Siphonorhis americana
Least Pauraque - Siphonorhis brewsteri
Lyre-tailed Nightjar - Uropsalis lyra
Swallow-tailed Nightjar - Uropsalis segmentata
Additional Information
Key:

Profile

Photos

Video

Audio
Antillean Nighthawk - Chordeiles gundlachii





The Antillean nighthawk is found in the Florida Keys and the Caribbean.
Source: National Audubon Society Intended Audience: General Reading Level: Middle School
Band-tailed Nighthawk - Nyctiprogne leucopyga





The band-tailed nighthawk is found in Bolivia, Brazil, Colombia, Ecuador, French Guiana, Guyana, Paraguay, Peru, and Venezuela.
Source: Internet Bird Collection Intended Audience: General Reading Level: Middle School
Band-winged Nightjar - Caprimulgus longirostris






The band-winged nightjar is found in Argentina, Bolivia, Brazil, Chile, Colombia, Ecuador, Paraguay, Peru, Uruguay, and Venezuela.
Source: Internet Bird Collection Intended Audience: General Reading Level: Middle School
Black-shouldered Nightjar -Caprimulgus nigriscapularis





The black-shouldered nightjar is found in Angola, Benin, Burundi, Cameroon, Central African Republic, Congo, Côte d'Ivoire, Equatorial Guinea, Gabon, Ghana, Guinea, Guinea-Bissau, Kenya, Liberia, Nigeria, Rwanda, Sierra Leone, Sudan, and Uganda.
Source: Internet Bird Collection Intended Audience: General Reading Level: Middle School
Blackish Nightjar - Caprimulgus nigrescens






The blackish nightjar is found in Bolivia, Brazil, Colombia, Ecuador, French Guiana, Guyana, Peru, Suriname, and Venezuela.
Source: Internet Bird Collection Intended Audience: General Reading Level: Middle School
Buff-collared Nightjar - Caprimulgus ridgwayi






The buff-collared nightjar is found in Guatemala, Honduras, Mexico, Nicaragua, and the United States.
Source: Internet Bird Collection Intended Audience: General Reading Level: Middle School
Chuck-will's-widow - Caprimulgus carolinensis






In the U.S., Chuck-will's-widow is found from Long Island, New York south to Florida and west to Kansas, Oklahoma, and eastern Texas. It is also found in Canada, Mexico, Central America, and South America.
Source: Animal Diversity Web Intended Audience: General Reading Level: Middle School
Chuck-will's-widow - Caprimulgus carolinensis






Chuck-will's-widows are found in open woodlands.
Source: Internet Bird Collection Intended Audience: General Reading Level: Middle School
Collared Nightjar - Caprimulgus enarratus





The collared nightjar is found in Madagascar.
Source: Internet Bird Collection Intended Audience: General Reading Level: Middle School
Common Nighthawk - Chordeiles minor







Common nighthawks breed throughout much of North America and parts of Central America. They are year-round residents in the Caribbean and winter in South America.
Source: Animal Diversity Web Intended Audience: General Reading Level: Middle School
Common Nighthawk - Chordeiles minor








Common nighthawks are known as bulbats in some areas.
Source: Cornell Lab of Ornithology Intended Audience: General Reading Level: Middle School
Common Nighthawk - Chordeiles minor








Common nighthawks are most active at dusk and dawn.
Source: Seattle Audubon Intended Audience: General Reading Level: Middle School
Common Pauraque - Nyctidromus albicollis







The common pauraque is found in Argentina, Belize, Bolivia, Brazil, Colombia, Costa Rica, Ecuador, El Salvador, French Guiana, Guatemala, Guyana, Honduras, Mexico, Nicaragua, Panama, Paraguay, Peru, Suriname, Trinidad and Tobago, United States, Uruguay, and Venezuela.
Source: Internet Bird Collection Intended Audience: General Reading Level: Middle School
Common Poorwill - Phalaenoptilus nuttallii





Common poorwills are found in western North America from south central British Columbia and southwestern Saskatchewan to central Mexico.
Source: Animal Diversity Web Intended Audience: General Reading Level: Middle School
Common Poorwill - Phalaenoptilus nuttallii




Common poorwills are found in dry, open areas.
Source: Internet Bird Collection Intended Audience: General Reading Level: Middle School
Common Poorwill - Phalaenoptilus nuttallii






Common poorwills hibernate in the winter.
Source: Cornell Lab of Ornithology Intended Audience: General Reading Level: Middle School
Cuban Nightjar - Caprimulgus cubanensis




The Cuban nightjar is found in Cuba, the Dominican Republic, and Haiti.
Source: Internet Bird Collection Intended Audience: General Reading Level: Middle School
Donaldson-smith's Nightjar - Caprimulgus donaldsoni




Donaldson-smith's nightjars are found in Ethiopia, Kenya, Somalia, Sudan, and Tanzania.
Source: Internet Bird Collection Intended Audience: General Reading Level: Middle School
Egyptian Nightjar - Caprimulgus aegyptius






The Egyptian nightjar is found in Afghanistan, Algeria, Bahrain, Chad, Egypt, Iran, Iraq, Israel, Jordan, Kazakhstan, Kuwait, Libya, Mali, Mauritania, Morocco, Nigeria, Oman, Pakistan, Qatar, Saudi Arabia, Senegal, Sudan, Tajikistan, Tunisia, Turkmenistan, United Arab Emirates, Uzbekistan, and Yemen.
Source: Arkive Intended Audience: General Reading Level: Middle School
Egyptian Nightjar - Caprimulgus aegyptius






The Egyptian nightjar is found in desert habitats.
Source: Internet Bird Collection Intended Audience: General Reading Level: Middle School
Eurasian Nightjar - Caprimulgus europaeus








The Eurasian nightjar is found across Europe, Asia, and Africa.
Source: Arkive Intended Audience: General Reading Level: Middle School
Eurasian Nightjar - Caprimulgus europaeus







Male European nightjars select nesting sites.
Source: Animal Diversity Web Intended Audience: General Reading Level: Middle School
Eurasian Nightjar - Caprimulgus europaeus








When he is trying to attract a mate, the male Eurasian nightjar glides clapshis wings together.
Source: Internet Bird Collection Intended Audience: General Reading Level: Middle School
Fiery-necked Nightjar - Caprimulgus pectoralis






The fiery-necked nightjar is found in Angola. Botswana. Congo, Gabon. Kenya. Malawi. Mozambique. Namibia. South Africa. Swaziland. Tanzania, United Republic of. Zambia. and Zimbabwe.
Source: Internet Bird Collection Intended Audience: General Reading Level: Middle School
Freckled Nightjar - Caprimulgus tristigma





The freckled nightjar is found in Angola, Benin, Botswana, Burkina Faso, Burundi, Cameroon, Central African Republic, Congo, , Côte d'Ivoire, Ethiopia, Gabon, Ghana, Guinea, Kenya, Liberia, Malawi, Mali, Mozambique, Namibia, Nigeria, Rwanda, Sierra Leone, South Africa, Sudan, Swaziland, Tanzania, Togo, Uganda, Zambia, and Zimbabwe.
Source: Internet Bird Collection Intended Audience: General Reading Level: Middle School
Gray Nightjar - Caprimulgus indicus







The gray nightjar is also known as the jungle nightjar. It is found in Bangladesh, Bhutan, Brunei, Cambodia, China, Hong Kong, India, Indonesia, Japan, North Korea, South Korea, Laos, Malaysia, Mongolia, Myanmar, Nepal, Pakistan, Palau, Philippines, Russian Federation, Sri Lanka, and Thailand.
Source: Internet Bird Collection Intended Audience: General Reading Level: Middle School
Great Eared-nightjar - Eurostopodus macrotis






The great-eared nightjar is found in Bangladesh, Cambodia, China, India, Indonesia, Laosc, Malaysia, Myanmar, Philippines, Thailand, and Vietnam.
Source: Internet Bird Collection Intended Audience: General Reading Level: Middle School
Indian Nightjar - Caprimulgus asiaticus






The Indian nightjar is found in Bangladesh, Cambodia, India, Iran, Laos, Myanmar, Nepal, Pakistan, Sri Lanka, Thailand, and Vietnam.
Source: Internet Bird Collection Intended Audience: General Reading Level: Middle School
Jerdon's Nightjar - Caprimulgus atripennis




The Jerdon's nightjar is found in India and Sri Lanka.
Source: Internet Bird Collection Intended Audience: General Reading Level: Middle School
Ladder-tailed Nightjar - Hydropsalis climacocerca





The ladder-tailed nightjar is found in Bolivia, Brazil, Colombia, Ecuador, French Guiana, Guyana, Peru, Suriname, and Venezuela.
Source: Internet Bird Collection Intended Audience: General Reading Level: Middle School
Large-tailed nightjar - Caprimulgus macrurus







The large-tailed nightjar is found in Australia, Bangladesh, Bhutan, Brunei , Cambodia, China, East Timor, India, Indonesia, Laos, Malaysia, Myanmar, Nepal, Pakistan, Papua New Guinea, Philippines, Singapore, Thailand, and Vietnam.
Source: Internet Bird Collection Intended Audience: General Reading Level: Middle School
Lesser Nighthawk - Chordeiles acutipennis





In the U.S., the lesser nighthawk is found in California, Nevada, New Mexico, Arizona, and Texas.
Source: Animal Diversity Web Intended Audience: General Reading Level: Middle School
Little Nightjar - Caprimulgus parvulus






The little nightjar is found in Argentina, Bolivia, Brazil, Paraguay, Peru, and Uruguay.
Source: Internet Bird Collection Intended Audience: General Reading Level: Middle School
Long-tailed Nightjar - Caprimulgus climacurus





The long-tailed nightjar is found in Angola, Benin, Burkina Faso, Cameroon, Central African Republic, Chad, Congo, Côte d'Ivoire, Eritrea, Ethiopia, Gabon, Gambia, Ghana, Guinea, Guinea-Bissau, Liberia, Mali, Mauritania, Niger, Nigeria, Senegal, Sierra Leone, Sudan, Tanzania, Togo, and Uganda.
Source: Internet Bird Collection Intended Audience: General Reading Level: Middle School
Lyre-tailed Nightjar - Uropsalis lyra





The Lyre-tailed Nightjar is found in Argentina, Bolivia, Colombia, Ecuador, Peru, and Venezuela.
Source: Internet Bird Collection Intended Audience: General Reading Level: Middle School
Madagascar Nightjar - Caprimulgus madagascariensis





The Madagascar nightjar is found in Madagascar and Seychelles.
Source: Internet Bird Collection Intended Audience: General Reading Level: Middle School
Nacunda Nighthawk - Podager nacunda






The Nacunda Nighthawk is found in Argentina, Bolivia, Brazil, Colombia, Ecuador, French Guiana, Guyana, Paraguay, Peru, Suriname, Trinidad and Tobago, Uruguay, and Venezuela.
Source: Internet Bird Collection Intended Audience: General Reading Level: Middle School
Nubian Nightjar - Caprimulgus nubicus






The nubian nightjar is found in Djibouti, Egypt, Eritrea, Ethiopia, Israel, Jordan, Kenya, Saudi Arabia, Somalia, Sudan, and Yemen.
Source: Internet Bird Collection Intended Audience: General Reading Level: Middle School
Ocellated Poorwill - Nyctiphrynus ocellatus







The ocellated poorwill is found in Argentina, Bolivia, Brazil, Colombia, Costa Rica, Ecuador, Honduras, Nicaragua, Paraguay, and Peru.
Source: Internet Bird Collection Intended Audience: General Reading Level: Middle School
Pennant-winged Nightjar - Macrodipteryx vexillarius





The Pennant-winged nightjar is found in Angola, Botswana, Burundi, Cameroon, Central African Republic, Chad, Congo, Gabon, Kenya, Malawi, Mozambique, Namibia, Nigeria, Rwanda, South Africa, Sudan, Tanzania, Uganda, Zambia, and Zimbabwe.
Source: Internet Bird Collection Intended Audience: General Reading Level: Middle School
Philippine Nightjar - Caprimulgus manillensis






The Philippine nightjar is found in the Philippines.
Source: Internet Bird Collection Intended Audience: General Reading Level: Middle School
Puerto Rican Nightjar - Caprimulgus noctitherus




The Puerto Rican nightjar is only found in Puerto Rico.
Source: Arkive Intended Audience: General Reading Level: Middle School
Puerto Rican Nightjar - Caprimulgus noctitherus






The Puerto Rican nightjar is found in coastal scrub forests.
Source: Internet Bird Collection Intended Audience: General Reading Level: Middle School
Pygmy Nightjar - Caprimulgus hirundinaceus






The Pygmy nightjar is found in Brazil.
Source: Internet Bird Collection Intended Audience: General Reading Level: Middle School
Red-necked Nightjar - Caprimulgus ruficollis






The red-necked nightjar is found in Algeria, Gibraltar, Guinea-Bissau, Mali, Mauritania, Morocco, Portugal, Spain, Tunisia, and Western Sahara.
Source: Internet Bird Collection Intended Audience: General Reading Level: Middle School
Rufous Nightjar - Caprimulgus rufus






Rufous nightjars are found in Argentina, Bolivia, Brazil, Colombia, Costa Rica, Ecuador, French Guiana, Guyana, Panama, Paraguay, Peru, Saint Lucia, Suriname, Trinidad and Tobago, and Venezuela.
Source: Internet Bird Collection Intended Audience: General Reading Level: Middle School
Scissor-tailed Nightjar - Hydropsalis torquata






Scissor-tailed nightjars are found in Argentina, Bolivia, Brazil, Paraguay, Peru, Suriname, and Uruguay.
Source: Internet Bird Collection Intended Audience: General Reading Level: Middle School
Short-tailed Nighthawk - Lurocalis semitorquatus






Short-tailed nighthawks are found in Argentina, Bolivia, Brazil, Colombia, Costa Rica, Ecuador, French Guiana, Guatemala, Guyana, Honduras, Mexico, Nicaragua, Panama, Paraguay, Peru, Suriname, Trinidad and Tobago, and Venezuela.
Source: Internet Bird Collection Intended Audience: General Reading Level: Middle School
Sickle-winged Nightjar - Eleothreptus anomalus





Sickle-winged nightjars are found in Argentina, Brazil, Paraguay, and Uruguay.
Source: Internet Bird Collection Intended Audience: General Reading Level: Middle School
Slender-tailed Nightjar - Caprimulgus clarus





Slender-tailed nightjars are found in Ethiopia, Kenya, Somalia, Sudan, Tanzania, and Uganda.
Source: Internet Bird Collection Intended Audience: General Reading Level: Middle School
Sombre Nightjar - Caprimulgus fraenatus





Sombre nightjars are found in Angola, Botswana, Eritrea, Ethiopia, Kenya, Malawi, Mozambique, Namibia, Somalia, South Africa, Sudan, Tanzania, Zambia, and Zimbabwe.
Source: Internet Bird Collection Intended Audience: General Reading Level: Middle School
Spot-tailed Nightjar - Caprimulgus maculicaudus







Spot-tailed nightjars are found in Bolivia, Brazil, Colombia, French Guiana, Guyana, Honduras, Mexico, Nicaragua, Paraguay, Peru, Suriname, and Venezuela.
Source: Internet Bird Collection Intended Audience: General Reading Level: Middle School
Spotted Eared-nightjar - Eurostopodus argus





Spot-tailed nightjars are found in Australia and Indonesia.
Source: Internet Bird Collection Intended Audience: General Reading Level: Middle School
Square-tailed Nightjar - Caprimulgus fossii





The square-tailed nightjar is also known as the Mozambique nightjar. It is found in Angola, Botswana, Burundi, Congo, Gabon, Kenya, Malawi, Mozambique, Namibia, Rwanda, South Africa, Swaziland, Tanzania, Uganda, Zambia, and Zimbabwe.
Source: Internet Bird Collection Intended Audience: General Reading Level: Middle School
Standard-winged Nightjar - Macrodipteryx longipennis





The standard-winged nightjar is found in Benin, Burkina Faso, Cameroon, Central African Republic, Chad, Congo, Côte d'Ivoire, Eritrea, Ethiopia, Gabon, Gambia, Ghana, Guinea, Guinea-Bissau, Kenya, Liberia, Mali, Mauritania, Niger, Nigeria, Senegal, Sierra Leone, Sudan, Togo, and Uganda.
Source: Internet Bird Collection Intended Audience: General Reading Level: Middle School
Sulawesi Nightjar - Caprimulgus celebensis





The Sulawesi nightjar is found in Indonesia.
Source: Arkive Intended Audience: General Reading Level: Middle School
Sulawesi Eared-nightjar - Eurostopodus diabolicus





Sulawesi-eared nightjars are found in Indonesia. They aare also known as Heinrich's nightjar.
Source: Internet Bird Collection Intended Audience: General Reading Level: Middle School
Sunda Nightjar - Caprimulgus concretus





The Sunda nightjar is found in Indonesia and Malaysia.
Source: Arkive Intended Audience: General Reading Level: Middle School
Swallow-tailed Nightjar - Uropsalis segmentata





The swallow-tailed nightjar is found in Bolivia, Colombia, Ecuador, and Peru.
Source: Arkive Intended Audience: General Reading Level: Middle School
Swamp Nightjar - Caprimulgus natalensis




Swamp nightjars are found in Angola, Botswana, Burundi, Cameroon, Chad, Congo, , Côte d'Ivoire, Gabon, Ghana, Kenya, Liberia, Mali, Mozambique, Namibia, Nigeria, Rwanda, Sierra Leone, South Africa, Sudan, Tanzania, Uganda, Zambia, and Zimbabwe.
Source: Internet Bird Collection Intended Audience: General Reading Level: Middle School
Sykes's Nightjar - Caprimulgus mahrattensis




Syke's nightjar is found in Afghanistan, India, Iran, and Pakistan.
Source: Arkive Intended Audience: General Reading Level: Middle School
Sykes's Nightjar - Caprimulgus mahrattensis





Like all nightjars, the Sykes's nightjar's cryptc coloration helps it blend in with its environment.
Source: Internet Bird Collection Intended Audience: General Reading Level: Middle School
Whip-poor-will - Antrostomus vociferus






The whip-poor-will is found from central and southeast Canada south to parts of southern Mexico. It is absent from much of the western U.S.
Source: Animal Diversity Web Intended Audience: General Reading Level: Middle School
Whip-poor-will - Antrostomus vociferus







Whip-poor-wills fly slowly and noiselessly.
Source: Internet Bird Collection Intended Audience: General Reading Level: Middle School
Whip-poor-will - Antrostomus vociferus







The whip-poor-will lays its eggs in phase with the lunar cycle, so that the eggs hatch around 10 days before the full moon.
Source: Cornell Lab of Ornithology Intended Audience: General Reading Level: Middle School
White-tailed Nightjar - Caprimulgus cayennensis







The white-winged nightjars are found in Anguilla, Antigua and Barbuda, Aruba, Barbados, Brazil, Colombia, Costa Rica, Dominica, Ecuador, French Guiana, Guadeloupe, Guyana, Martinique, Montserrat, Netherlands Antilles, Panama, Puerto Rico, Saint Kitts and Nevis, Saint Lucia, Saint Vincent and the Grenadines, Suriname, Trinidad and Tobago, and Venezuela.
Source: Internet Bird Collection Intended Audience: General Reading Level: Middle School
White-throated Eared-nightjar - Eurostopodus mystacalis





The white-throated nightjars are found in Australia, Indonesia, Papua New Guinea, and the Solomon Islands.
Source: Internet Bird Collection Intended Audience: General Reading Level: Middle School
White-winged Nightjar - Eleothreptus candicans





The white-winged nightjar is found in Bolivia, Brazil, and Paraguay.
Source: Arkive Intended Audience: General Reading Level: Middle School
White-winged Nightjar - Eleothreptus candicans





The white-winged nightjar is known to be in only four locations.
Source: Internet Bird Collection Intended Audience: General Reading Level: Middle School
White-winged Nightjar - Eleothreptus candicans





The white-winged nightjar is a striking, ghostly nightjar.
Source: BirdLife International Intended Audience: General Reading Level: High School
Yucatan Nightjar - Caprimulgus badius




The yucatan nightjar is found in Belize, Guatemala, and Mexico.
Source: Internet Bird Collection Intended Audience: General Reading Level: Middle School