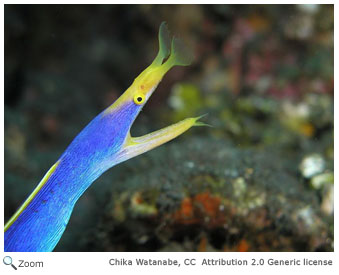 There are close to 200 species in this family of eels. Most species are found in shallow water among rocks and coral. and many species are active at night and spend the day hidden in the rock or coral crevices. Most species are found in tropical and sub-tropical marine environments, a few species can be found in brackish water, and a a handful of species are found in fresh water.

Many species of moray eel are brightly patterned. They have large eyes, large mouths and sharp, fang-like teeth. Some species will bite if they are provoked. Moray eels also secrete a mucus through their skin. In some species this mucus is a toxin.

Moray eels can range in size from Snyder's eel which is around 4.5 inches in length to the slender giant moray, which can grow to be 13 feet in length.

Moray eels are carnivorous and eat crustaceans, cuttlefish, mollusks, small fish, octopus, and squid.

Muraenidae Photo Gallery
World Status Key

Least Concern

Near Threatened

Vulnerable

Endangered

Critically Endangered

Extinct in Wild

Extinct

Not Enough Data

Status and range is taken from ICUN Redlist.
U.S. Status Key
Threatened in US Endangered in US Introduced
Status taken from US Fish and Wildlife. Click on U.S. status icon to go to the U.S. Fish and Wildlife species profile.
New Hampshire Status Key
Threatened in NH Endangered in NH Breeds in NH (birds)
Status taken from NH Fish and Game
Location Key


Africa

Asia

Australia/Oceania

Europe

North America

South America

NH

Click for More Info

Click for Image


Atlantic Ocean

Indian Ocean

Mediterranean/Black Sea

Pacific Ocean
New Hampshire Species

North/Central American Species

None

Kidako Moray - Gymnothorax kidako
Blacktail Moray - Gymnothorax kolpos
Sharktooth Moray - Gymnothorax maderensis
Turkey Moray - Gymnothorax meleagris
California Moray - Gymnothorax mordax
Spotted Moray - Gymnothorax moringa
Goldentail Moray - Gymnothorax miliaris
Blackedge Moray - Gymnothorax nigromarginatus
Gray Moray - Gymnothorax nubilus
Yellowmouth Moray-Gymnothorax nudivomer
Caribbean Ocellated Moray-Gymnothorax ocellatus
Masked Moray - Gymnothorax panamensis
Small-Spotted Moray - Gymnothorax phalarus
Peppered Moray - Gymnothorax pictus
Polygon Moray - Gymnothorax polygonius
Yellow Moray - Gymnothorax prasinus
Banded Moray - Gymnothorax rueppelliae
Honeycomb Moray - Gymnothorax saxicola
Undulated Moray - Gymnothorax undulatus
White-Edged Moray - Gymnothorax verrilli
Brown Conger - Gymnothorax vicinus
Redface Eel - Monopenchelys acuta
White-Spotted Moray - Muraena argus
Hourglass Moray - Muraena clepsydra
Jewel Moray - Muraena lentiginosa
Reticulate Moray - Muraena retifera
Stout Moray - Muraena robusta
Tiger Reef Eel - Scuticaria tigrina
Marbled Moray - Uropterygius macularius
Many-Spotted Moray - Uropterygius polystictus

North/Central American Species

Hardtail Moray - Anarchias galapagensis
Pygmy Moray - Anarchias similis
Broadbanded Moray - Channomuraena vittata
Chain Moray - Echidna catenata
Snowflake Eel - Echidna nebulosa
Palenose Moray - Echidna nocturna
Barred Moray - Echidna polyzona
Fangtooth Moray - Enchelycore anatina
Caribbean Chestnut Moray - Enchelycore carychroa
Viper Moray - Enchelycore nigricans
Slenderjaw Moray - Enchelycore octaviana
Zebra Moray - Gymnomuraena zebra
Whitemargin Moray - Gymnothorax albimarginatus
Wrinkled Moray - Gymnothorax angusticeps
Y-patterned Moray - Gymnothorax berndti
Panamic Green Moray - Gymnothorax castaneus
Lipspot Moray - Gymnothorax chilospilus
Saddled Moray - Gymnothorax conspersus
Finespotted Moray - Gymnothorax dovii
Spotted-Tail Moray - Gymnothorax equatorialis
Stout Moray Eel - Gymnothorax eurostus
Wide-Mouth Moray - Gymnothorax eurygnathos
Yellow-edged Moray - Gymnothorax flavimarginatus
Green Moray - Gymnothorax funebris
Lichen Moray - Gymnothorax hubbsi
Giant Moray - Gymnothorax javanicus

Species Around the World

Seychelles Moray - Anarchias seychellensis
Yellow-spotted Moray - Echidna xanthospilos
Reticulate Hookjaw Moray - Enchelycore lichenosa
Leopard Moray - Enchelycore pardalis
White-Margined Moray-Enchelycore schismatorhynchus
Dark Moray - Gymnothorax afer
Canary Moray - Gymnothorax bacalladoi
Laced Moray - Gymnothorax favagineus
Fimbriate Moray - Gymnothorax fimbriatus
Geometric Moray - Gymnothorax griseus
Indo-Pacific Spotted Moray-Gymnothorax isingteena
Australian Mottled Moray - Gymnothorax prionodon
Grayface Moray - Gymnothorax thyrsoideus
Freshwater Moray - Gymnothorax polyuranodon


Low Fin Moray - Gymnothorax porphyreus
Sawtooth Moray - Gymnothorax serratidens
Brown Moray - Gymnothorax unicolor
Barred Fin Moray - Gymnothorax zonipectis
Black Moray - Muraena augusti
Mediterranean Moray - Muraena helena
Whitespot Moray - Muraena pavonina
Ribbon Moray - Rhinomuraena quaesita Freckleface Reef-eel - Uropterygius xanthopterus
Brown Snake Moray - Uropterygius fuscoguttatus
Two-Holes Moray - Uropterygius versutus
Jigsaw Moray - Uropterygius wheeleri
Additional Information
Resource Key


Profile

Photos

Video

Audio

Seychelles Moray - Anarchias seychellensis








The Seychelles moray is found in coral reefs in the Pacific and Indian Oceans.
Source: Fish Base Intended Audience: General Reading Level: High School
Chain Moray - Echidna catenata







The chain moray is found from the Atlantic and Gulf coasts of Florida south through the Caribbean to Central America and the coast of Uruguay.
Source: Fish Base Intended Audience: General Reading Level: High School
Chain Moray - Echidna catenata







The chain moray is brightly patterned in black and yellow.
Source: Florent's Guide To The Florida, Bahamas & Caribbean Reefs Intended Audience: General Reading Level: Middle School
Snowflake Eel - Echidna nebulosa









The snowflake eel is found in the Pacific and Indian Oceans. It is also known as the starry eel.
Source: Fish Base Intended Audience: General Reading Level: High School
Snowflake Eel - Echidna nebulosa









In Hawaii, the snowflake eel is known as the puhi kāpā.
Source: Waikiki Aquarium Intended Audience: General Reading Level: Middle School
Barred Moray - Echidna polyzona









The barred moray is found from the east coast of Africa to the Hawaiian Islands and Australia.
Source: Fish Base Intended Audience: General Reading Level: High School
Yellow-spotted Moray - Echidna xanthospilos







The yellow-spotted moray is found in waters off of Taiwan, Sri Lanka, Indonesia, Papua New Guinea and Samoa. It is also known as the skeletor eel.
Source: Fish Base Intended Audience: General Reading Level: High School
Caribbean Chestnut Moray - Enchelycore carychroa







The Caribbean chestnut moray is found in the western Atlantic from the Atlantic coast and Gulf coast of southern Florida south through the Caribbean and Central America to Brazil. It is also found off the coast of the Bahamas and off the Gulf Coast of Mexico.
Source: Fish Base Intended Audience: General Reading Level: High School
Fangtooth Moray - Enchelycore anatina










The fangtooth moray is found on both sides of the Atlantic. In North America it is found off the coast of northern Florida and in the waters of Bermuda. It is also found in the Mediterranean and Black Sea.
Source: Fish Base Intended Audience: General Reading Level: High School
Reticulate Hookjaw Moray - Enchelycore lichenosa






The reticulate hookjaw moray is found in Northwest Pacific ocean near Taiwan and southern Japan and in the Southeast Pacific Ocean around the Galapagos Islands.
Source: Fish Base Intended Audience: General Reading Level: High School
Leopard Moray Eel - Enchelycore pardalis








The leopard moray eel is found in the Indian and Pacific Oceans. In North America, it is found around the Hawaiian Islands. It is also known as the dragon moray eel.
Source: Fish Base Intended Audience: General Reading Level: High School
Zebra Moray - Gymnomuraena zebra










The zebra moray is found in the Pacific and Indian oceans. In North America it is found from Baja California, Mexico south to Colombia and the Galapagos Islands.
Source: Fish Base Intended Audience: General Reading Level: High School
Zebra Moray - Gymnomuraena zebra










In Hawaii, the zebra moray is known as the puhi.
Source: Waikīkī Aquarium Intended Audience: General Reading Level: Middle School
Dark Moray - Gymnothorax afer





The dark moray is found in the eastern Atlantic off the coast of Africa from Mauritania to Namibia.
Source: Fish Base Intended Audience: General Reading Level: High School
Whitemargin Moray - Gymnothorax albimarginatus







The whitemargin moray is found in the Indian and Pacific oceans from Japan south to Indonesia. In North America, it is found in waters around the Hawaiian Islands.
Source: Fish Base Intended Audience: General Reading Level: High School
Canary Moray - Gymnothorax bacalladoi





The Canary moray is found in the eastern Atlantic around the Canary Islands off the coast of Africa.
Source: Fish Base Intended Audience: General Reading Level: High School
Y-patterned Moray - Gymnothorax berndti









The Y-patterned moray is found in the western Indian Ocean and in the Pacific Ocean from Taiwan to New Zealand and east to Hawaii.
Source: Fish Base Intended Audience: General Reading Level: High School
Panamic Green Moray - Gymnothorax castaneus







The Panamic green moray is found in the eastern Pacific Ocean from southern Baja California and the Gulf of California south to Ecuador and the Galapagos Islands.
Source: Fish Base Intended Audience: General Reading Level: High School
Lipspot Moray - Gymnothorax chilospilus









The Lipspot moray is found in the Indian Ocean and in the Pacific Ocean. It is also found in the waters around Hawaii.
Source: Fish Base Intended Audience: General Reading Level: High School
Saddled Moray - Gymnothorax conspersus






The saddled moray is found from North Carolina south through the Caribbean and Gulf Coast to Brazil.
Source: Fish Base Intended Audience: General Reading Level: High School
Stout Moray Eel - Gymnothorax eurostus









The stout moray is found in shallow water in inland reefs in the Indian and Pacific Oceans. In North America, it is found in the Hawaiian Islands.
Source: Fish Base Intended Audience: General Reading Level: High School
Stout Moray Eel - Gymnothorax eurostus









The stout moray is also known as Abbott's moray.
Source: Australian Museum Intended Audience: General Reading Level: Middle School
Stout Moray Eel - Gymnothorax eurostus









The stout moray is 1-2 feet in length.
Source: Florent's Guide To The Tropical Reefs Intended Audience: General Reading Level: Middle School
Laced Moray - Gymnothorax favagineus








The laced moray is found from the Red Sea and east Africa to Japan, Australia and Papua New Guinea.
Source: Fish Base Intended Audience: General Reading Level: High School
Laced Moray - Gymnothorax favagineus








The laced moray is also known as the tessellate moray, the honeycomb moray, and the leopard moray.
Source: Australian Museum Intended Audience: General Reading Level: Middle School
Fimbriate Moray - Gymnothorax fimbriatus








The fimbriate moray is found in the Indian and Pacific oceans from Madagascar to Japan and Australia.
Source: Fish Base Intended Audience: General Reading Level: High School
Fimbriate Moray - Gymnothorax fimbriatus








The fimbriate moray can be 2.5 feet in length.
Source: Australian Museum Intended Audience: General Reading Level: Middle School
Yellow-edged Moray - Gymnothorax flavimarginatus









The yellow-edged moray is found in the Indian and Pacific oceans from the Red Sea and East Africa to Hawaii.
Source: Fish Base Intended Audience: General Reading Level: High School
Yellow-edged Moray - Gymnothorax flavimarginatus









The yellow-edged moray is known as the puhi paka and it's bite can be dangerous to humans.
Source: Waikiki Aquarium Intended Audience: General Reading Level: Middle School
Green Moray - Gymnothorax funebris







The green moray is found in the western Atlantic from New Jersey south to Brazil as well as in the Gulf of Mexico and the Caribbean.
Source: Fish Base Intended Audience: General Reading Level: High School
Green Moray - Gymnothorax funebris








The green moray spends the day hidden in rocky crevices.
Source: Florida Museum of Natural History Intended Audience: General Reading Level: Middle School
Green Moray - Gymnothorax funebris







The green moray can be close to 6 feet in length.
Source: Animal Diversity Web Intended Audience: General Reading Level: Middle School
Green Moray - Gymnothorax funebris








The green moray is really brown. It looks greenish-yellow because of the mucus that covers its body.
Source: National Aquarium Intended Audience: General Reading Level: Middle School
Geometric Moray - Gymnothorax griseus







The geometric moray is found in the western Indian Ocean and in the Red Sea.
Source: Fish Base Intended Audience: General Reading Level: High School
Indo-Pacific Spotted Moray - Gymnothorax isingteena








The Indo-Pacific spotted moray is found in coral reefs in the Indian and western Pacific oceans.
Source: Fish Base Intended Audience: General Reading Level: High School
Giant Moray - Gymnothorax javanicus









The giant moray is found in the Indian and Pacific oceans.
Source: Fish Base Intended Audience: General Reading Level: High School
Kidako Moray - Gymnothorax kidako







The Kidako moray is found in the western Pacific ocean from China, Japan and Australia east to Hawaii.
Source: Fish Base Intended Audience: General Reading Level: High School
Turkey Moray - Gymnothorax meleagris









The Turkey moray is found in reefs in shallow water the Indian and Pacific oceans from the coast of eastern Africa to Hawaii.
Source: Fish Base Intended Audience: General Reading Level: High School
Goldentail Moray - Gymnothorax miliaris







The goldentail moray is found in the western Atlantic from Florida, Bermuda, and the Bahamas through the Gulf of Mexico and the Caribbean to southern Brazil. In the eastern Atlantic it is found in the waters around the Cape Verde Islands and Ascension and St. Helena Islands.
Source: Fish Base Intended Audience: General Reading Level: High School
California Moray - Gymnothorax mordax





The California moray is found in crevices in shallow rocky reefs from Point Conception in southern California to Baja Califonia in Mexico.
Source: Fish Base Intended Audience: General Reading Level: High School
California Moray - Gymnothorax mordax





The California moray preys on octopuses and small fish.
Source: Monterey Bay Aquarium Intended Audience: General Reading Level: Middle School
California Moray - Gymnothorax mordax





red rock shrimp clean dead skin for the body of the California moray.
Source: Animal Diversity Web Intended Audience: General Reading Level: Middle School
Spotted Moray - Gymnothorax moringa







The spotted moray is found from North Carolina south along the U.S. coast through the Caribbean and the Gulf of Mexico south to southern Brazil. It is also found in the Eastern Atlantic Ocean on Ascension and St. Helena Islands.
Source: Fish Base Intended Audience: General Reading Level: Middle School
Gray Moray - Gymnothorax nubilus






The gray moray is found in the Southwest Pacific around Lord Howe Island, Norfolk Island, and the Kermadec Islands.
Source: Fish Base Intended Audience: General Reading Level: High School
Yellowmouth Moray - Gymnothorax nudivomer









The yellowmouth moray is found in Indian and Pacific oceans. It is also known as the starry moray.
Source: Fish Base Intended Audience: General Reading Level: High School
Peppered moray - Gymnothorax pictus









The peppered moray is found in Indian and Pacific oceans.
Source: Fish Base Intended Audience: General Reading Level: High School
Polygon Moray - Gymnothorax polygonius








The polygon moray is found in the western and eastern Atlantic ocean.
Source: Fish Base Intended Audience: General Reading Level: High School
Yellow Moray - Gymnothorax prasinus





The yellow moray is found in the waters off of New Zealand and southern Australia.
Source: Fish Base Intended Audience: General Reading Level: High School
Australian Mottled Moray - Gymnothorax prionodon






The Australian mottled moray is found in the western Pacific ocean from southern Japan to the South China Sea south to Australia and New Zealand. It is also known as the sawtooth moray.
Source: Fish Base Intended Audience: General Reading Level: High School
Banded Moray - Gymnothorax rueppelliae









The banded moray is found in the Indian and Pacific oceans. In the U.S., it is found in Hawaii.
Source: Fish Base Intended Audience: General Reading Level: High School
Honeycomb Moray - Gymnothorax saxicola






The honeycomb moray is found from New Jersey south to Florida and in the Gulf of Mexico. It is also found in the Mississippi River Delta. It is also known as the ocellated moray and the blackedge moray and is often used in home aquariums.
Source: Fish Base Intended Audience: General Reading Level: High School
Grayface Moray - Gymnothorax thyrsoideus







The grayface moray is found in the Indian Ocean and in the Pacific Ocean.
Source: Fish Base Intended Audience: General Reading Level: High School
Undulated Moray - Gymnothorax undulatus









The undulated moray is found in the Indian Ocean and in the western, central and eastern Pacific Ocean. It is found in Hawaii and along the Pacific coast of Mexico, Panama, and Costa Rica.
Source: Fish Base Intended Audience: General Reading Level: High School
Undulated Moray - Gymnothorax undulatus









The undulated moray has a brown body and a bright yellow head.
Source: Arkive Intended Audience: General Reading Level: Middle School
Brown Moray - Gymnothorax unicolor







The brown moray is found on rocky coasts in the Eastern Atlantic and throughout the Mediterranean.
Source: Fish Base Intended Audience: General Reading Level: High School
Barred Fin Moray - Gymnothorax zonipectis







The barred fin moray is found from eastern Africa east to the Philippines.
Source: Fish Base Intended Audience: General Reading Level: High School
Redface Eel - Monopenchelys acuta











The redface eel is found in scattered locations around the globe. It is found in the western Atlantic from the Bahamas to the Lesser Antilles, It has been recorded around Ascension Island in southern Atlantic. In the Indian Ocean, it has been recorded in Comoros, Seychelles, and Mauritius and in the Pacific Ocean it is found from Fiji to Hawaii.
Source: Fish Base Intended Audience: General Reading Level: High School
Black Moray - Muraena augusti







The black moray is found in the eastern Atlantic Ocean around Cape Verde, the Canary and Madeira Islands, and the Azores.
Source: Fish Base Intended Audience: General Reading Level: High School
Mediterranean Moray - Muraena helena







The Mediterranean moray is found from south of British Isles to Senegal, in the waters around the Azores, Madeira, the Canary Islands, and Cape Verde and in the waters of the Mediterranean.
Source: Fish Base Intended Audience: General Reading Level: High School
Jewel Moray - Muraena lentiginosa






The jewel moray is found in the Eastern Pacific from the Gulf of California to Peru and the Galapagos Islands.
Source: Fish Base Intended Audience: General Reading Level: High School
Whitespot Moray - Muraena pavonina






In the western Atlantic Ocean, the whitespot moray is found off of northeastern Brazil and the mid-Atlantic and around Ascension Island in the eastern Atlantic Ocean.
Source: Fish Base Intended Audience: General Reading Level: High School
Ribbon Moray - Rhinomuraena quaesita









The ribbon moray is found from East Africa to French Polynesia, north to southern Japan, and south to the northwest and east coast Australia and New Caledonia.
Source: Fish Base Intended Audience: General Reading Level: High School
Tiger Reef Eel - Scuticaria tigrina










The tiger reef eel is found in the Indian and Pacific Oceans from East Africa to the to the Philippines, Taiwan and the Hawaiian Islands east to Mexico, Costa Rica, Panama, and Colombia.
Source: Fish Base Intended Audience: General Reading Level: High School
Freckleface Reef-eel - Uropterygius xanthopterus








The Freckleface reef-eel is found in the Indian and Pacific Oceans.
Source: Fish Base Intended Audience: General Reading Level: High School
Hardtail Moray - Anarchias galapagensis







The hardtail moray is found in the Pacific Ocean off the coasts of Colombia, Costa Rica, Ecuador, El Salvador, Guatemala, Honduras, Mexico, Nicaragua, and Panama.
Source: Fish Base Intended Audience: General Reading Level: High School
Pygmy Moray - Anarchias similis







The pygmy moray is found from the coast of South Carolina south to Venezuela and along the Gulf Coast of Florida south to Nicaragua.
Source: Fish Base Intended Audience: General Reading Level: High School
Broadbanded Moray - Channomuraena vittata












The broadbanded moray is found in tropical waters around the globe. In the U.S. it is found in the waters off southern Florida.
Source: Fish Base Intended Audience: General Reading Level: High School
Palenose Moray - Echidna nocturna







The palenose moray is found along the Pacific coasts of Colombia, Costa Rica, Ecuador, El Salvador, Guatemala, Honduras, Mexico, Nicaragua, Panama, and Peru.
Source: Fish Base Intended Audience: General Reading Level: High School
Viper Moray - Enchelycore nigricans







The viper moray is found on both sides of the Atlantic Ocean. In the U.S. it is found off the coast of Florida.
Source: Fish Base Intended Audience: General Reading Level: High School
Slenderjaw Moray - Enchelycore octaviana







The slenderjaw moray is found in the Pacific Ocean off the coasts of Colombia, Costa Rica, Ecuador, El Salvador, Honduras, Mexico, Nicaragua, Panama, and Peru.
Source: Fish Base Intended Audience: General Reading Level: High School

Finespotted Moray - Gymnothorax dovii







The finespotted moray is found in the Pacific Ocean off the coasts of Colombia, Costa Rica, Ecuador, El Salvador, Guatemala, Honduras, Mexico, Nicaragua, and Panama.
Source: Fish Base Intended Audience: General Reading Level: High School
Spotted-Tail Moray - Gymnothorax equatorialis







The spotted-tail moray is found in the Pacific Ocean off the coasts of Chile, Colombia, Costa Rica, Ecuador, El Salvador, Guatemala, Honduras, Mexico, Nicaragua, Panama, and Peru.
Source: Fish Base Intended Audience: General Reading Level: High School
Wide-Mouth Moray - Gymnothorax eurygnathos







The wide-mouth moray is found in the Pacific Ocean off the coasts of El Salvador, Guatemala, and Mexico.
Source: Fish Base Intended Audience: General Reading Level: High School
Lichen Moray - Gymnothorax hubbsi






The lichen moray is found in the Gulf of Mexico from Alabama south to Cuba and north up the eastern coast of Florida to southern Georgia.
Source: Fish Base Intended Audience: General Reading Level: High School
Blacktail Moray - Gymnothorax kolpos






The blacktail moray is found in along the Atlantic coast of the eastern U.S. from North Carolina south to Florida and along the Gulf Coast from Florida to Texas.
Source: Fish Base Intended Audience: General Reading Level: High School
Sharktooth Moray - Gymnothorax maderensis







The sharktooth moray is found in the eastern and western Atlantic ocean. In the eastern Atlantic it is found in Madeira, the Canary Islands, and the Cape Verde Islands. In the western Atlantic it is found in Bermuda, Cuba, and in the Caribbean.
Source: Fish Base Intended Audience: General Reading Level: High School
Blackedge Moray - Gymnothorax nigromarginatus






The blackedge moray is found rom the coast of North Carolina south to Cuba and Puerto Rico. It is also found in the Gulf of Mexico west to Texas and south through Central America to Colombia.
Source: Fish Base Intended Audience: General Reading Level: High School
Caribbean Ocellated Moray - Gymnothorax ocellatus







The Caribbean ocellated moray is found in the Caribbean and along the Atlantic coast of Central America south to Uruguay.
Source: Fish Base Intended Audience: General Reading Level: High School
Masked Moray - Gymnothorax panamensis







The masked moray is found along the Pacific coast of Colombia, Costa Rica, Ecuador, El Salvador, Guatemala, Honduras, Mexico, Nicaragua, and Panama.
Source: Fish Base Intended Audience: General Reading Level: High School

Small-Spotted Moray - Gymnothorax phalarus







The small-spotted moray is found along the Pacific coast of Colombia, Costa Rica, Ecuador, El Salvador, Guatemala, Honduras, Mexico, Nicaragua, Panama, and Peru.
Source: Fish Base Intended Audience: General Reading Level: High School
White-Edged Moray - Gymnothorax verrilli






The white-edged moray is found along the Pacific coast of Costa Rica, Mexico, and Panama.
Source: Fish Base Intended Audience: General Reading Level: High School
White-Spotted Moray - Muraena argus







The white-edged moray is found along the Pacific coast from southern California to Peru.
Source: Fish Base Intended Audience: General Reading Level: High School
Hourglass Moray - Muraena clepsydra







The hourglass moray is found along the Pacific coast of Colombia, Costa Rica, Ecuador, El Salvador, Guatemala, Honduras, Mexico, Nicaragua, Panama, and Peru
Source: Fish Base Intended Audience: General Reading Level: High School
Reticulate Moray - Muraena retifera







The reticulate moray is found from North Carolina south to Florida and along the Gulf Coast from Florida north to Mississippi. It is also found off the coast of Venezuela.
Source: Fish Base Intended Audience: General Reading Level: High School

Stout Moray - Muraena robusta








The stout moray is found from North Carolina to Florida in the western Atlantic as well as off the coast of Panama and Colombia. It is found along the African coast from Morocco to Angola in the eastern Atlantic.
Source: Fish Base Intended Audience: General Reading Level: High School

Marbled Moray - Uropterygius macularius








The marbled moray is found from North Carolina south to Brazil as well as in the Caribbean.
Source: Fish Base Intended Audience: General Reading Level: High School

Many-Spotted Moray - Uropterygius polystictus







The many-spotted moray is found along the Pacific coasts of Ecuador and Mexico
Source: Fish Base Intended Audience: General Reading Level: High School
Low Fin Moray - Gymnothorax porphyreus







The low-fin moray is found in sub-tropical waters in the South Pacific to South America.
Source: Fish Base Intended Audience: General Reading Level: High School

Sawtooth Moray - Gymnothorax serratidens






The sawtooth moray is found in waters off of Ecuador and Peru.
Source: Fish Base Intended Audience: General Reading Level: High School

Brown Conger - Gymnothorax vicinus








The brown conger is found on both sides of the Atlantic. In the U.S. it is found from the eastern coast of Florida through the Gulf coast states.
Source: Fish Base Intended Audience: General Reading Level: High School
Freshwater Moray - Gymnothorax polyuranodon








The freshwater moray is found in Australia, Brunei Darussalam, Fiji, Indonesia, Malaysia, Micronesia, New Caledonia, Palau, Papua New Guinea, the Philippines, Sri Lanka, and Taiwan.
Source: Fish Base Intended Audience: General Reading Level: High School
Brown Snake Moray - Uropterygius fuscoguttatus








The brown snake moray is found in Australia and the South Pacific Islands.
Source: Fish Base Intended Audience: General Reading Level: High School

Two-Holes Moray - Uropterygius versutus





The two-holes moray is found in Colombia, Costa Rica, Ecuador, El Salvador, Guatemala, Honduras, Mexico, Nicaragua, and Panama.
Source: Fish Base Intended Audience: General Reading Level: High School

Jigsaw Moray - Uropterygius wheeleri





The jigsaw moray is found in the eastern Atlantic off the coast of Africa in the waters around Cape Verde, Equatorial Guinea , Sao Tomé and Principe, and Senegal.
Source: Fish Base Intended Audience: General Reading Level: High School