Osteichthyes - Bony Fish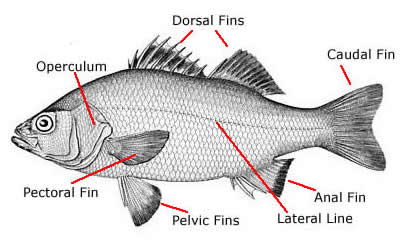 This is the largest class of vertebrates. There are over 29,000 species of bony fish found in freshwater and marine environments around the world.
Bony fish differ from fish like sharks and rays in the chondrichthyes class. Instead of cartilage, bony fish have bones. Bony fish also have a swim bladder. The swim bladder is a gas-filled sac that helps keep bony fish buoyant! They have paired pectoral and pelvic fins, and all but a few species have bones in their fins. They also have dorsal, anal, and caudal fins.
Bony fish also have an operculum. The operculum is a bony flap of skin over their gills that protects the gills. It opens and closes to help bony fish breathe when they are not swimming. Bony fish have scales, and most species have a fusiform body design. That means their bodies are rounded and tapered at both ends! This makes it easier to move through the water! Bony fish have a lateral line that runs across the side of their body. The lateral line is a series of sensory organs called neuromasts that helps bony fish sense vibrations and water pressure and help fish navigate and locate prey.
Orders

Acipenseriformes

(paddlefishes, sturgeons)

Albuliformes

(bonefish)

Amiiformes

(bowfins)

Anguilliformes

(eels)

Ateleopodiformes

Atheriniformes (rainbow fishes, silversides)

Aulopiformes (salmons)

Batrachoidiformes

Beloniformes (halfbeeks and needlefishes)

Beryciformes

Cetomimiformes

Channiformes

Characiformes (leporins, piranhas)

Clupeiformes (anchovies, herrings)

Ctenothrissiformes

Cypriniformes (minnows, suckers)

Cyprinodontiformes (killifishes)

Dactylopteriformes (flying gurnards)

Elopiformes (tarpons)

Esociformes (mudminnows and pikes)

Gadiformes (cods and hakes)

Gasterosteiformes (pipefishes, sticklebacks)

Gobiesociformes

Gonorhynchiformes (milkfish, shellears)

Gymnotiformes

Lampridiformes (opahs, ribbonfishes)

Lophiiformes (anglerfishes)
Mormyriformes
Mugiliformes (mullets)
Myctophiformes
Notacanthiformes (spiny eels, halosaurs)
Ophidiiformes
Osmeriformes (Argentines, smelts)
Osteoglossiformes (bonytongues)
Pegasiformes (dragonfishes, sea moths)
Perciformes (perch-like fishes)
Percopsiformes (trout-perches)
Pleuronectiformes (flounders, soles)
Polymixiiformes
Polypteriformes (birchers, lobed-finned pike)
Saccopharyngiformes
Salmoniformes (salmons)
Scorpaeniformes (scorpion fishes, sculpins)
Semionotiformes (gars)
Siluriformes (catfishes)
Stephanoberyciformes
Stomiiformes
Synbranchiformes (swamp eels)
Syngnathiformes (pipefishes, seahorses)
Tetraodontiformes (puffers, triggerfishes)
Zeiformes (boarfishes, dories)