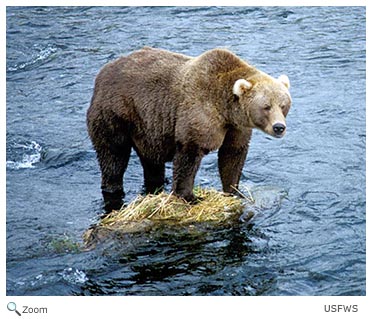 There are 8 species of bears in this family. They are found in all parts of the world, except Antarctica and Australia. Bears are found in a wide variety of habitats including deserts, grasslands, tundra, forests, mountains, and ice floes.
Bears are large animals and have small, rounded ears; pointed snouts; small eyes; and short tails. Most bears have long, shaggy brown, black, or white fur. Males are larger than females. Bears have large paws with five strong claws that they use for digging, climbing, and catching their prey. Bears can stand and walk on their hind legs. Many species can climb trees and swim.
Bears are omnivores. They eat fruit, berries, seeds, small mammals, birds, eggs, fish, insects, reptiles, amphibians, and carrion. The polar bear eats mostly meat and hunts seals. The panda eats mostly bamboo, but also eats insects and carrion. The sloth bear eats mostly termites and ants.
Except for mothers and their young, bears are solitary and live and hunt alone.
World Status Key


Least Concern

Near Threatened

Vulnerable

Endangered

Critically Endangered

Extinct in Wild

Extinct

Not Enough Data
Status and range is taken from ICUN Redlist.
U.S. Status Key
Threatened in US Endangered in US Introduced
Status taken from US Fish and Wildlife. Click on U.S. status icon to go to the U.S. Fish and Wildlife species profile.
New Hampshire Status Key
Threatened in NH Endangered in NH Breeds in NH (birds)
Status taken from NH Fish and Game
Location Key


Africa

Asia

Australia/Oceania

Europe

North America

South America

NH

Click for More Info

Click for Image

New Hampshire Species

North/Central American Species

American Black Bear - Ursus americanus


Brown Bear - Ursus arctos
Polar Bear - Ursus maritimus
Other Species Around the World

Giant Panda - Ailuropoda melanoleuca
Sun Bear - Helarctos malayanus
Sloth Bear - Melursus ursinus


Spectacled Bear -Tremarctos ornatus
Asiatic Black Bear - Ursus thibetanus

Additional Information
Key:

Profile

Photos

Video

Audio
American Black Bear - Ursus americanus






The American black bear is the smallest North American bear.
Source: Animal Diversity Web Intended Audience: General Reading Level: Middle School Teacher Section: No
American Black Bear - Ursus americanus






Except for during the mating season and when raising young, the black bear is a solitary animal.
Source: USDA Forest Service Intended Audience: General Reading Level: High School Teacher Section: No
American Black Bear - Ursus americanus






Most black bears hibernate for up to seven months.
Source: Smithsonian National Museum of Natural History Intended Audience: General Reading Level: Middle School Teacher Section: No
American Black Bear - Ursus americanus







Despite their name, black bears can also be a variety of shades of brown or even silver-gray or white.
Source: Arkive Intended Audience: General Reading Level: Middle School Teacher Section: Yes
Brown Bear - Ursus arctos







The brown bear is also known as the grizzly bear. Some brown bears have fur that is tipped in a lighter color than the rest of its fur. This gives the fur a grizzled look and is how the bear got the name grizzly bear.
Source: Animal Diversity Web Intended Audience: General Reading Level: Middle School Teacher Section: No
Brown Bear - Ursus arctos








The brown bear's range circles the Arctic. It is found from the Arctic coast down into central parts of Europe and Asia. In North America, it is found in Alaska, Wyoming, Montana, Idaho and Washington as well as western Canada.
Source: Arkive Intended Audience: General Reading Level: Middle School Teacher Section: Yes
Brown Bear - Ursus arctos







Brown bears are solitary.
Source: Smithsonian National Museum of Natural History Intended Audience: General Reading Level: Middle School Teacher Section: No
Brown Bear - Ursus arctos







Brown bears can run at speeds of up to 35 mph.
Source: PBS Nature Intended Audience: General Reading Level: Middle School Teacher Section: No
Polar Bear - Ursus maritimus








The polar bear is found around the North Pole. It is found in Greenland and the far northern areas of North America, Europe, and Asia.
Source: Animal Diversity Web Intended Audience: General Reading Level: Middle School Teacher Section: No
Polar Bear - Ursus maritimus









The polar bear is the largest living land carnivore.
Source: Arkive Intended Audience: General Reading Level: Middle School Teacher Section: Yes
Polar Bear - Ursus maritimus








Most of the polar bear's diet is made up of ringed seals.
Source: Smithsonian National Museum of Natural History Intended Audience: General Reading Level: Middle School Teacher Section: No
Giant Panda - Ailuropoda melanoleuca





The giant panda is found in Sichuan, Shaanxi and Gansu provinces in central China.
Source: Animal Diversity Web Intended Audience: General Reading Level: Middle School Teacher Section: No
Giant Panda - Ailuropoda melanoleuca






Except for mating season and when raising young, giant pandas are solitary.
Source: Arkive Intended Audience: General Reading Level: Middle School Teacher Section: Yes
Giant Panda - Ailuropoda melanoleuca






Giant pandas eat 20 to 40 pounds of bamboo each day.
Source: Smithsonian National Zoo Intended Audience: General Reading Level: Middle School Teacher Section: Yes
Sun Bear - Helarctos malayanus





The sun bear is also known as the Malayan sun bear. It is native to Bangladesh, Brunei Darussalam, Cambodia, India, Indonesia, Laos, Malaysia, Myanmar, Thailand, and Vietnam.
Source: Animal Diversity Web Intended Audience: General Reading Level: Middle School Teacher Section: No
Sun Bear - Helarctos malayanus






The sun bear is the smallest member of the bear family.
Source: Arkive Intended Audience: General Reading Level: Middle School Teacher Section: Yes
Sloth Bear - Melursus ursinus





The sloth bear is found in India, Nepal, and Sri Lanka.
Source: Animal Diversity Web Intended Audience: General Reading Level: Middle School Teacher Section: No
Sloth Bear - Melursus ursinus





Most of the sloth bear's diet consists of termites and ants.
Source: Smithsonian National Zoo Intended Audience: General Reading Level: Middle School Teacher Section: Yes
Sloth Bear - Melursus ursinus






The sloth bear has a long, shaggy coat.
Source: Arkive Intended Audience: General Reading Level: Middle School Teacher Section: Yes
Spectacled Bear - Tremarctos ornatus





The spectacled bear is found in the Andes in Bolivia, Colombia, Ecuador, Peru, and Venezuela.
Source: Animal Diversity Web Intended Audience: General Reading Level: Middle School Teacher Section: No
Spectacled Bear - Tremarctos ornatus






The spectacled bear is the only bear species found in South America.
Source: Arkive Intended Audience: General Reading Level: Middle School Teacher Section: Yes
Spectacled Bear - Tremarctos ornatus





The spectacled bear is also known as the Andean bear.
Source: Arkive Intended Audience: General Reading Level: Middle School Teacher Section: Yes
Asiatic Black Bear - Ursus thibetanus





The Asiatic black bear is native to Afghanistan, Bangladesh, Bhutan, Cambodia, China, India, Iran, Japan, North Korea, South Korea, Laos, Myanmar, Nepal, Pakistan, Russia, Taiwan, Thailand, and Vietnam.
Source: Animal Diversity Web Intended Audience: General Reading Level: Middle School Teacher Section: No
Asiatic Black Bear - Ursus thibetanus






The Asiatic black bear is also know as the moon bear because of the crescent-shaped ruff of cream colored fur on its chest.
Source: Arkive Intended Audience: General Reading Level: Middle School Teacher Section: Yes