Odontophoridae - Quails, Bobwhites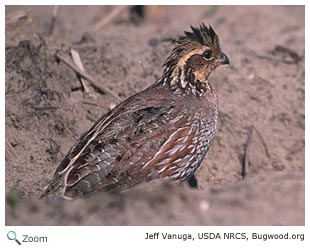 These are the New World quails. There are 31 species in this family. They are found in North and South America.
They are small, ground-dwelling birds and most live in brushy areas. They are omnivores and eat insects and other invertebrates as well as plants.
The are non-migratory. The young in the family are precocial and can feed themselves shortly after hatching.
World Status Key


Least Concern

Near Threatened

Vulnerable

Endangered

Critically Endangered

Extinct in Wild

Extinct
Status and range is taken from ICUN Redlist. If no status is listed, there is not enough data to establish status.
US Status Key


Threatened in US

Threatened in NH

Endangered in US

Endangered in NH

Introduced
Status taken from US Fish and Wildlife and NH Fish and Game
New Hampshire Species

North/Central American Species

Northern Bobwhite - Colinus virginianus

Bearded Wood-partridge - Dendrortyx barbatus
Buffy-crowned Wood-partridge - Dendrortyx leucophrys
Long-tailed Wood-partridge - Dendrortyx macroura
Tacarcuna Wood-quail - Odontophorus dialeucos
Rufous-fronted Wood-quail - Odontophorus erythrops
Marbled Wood-quail - Odontophorus gujanensis
Spotted Wood-quail - Odontophorus guttatus
Black-breasted Wood-quail - Odontophorus leucolaemus
Black-eared Wood-quail - Odontophorus melanotis
Mountain Quail - Oreortyx pictus
Banded Quail - Philortyx fasciatus
Tawny-faced Quail - Rhynchortyx cinctus

North/Central American Species

California Quail - Callipepla californica
Elegant Quail - Callipepla douglasii
Gambel's Quail - Callipepla gambelii
Scaled Quail - Callipepla squamata
Black-throated Bobwhite - Colinus nigrogularis
Montezuma Quail - Cyrtonyx montezumae
Ocellated Quail - Cyrtonyx ocellatus
Singing Quail - Dactylortyx thoracicus
Other Species Around the World

Africa Asia Australia/Oceania Europe North America South America NH Species

California Quail - Callipepla californica
Elegant Quail - Callipepla douglasii
Gambel's Quail - Callipepla gambelii
Scaled Quail - Callipepla squamata
Crested Bobwhite - Colinus cristatus
Black-throated Bobwhite - Colinus nigrogularis
Northern Bobwhite - Colinus virginianus
Montezuma Quail - Cyrtonyx montezumae
Ocellated Quail - Cyrtonyx ocellatus
Singing Quail - Dactylortyx thoracicus
Bearded Wood-partridge - Dendrortyx barbatus
Buffy-crowned Wood-partridge - Dendrortyx leucophrys
Long-tailed Wood-partridge - Dendrortyx macroura
Black-fronted Wood-quail - Odontophorus atrifrons
Stripe-faced Wood-quail - Odontophorus balliviani

Spot-winged Wood-quail - Odontophorus capueira
Venezuelan Wood-quail - Odontophorus columbianus
Tacarcuna Wood-quail - Odontophorus dialeucos
Rufous-fronted Wood-quail - Odontophorus erythrops
Marbled Wood-quail - Odontophorus gujanensis
Spotted Wood-quail - Odontophorus guttatus
Chestnut Wood-quail - Odontophorus hyperythrus
Black-breasted Wood-quail - Odontophorus leucolaemus
Dark-backed Wood-quail - Odontophorus melanonotus
Black-eared Wood-quail - Odontophorus melanotis
Rufous-breasted Wood-quail - Odontophorus speciosus
Starred Wood-quail - Odontophorus stellatus
Gorgeted Wood-quail - Odontophorus strophium
Mountain Quail - Oreortyx pictus
Banded Quail - Philortyx fasciatus
Tawny-faced Quail - Rhynchortyx cinctus
Additional Information
Key:

Profile

Photos

Video

Audio
California Quail - Callipepla californica






The California quail is found in the western United States and Canada.
Source: Animal Diversity Web Intended Audience: General Reading Level: Middle School
California Quail - Callipepla californica







The California quail spends most of its time on the ground searching for food.
Source: Cornell Lab of Ornithology Intended Audience: General Reading Level: Middle School
Dark-backed Wood-quail - Odontophorus melanonotus




The dark-backed wood-quail is found in Colombia and Ecuador.
Source: Arkive Intended Audience: General Reading Level: Middle School
Gambel's Quail - Callipepla gambelii






Gambel's quail is found in the southwestern United States.
Source: Animal Diversity Web Intended Audience: General Reading Level: Middle School
Gambel's Quail - Callipepla gambelii







Gambel's quail is found in the Sonoran, Mohave, and Chihuahuan deserts.
Source: Cornell Lab of Ornithology Intended Audience: General Reading Level: Middle School
Gorgeted Wood-quail - Odontophorus strophium





The gorgeted wood-quail is found in Colombia.
Source: Arkive Intended Audience: General Reading Level: Middle School
Montezuma Quail - Cyrtonyx montezumae





The Montezuma quail is found in the Sierra Madre mountains in Mexico and in Arizona, New Mexico, and Texas.
Source: Animal Diversity Web Intended Audience: General Reading Level: Middle School
Montezuma Quail - Cyrtonyx montezumae






The Montezuma quail can leap over six feet straight up in the air when it is startled.
Source: Cornell Lab of Ornithology Intended Audience: General Reading Level: Middle School
Mountain Quail - Oreortyx pictus






The mountain quail is found in the Sierra Madre mountains in Mexico and in Arizona, New Mexico, and Texas.
Source: Cornell Lab of Ornithology Intended Audience: General Reading Level: Middle School
Northern Bobwhite - Colinus virginianus






Northern bobwhites are found from southeastern Ontario, Canada to Central America.
Source: Animal Diversity Web Intended Audience: General Reading Level: Middle School
Northern Bobwhite - Colinus virginianus







There are 22 subspecies of northern bobwhite.
Source: Cornell Lab of Ornithology Intended Audience: General Reading Level: Middle School
Scaled Quail - Callipepla squamata



The scaled quail is found in the Sierra Madre mountains in Mexico and in Arizona, New Mexico, and Texas.
Source: Cornell Lab of Ornithology Intended Audience: General Reading Level: Middle School