Odontaspididae - sand tiger sharks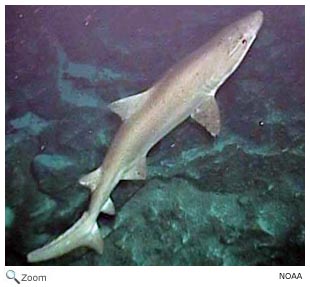 There are three species in this family of sharks. They can be up to 12 feet in length. They have stout, torpedo-shaped bodies; sharply pointed snouts; five pairs of short gill slits; a large anal fin; and two dorsal fins that are around the same size.
They are found in temperate and tropical regions in all the world's oceans at depths of 600-4,000 feet. They eat bony fish, rays, squid, sharks, and crustaceans. Females give birth to live young and the newly hatched sharks often eat their siblings or their eggs while still in the womb.
Species include: the sand tiger shark, which is also known as the gray nurse shark; the smalltooth sand tiger shark, and the bigeye sand tiger shark.


World Status Key


Least Concern

Near Threatened

Vulnerable

Endangered

Critically Endangered

Extinct in Wild

Extinct
Status and range is taken from ICUN Redlist. If no status is listed, there is not enough data to establish status.
US Status Key


Threatened in US

Threatened in NH

Endangered in US

Endangered in NH

Introduced
Status taken from US Fish and Wildlife and NH Fish and Game
New Hampshire Species

North/Central American Species

Sand Tiger Shark - Carcharias taurus

Small-tooth Sand Tiger Shark - Odontaspis ferox
Bigeye Sand Tiger Shark - Odontaspis noronhai
Other Species Around the World

Africa Asia Australia/Oceania Europe North America South America NH Species
Arctic Ocean Atlantic Ocean Indian Ocean Mediterranean/Black Sea Pacific Ocean

Sand Tiger Shark - Carcharias taurus
Small-tooth Sand Tiger Shark - Odontaspis ferox
Bigeye Sand Tiger Shark - Odontaspis noronhai
Additional Information
Key:

Profile

Photos

Video

Audio
Bigeye Sand Tiger Shark - Odontaspis noronhai








The bigeye sand tiger shark is found in deep ocean waters and not a lot is known about it.
Source: Shark Foundation Intended Audience: General Reading Level: Middle School Teacher Section: No
Sand Tiger Shark - Carcharias taurus
















The sand tiger shark is found in temperate and tropical waters around the world.
Source: Arkive Intended Audience: General Reading Level: Middle School Teacher Section: Yes
Sand Tiger Shark - Carcharias taurus















The sand tiger shark is found from the Gulf of Maine to Argentina in the western Atlantic Ocean.
Source: Animal Diversity Web Intended Audience: General Reading Level: Middle School Teacher Section: Yes
Sand Tiger Shark - Carcharias taurus















Sand tigers are the only shark known to come to the surface and gulp air.
Source: National Geographic Intended Audience: General Reading Level: Middle School Teacher Section: No
Sand Tiger Shark - Carcharias taurus
















The air that sand tiger sharks gulp help make them more buoyant.
Source: National Geographic Kids Intended Audience: Students Reading Level: Elementary School Teacher Section: No
Sand Tiger Shark - Carcharias taurus
















The sand tiger shark is found in inshore waters at depths of 6 to 626 feet.
Source: Florida Museum of Natural History Intended Audience: General Reading Level: High School Teacher Section: Yes
Small-tooth Sand Tiger Shark - Odontaspis ferox














The small-tooth sand tiger shark is found in temperate and tropical waters around the world.
Source: Arkive Intended Audience: General Reading Level: Middle School Teacher Section: Yes