Odobenidae - walruses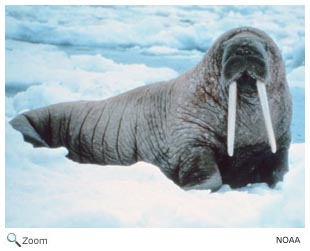 There is only one species in this family, the walrus. There are two subspecies of walruses. The Atlantic walrus is found in the coastal areas of northeastern Canada and Greenland. The Pacific walrus is found in the Bering and Chukchi seas.
The walrus is a large animal. It is 8-12 feet in length and weighs 900-4,000 pounds. Males are larger than females, and the Pacific walrus is larger than the Atlantic walrus. The walrus is reddish-brown in color, but can be a grayish-white after it has been in the water for long periods of time.
Both the male and the female have long tusks. The tusks are really very long canine teeth! The male's tusks are larger than the female's tusks. He uses his tusks in aggressive displays with other male walruses and also uses them as a weapon when fighting other males. The walrus is a carnivore and eats clams, mussels, crabs, octopuses, worms, sea cucumbers, and other prey it finds on the ocean floor. It has poor eyesight under the water and uses the hundreds of whiskers on its face to locate prey. It occasionally eats larger prey, like seals.
World Status Key


Least Concern

Near Threatened

Vulnerable

Endangered

Critically Endangered

Extinct in Wild

Extinct
Status and range is taken from ICUN Redlist. If no status is listed, there is not enough data to establish status.
US Status Key


Threatened in US

Threatened in NH

Endangered in US

Endangered in NH

Introduced
Status taken from US Fish and Wildlife and NH Fish and Game
| | | |
| --- | --- | --- |
| New Hampshire Species | | North/Central American Species |
| None | | Walrus - Odobenus rosmarus |
Other Species Around the World

Africa Asia Australia/Oceania Europe North America South America NH Species
Arctic Ocean Atlantic Ocean Indian Ocean Mediterranean/Black Sea Pacific Ocean

Walrus - Odobenus rosmarus
Additional Information
Key:

Profile

Photos

Video

Audio
Walrus - Odobenus rosmarus










Both male and female walruses have tusks, but the male's tusks are longer.
Source: Arkive Intended Audience: General Reading Level: Middle School
Walrus - Odobenus rosmarus











The walrus can live up to 40 years in the wild.
Source: National Geographic Intended Audience: General Reading Level: Middle School
Walrus - Odobenus rosmarus











The walrus is found in areas with ice floes.
Source: Animal Diversity Web Intended Audience: General Reading Level: Middle School
Walrus - Odobenus rosmarus









The walrus spends most of its life in the sea.
Source: Enchanted Learning Intended Audience: Students Reading Level: Elementary School
Walrus - Odobenus rosmarus









Walruses are among the most vocal of the pinnipeds.
Source: Sea World Intended Audience: Students Reading Level: Elementary/Middle School
Walrus - Odobenus rosmarus









Walruses calves weigh 100 to 150 pounds at birth.
Source: US Fish and Wildlife Intended Audience: General Reading Level: Middle School