Nyctibiidae - Potoos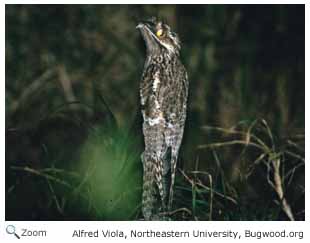 The Nyctibiidae family includes the potoos. Potoos are large nocturnal birds that eat insects. Unlike other birds in the Caprimulgiformes order, they don't have bristles around their bills.
Potoos are 8-20 inches in length. They have large heads; large, broad bills with a slight hook on the end; and big eyes. They have long wings and a long tail. Their cryptic coloration is a mixture of black, brown, and gray and helps them blend in with tree bark.
Potoos are nocturnal. During the day, they perch on tree branches, where they are hard to spot. If they sense danger, they freeze, making them even more difficult to spot.
Potoos are found in Mexico and Central and South America. There are seven species in this family.
World Status Key


Least Concern

Near Threatened

Vulnerable

Endangered

Critically Endangered

Extinct in Wild

Extinct
Status and range is taken from ICUN Redlist. If no status is listed, there is not enough data to establish status.
US Status Key


Threatened in US

Threatened in NH

Endangered in US

Endangered in NH

Introduced
Status taken from US Fish and Wildlife and NH Fish and Game
New Hampshire Species

North/Central American Species

None



Great Potoo - Nyctibius grandis
Gray Potoo - Nyctibius griseus
Northern Potoo - Nyctibius jamaicensis
Other Species Around the World

Africa Asia Australia/Oceania Europe North America South America NH Species

Long-tailed Potoo - Nyctibius aethereus
Rufous Potoo - Nyctibius bracteatus
Great Potoo - Nyctibius grandis
Gray Potoo - Nyctibius griseus
Northern Potoo - Nyctibius jamaicensis
White-winged Potoo - Nyctibius leucopterus
Andean Potoo - Nyctibius maculosus
Additional Information
Key:

Profile

Photos

Video

Audio
Andean Potoo - Nyctibius maculosus




The Andean potoo is found in Bolivia, Colombia, Ecuador, Peru, and Venezuela.
Source: Internet Bird Collection Intended Audience: General Reading Level: Middle School Teacher Section: Yes
Gray Potoo - Nyctibius griseus







The gray potoo is is also known as the common potoo. It is found in Argentina, Bolivia, Brazil, Colombia, Costa Rica, Ecuador, French Guiana, Guyana, Nicaragua, Panama, Paraguay, Peru, Suriname, Trinidad and Tobago, Uruguay, and Venezuela.
Source: Internet Bird Collection Intended Audience: General Reading Level: Middle School Teacher Section: Yes
Great Potoo - Nyctibius grandis





The great potoo is found in Belize, Bolivia, Brazil, Colombia, Costa Rica, Ecuador, French Guiana, Guatemala, Guyana, Honduras, Mexico, Nicaragua, Panama, Paraguay, Peru, Suriname, and Venezuela.
Source: Arkive Intended Audience: General Reading Level: Middle School Teacher Section: Yes
Great Potoo - Nyctibius grandis






The great potoo is usually found in forests and rainforests
Source: Animal Diversity Web Intended Audience: General Reading Level: Middle School Teacher Section: Yes
Great Potoo - Nyctibius grandis







The great potoo is the largest member of the Caprimulgiformes order.
Source: Internet Bird Collection Intended Audience: General Reading Level: Middle School Teacher Section: Yes
Long-tailed Potoo - Nyctibius aethereus






The long-tailed potoo is found in Argentina, Bolivia, Brazil, Colombia, Ecuador, Guyana, Paraguay, Peru, and Venezuela.
Source: Internet Bird Collection Intended Audience: General Reading Level: Middle School Teacher Section: Yes
Northern Potoo - Nyctibius jamaicensis





The northern potoo is found in Belize, Cuba, Dominican Republic, El Salvador, Guatemala, Haiti, Honduras, Jamaica, and Mexico.
Source: Internet Bird Collection Intended Audience: General Reading Level: Middle School Teacher Section: Yes
Rufous Potoo - Nyctibius bracteatus






The northern potoo is found in Bolivia, Brazil, Colombia, Ecuador, French Guiana, Guyana, and Peru.
Source: Internet Bird Collection Intended Audience: General Reading Level: Middle School Teacher Section: Yes
White-winged Potoo - Nyctibius leucopterus





The white-winged potoo is found in Brazil, Guyana, and Peru.
Source: Internet Bird Collection Intended Audience: General Reading Level: Middle School Teacher Section: Yes