Muridae - Old World mice and rats, gerbils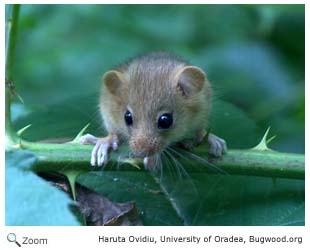 With around 711 species, this is the largest family of rodents and mammals. They are native to Africa, Europe, Asia, and Australia, but they have been introduced around the world and today are found in all parts of the world, except for Antarctica.
They are found in all types of habitats including swamps, grasslands, tundra, deciduous forests, coniferous forests, rainforests, deserts, wetlands, mountains, and suburban, and urban areas.
Many species in this family have small bodies, long tails, round ears, round eyes, and pointed noses with whiskers. In most species in this family, females give birth to large litters of between 6-13 young. Females usually have more than one litter a year and the young are ready to mate when they are a month or two old. Because they are prey for other animals, most species in this family only live for a year or two in the wild.
Some species are nocturnal; some are active in the day. Some species live in trees, while others are ground dwellers and others live in underground burrows. Some species are herbivores, others are carnivores, and some are omnivores.
World Status Key


Least Concern

Near Threatened

Vulnerable

Endangered

Critically Endangered

Extinct in Wild

Extinct
Status and range is taken from ICUN Redlist. If no status is listed, there is not enough data to establish status.
US Status Key


Threatened in US

Threatened in NH

Endangered in US

Endangered in NH

Introduced
Status taken from US Fish and Wildlife and NH Fish and Game
New Hampshire Species

North/Central American Species

House Mouse - Mus musculus
Norway Rat - Rattus norvegicus

Other Species Around the World

Africa Asia Australia/Oceania Europe North America South America NH Species

Luzon Broad-toothed Rat - Abditomys latidens
Menzies' Mouse - Abeomelomys sevia
Western Saharan Spiny Mouse - Acomys airensis
Cairo Spiny Mouse - Acomys cahirinus
Asia Minor Spiny Mouse - Acomys cilicicus
Gray Spiny Mouse - Acomys cineraceus
Arabian Spiny Mouse - Acomys dimidiatus
Fiery Spiny Mouse - Acomys ignitus
Johan's Spiny Mouse - Acomys johannis
Kemp's Spiny Mouse - Acomys kempi
Louise's Spiny Mouse - Acomys louisae
Crete Spiny Mouse - Acomys minous
Mullah Spiny Mouse - Acomys mullah
Cyprus Spiny Mouse - Acomys nesiotes
Percival's Spiny Mouse - Acomys percivali
Golden Spiny Mouse - Acomys russatus
Seurat's Spiny Mouse - Acomys seurati
Spiny Mouse - Acomys spinosissimus
Cape Spiny Mouse - Acomys subspinosus
Wilson's Spiny Mouse - Acomys wilsoni
Bocage's Rock Rat - Aethomys bocagei
Red Rock Rat - Aethomys chrysophilus
Grant's Rock Mouse - Aethomys granti
Hinde's Rock Rat - Aethomys hindei
Tete Veld Aethomys - Aethomys ineptus
Kaiser's Rock Rat - Aethomys kaiseri
Namaqua Rock Rat - Aethomys namaquensis
Nyika Rock Rat - Aethomys nyikae
Selinda Veld Rat - Aethomys silindensis
Tinfields Rock Rat - Aethomys stannarius
Thomas's Rock Rat - Aethomys thomasi
Ammodile - Ammodillus imbellis
Uneven-toothed Rat - Anisomys imitator
Mindoro Forest Anonymomys - Anonymomys mindorensis
Striped Field Mouse - Apodemus agrarius
Alpine Field Mouse - Apodemus alpicola
Small Japanese Field Mouse - Apodemus argenteus
Chevrier's Field Mouse - Apodemus chevrieri
South China Field Mouse - Apodemus draco
Western Broad-toothed Field Mouse - Apodemus epimelas
Yellow-necked Mouse - Apodemus flavicollis
Himalayan Wood Mouse - Apodemus gurkha
Hyrcanian Field Mouse - Apodemus hyrcanicus
Large-eared Field Mouse - Apodemus latronum
Eastern Broad-toothed Field Mouse-Apodemus mystacinus
Himalayan Field Mouse - Apodemus pallipes
Korean Field Mouse - Apodemus peninsulae
Black Sea Field Mouse - Apodemus ponticus
Kashmir Field Mouse - Apodemus rusiges
Taiwan Field Mouse - Apodemus semotus
Large Japanese Field Mouse - Apodemus speciosus
Wood Mouse - Apodemus sylvaticus
Pygmy Field Mouse - Apodemus uralensis
Steppe Field Mouse - Apodemus witherbyi
Luzon Cordillera Apomys - Apomys abrae
Camiguin Forest Mouse - Apomys camiguinensis
Northern Luzon Apomys - Apomys datae
Large Mindoro Apomys - Apomys gracilirostris
Mindanao Mossy Forest Apomys - Apomys hylocetes
Mindanao Montane Forest Mouse - Apomys insignis
Mindanao Lowland Apomys - Apomys littoralis
Small Luzon Apomys - Apomys microdon
Least Philippine Apomys - Apomys musculus
Long-nosed Luzon Apomys - Apomys sacobianus
Cordillera Shrew-mouse - Archboldomys kalinga
Isarog Shrew Mouse - Archboldomys luzonensis
Sierra Madre Shrew Mouse - Archboldomys musseri
Abyssinian Grass Rat - Arvicanthis abyssinicus
Sudanian Arvicanthis - Arvicanthis ansorgei
Blick's Grass Rat - Arvicanthis blicki
Nairobi Grass Rat - Arvicanthis nairobae
Somali Grass Rat - Arvicanthis neumanni
African Grass Rat - Arvicanthis niloticus
Guinean Arvicanthis - Arvicanthis rufinus
Mountain Water Rat - Baiyankamys habbema
Shaw Mayer's Water Rat - Baiyankamys shawmayeri
Lesser Bandicoot Rat - Bandicota bengalensis
Greater Bandicoot Rat - Bandicota indica
Savile's Bandicoot Rat - Bandicota savilei
Large-toothed Batomys - Batomys dentatus
Luzon Batomys - Batomys granti
Russet Batomys - Batomys russatus
Mindanao Batomys - Batomys salomonseni
Berdmore's Berylmy - Berylmys berdmorei
Bower's White-toothed Rat - Berylmys bowersi
Kenneth's White-toothed Rat - Berylmys mackenziei
Manipur White-toothed Rat - Berylmys manipulus
Przewalski's Jird - Brachiones przewalskii
Mindanao Bullimus - Bullimus bagobus
Camiguin Forest Rat - Bullimus gamay
Luzon Bullimus - Bullimus luzonicus
Andrew's Bunomys - Bunomys andrewsi
Common Bunomys - Bunomys chrysocomus
Lampobatang Bunomys - Bunomys coelestis
Northeastern Peninsula Bunomys - Bunomys fratrorum
Montane Bunomys - Bunomys penitus
Tambusisi Bunomys - Bunomys prolatus
Large Luzon Carpomys - Carpomys melanurus
Small Luzon Carpomys - Carpomys phaeurus
Indochinese Chiromyscus - Chiromyscus chiropus
Palawan Pencil-tailed Tree Mouse-Chiropodomys calamianensis
Pencil-tailed Tree Mouse - Chiropodomys gliroides
Koopman's Pencil-tailed Tree Mouse-Chiropodomys karlkoopmani
Greater Pencil-tailed Tree Mouse - Chiropodomys major
Gray-bellied Pencil-tailed Tree Mouse-Chiropodomys muroides
Lesser Pencil-tailed Tree Mouse - Chiropodomys pusillus
Forbes's Tree Mouse - Chiruromys forbesi
Broad-headed Tree Mouse - Chiruromys lamia
Lesser Tree Mouse - Chiruromys vates
Isarog Chrotomys - Chrotomys gonzalesi
Lowland Chrotomys - Chrotomys mindorensis
Sibuyan Striped Shrew-rat - Chrotomys sibuyanensis
Blazed Luzon Chrotomys - Chrotomys silaceus
Montane Chrotomys - Chrotomys whiteheadi
White-toothed Mouse - Coccymys albidens
Rümmler's Mouse - Coccymys ruemmleri
African Wading Rat - Colomys goslingi
White-footed Rabbit-rat - Conilurus albipes
Brush-tailed Rabbit Rat - Conilurus penicillatus
Buhler's Coryphomys - Coryphomys buehleri
Dinagat Crateromys - Crateromys australis
Panay Crateromys - Crateromys heaneyi
Ilin Crateromys - Crateromys paulus
Luzon Crateromys - Crateromys schadenbergi
Cutch Rock-rat - Cremnomys cutchicus
Large Rock-rat - Cremnomys elvira
Earless Water Rat - Crossomys moncktoni
Sulawesi Shrew Mouse - Crunomys celebensis
Luzon Shrew Mouse - Crunomys fallax
Mindanao Shrew Mouse - Crunomys melanius
Katanglad Shrew Mouse - Crunomys suncoides
Millard's Rat - Dacnomys millardi
Fox's Shaggy Rat - Dasymys foxi
African Marsh Rat - Dasymys incomtus
Montane Shaggy Rat - Dasymys montanus
Angolan Marsh Rat - Dasymys nudipes
West African Shaggy Rat - Dasymys rufulus
Congo Forest Mouse - Deomys ferrugineus
Defua Rat - Dephomys defua
Pouched Gerbil - Desmodilliscus braueri
Cape Short-eared Gerbil - Desmodillus auricularis
Harrington's Rat - Desmomys harringtoni
Yalden's Desmomys - Desmomys yaldeni
Crump's Mouse - Diomys crumpi
Ryukyus Islands Tree Rat - Diplothrix legata
Central Sulawesi Echiothrix - Echiothrix centrosa
Northern Sulawesi Echiothrix - Echiothrix leucura
Sulawesi Soft-furred Rat - Eropeplus canus
Cape Gerbil - Gerbilliscus afra
Boehm's Gerbil - Gerbilliscus boehmi
Highveld Gerbil - Gerbilliscus brantsii
Gerbilliscus gambiana
Guinea Gerbil - Gerbilliscus guineae
Gorongoza Gerbil - Gerbilliscus inclusus
Kemp's Gerbil - Gerbilliscus kempi
Bushveld Gerbil - Gerbilliscus leucogaster
Black-tailed Gerbil - Gerbilliscus nigricaudus
Phillip's Gerbil - Gerbilliscus phillipsi
Fringe-tailed Gerbil - Gerbilliscus robustus
Savanna Gerbil - Gerbilliscus validus
Hairy-footed Gerbil - Gerbillurus paeba
Setzer's Hairy-footed Gerbil - Gerbillurus setzeri
Dune Hairy-footed Gerbil - Gerbillurus tytonis
Bushy-tailed Hairy-footed Gerbil - Gerbillurus vallinus
Berbera Gerbil - Gerbillus acticola
Agag Gerbil - Gerbillus agag
Pleasant Gerbil - Gerbillus amoenus
Anderson's Gerbil - Gerbillus andersoni
Swarthy Gerbil - Gerbillus aquilus
Botta's Gerbil - Gerbillus bottai
Brockman's Gerbil - Gerbillus brockmani
Burton's Gerbil - Gerbillus burtoni
North African Gerbil - Gerbillus campestris
Cheesman's Gerbil - Gerbillus cheesmani
Cosens's Gerbil - Gerbillus cosensis
Wagner's Gerbil - Gerbillus dasyurus
Somalia Gerbil - Gerbillus dunni
Black-tufted Gerbil - Gerbillus famulus
Flower's Gerbil - Gerbillus floweri
Lesser Egyptian Gerbil - Gerbillus gerbillus
Little Hairy-footed Gerbil - Gerbillus gleadowi
Grobben's Gerbil - Gerbillus grobbeni
Harwood's Gerbil - Gerbillus harwoodi
Pygmy Gerbil - Gerbillus henleyi
Western Gerbil - Gerbillus hesperinus
Hoogstraal's Gerbil - Gerbillus hoogstraali
James's Gerbil - Gerbillus jamesi
Julian's Gerbil - Gerbillus juliani
Lataste's Gerbil - Gerbillus latastei
Lowe's Gerbil - Gerbillus lowei
Mackillingin's Gerbil - Gerbillus mackillingini
Greater Short-tailed Gerbil - Gerbillus maghrebi
Mesopotamian Gerbil - Gerbillus mesopotamiae
Barfur Gerbil - Gerbillus muriculus
Sudan Gerbil - Gerbillus nancillus
Dwarf Gerbil - Gerbillus nanus
Nigerian Gerbil - Gerbillus nigeriae
Occidental Gerbil - Gerbillus occiduus
Percival's Gerbil - Gerbillus percivali
Pale Gerbil - Gerbillus perpallidus
Large Aden Gerbil - Gerbillus poecilops
Principal Gerbil - Gerbillus principulus
Cushioned Gerbil - Gerbillus pulvinatus
Least Gerbil - Gerbillus pusillus
Greater Egyptian Gerbil - Gerbillus pyramidum
Rosalinda Gerbil - Gerbillus rosalinda
Rupicolous Gerbil - Gerbillus rupicola
Lesser Short-tailed Gerbil - Gerbillus simoni
Somalian Gerbil - Gerbillus somalicus
Khartoum Gerbil - Gerbillus stigmonyx
Tarabul's Gerbil - Gerbillus tarabuli
Waters's Gerbil - Gerbillus watersi
Indian Bush-rat - Golunda ellioti
Arid Woodland Grammomys - Grammomys aridulus
Bunting's Thicket Rat - Grammomys buntingi
Gray-headed Thicket Rat - Grammomys caniceps
Mozambique Thicket Rat - Grammomys cometes
Woodland Thicket Rat - Grammomys dolichurus
Forest Thicket Rat - Grammomys dryas
Giant Thicket Rat - Grammomys gigas
Ruwenzori Thicket Rat - Grammomys ibeanus
Eastern Rainforest Grammomys - Grammomys kuru
Macmillan's Thicket Rat - Grammomys macmillani
Ethiopian Thicket Rat - Grammomys minnae
Hume's Rat - Hadromys humei
Yunnan Hadromys - Hadromys yunnanensis
Margaret's Haeromys - Haeromys margarettae
Lowland Sulawesi Haeromys - Haeromys minahassae
Sundaic Haeromys - Haeromys pusillus
Lesser Marmoset Rat - Hapalomys delacouri
Greater Marmoset Rat - Hapalomys longicaudatus
African Smoky Mouse - Heimyscus fumosus
Eisentraut's Striped Mouse - Hybomys badius
Father Basilio's Striped Mouse - Hybomys basilii
Moon Striped Mouse - Hybomys lunaris
Liberian Forest Hybomys - Hybomys planifrons
Temminck's Striped Mouse - Hybomys trivirgatus
Peters' Striped Mouse - Hybomys univittatus
Common Water Rat - Hydromys chrysogaster
Western Water Rat - Hydromys hussoni
New Britain Water Rat - Hydromys neobritannicus
Ziegler's Water Rat - Hydromys ziegleri
Beaded Hylomyscus - Hylomyscus aeta
Allen's Hylomyscus - Hylomyscus alleni
Baer's Wood Mouse - Hylomyscus baeri
Angolan Wood Mouse - Hylomyscus carillus
Montane Wood Mouse - Hylomyscus denniae
Mt Oku Hylomyscus - Hylomyscus grandis
Lesser Hylomyscus - Hylomyscus parvus
Stella Wood Mouse - Hylomyscus stella
Western White-eared Giant Rat - Hyomys dammermani
Eastern White-eared Giant Rat - Hyomys goliath
Javan Bamboo Rat - Kadarsanomys sodyi
Nusa Tenggara Komodomys - Komodomys rintjanus
Mount Oku Rat - Lamottemys okuensis
Central Short-tailed Mouse - Leggadina forresti
Lakeland Dwons Mouse - Leggadina lakedownensis
Groove-toothed Forest Mouse - Leimacomys buettneri
Barbary Striped Grass Mouse - Lemniscomys barbarus
Bellier's Striped Grass Mouse - Lemniscomys bellieri
Griselda's Striped Grass Mouse - Lemniscomys griselda
Hoogstraal's Striped Grass Mouse - Lemniscomys hoogstraali
Senegal One-striped Grass Mouse - Lemniscomys linulus
Buffoon Striped Grass Mouse - Lemniscomys macculus
Mittendorf's Striped Grass Mouse-Lemniscomys mittendorfi
Single-striped Lemniscomys - Lemniscomys rosalia
Rosevear's Striped Grass Mouse - Lemniscomys roseveari
Typical Striped Grass Mouse - Lemniscomys striatus
Heuglin's Striped Grass Mouse - Lemniscomys zebra
Meyer's Lenomys - Lenomys meyeri
Sundaic Lenothrix - Lenothrix canus
Sundaic Mountain Leopoldamys - Leopoldamys ciliatus
Edwards's Long-tailed Giant Rat - Leopoldamys edwardsi
Millet's Leopoldamys - Leopoldamys milleti
Neill's Leopoldamys - Leopoldamys neilli
Long-tailed Giant Rat - Leopoldamys sabanus
Mentawai Long-tailed Giant Rat-Leopoldamys siporanus
Lesser Stick-nest Rat - Leporillus apicalis
Greater Stick-nest Rat - Leporillus conditor
Large Leptomys - Leptomys elegans
Ernst Mayr's Leptomys - Leptomys ernstmayri
Fly River Leptomys - Leptomys signatus
Gray-bellied Limnomys - Limnomys bryophilus
White-bellied Limnomys - Limnomys sibuanus
Short-tailed Brush-furred Rat - Lophuromys brevicaudus
Ethiopian Forest Brush-furred Rat - Lophuromys chrysopus
Gray Brush-furred Rat - Lophuromys cinereus
Dieterlen's Brush-furred Mouse - Lophuromys dieterleni
Lophuromys eisentrauti
Yellow-spotted Brush-furred Rat-Lophuromys flavopunctatus
Hutterer's Brush-furred Mouse - Lophuromys huttereri
Yellow-bellied Brush-furred Rat - Lophuromys luteogaster
Medium-tailed Brush-furred Rat -Lophuromys medicaudatus
Black-clawed Brush-furred Rat - Lophuromys melanonyx
Fire-bellied Brush-furred Rat - Lophuromys nudicaudus
Rahm's Brush-furred Rat - Lophuromys rahmi
Mount Cameroon Brush-furred Rat - Lophuromys roseveari
Rusty-bellied Brush-furred Rat - Lophuromys sikapusi
Woosnam's Brush-furred Rat - Lophuromys woosnami
Long-footed Tree Mouse - Lorentzimys nouhuysi
Lesser Small-toothed Rat - Macruromys elegans
Greater Small-toothed Rat - Macruromys major
White-tailed Wood Rat - Madromys blanfordi
Cansdale's Swamp Rat - Malacomys cansdalei
Edward's Swamp Rat - Malacomys edwardsi
Big-eared Swamp Rat - Malacomys longipes
De Vis's Woolly Rat - Mallomys aroaensis
Alpine Woolly Rat - Mallomys gunung
Subalpine Woolly Rat - Mallomys istapantap
Rothschild's Woolly Rat - Mallomys rothschildi
Highland Mammelomys - Mammelomys lanosus
Lowland Mammelomys - Mammelomys rattoides
Spiny Lowland Margaretamys - Margaretamys beccarii
Elegant Margaretamys - Margaretamys elegans
Lesser Margaretamys - Margaretamys parvus
Broad-toothed Mouse - Mastacomys fuscus
Awash Multimammate Mouse - Mastomys awashensis
Southern Multimammate Mouse - Mastomys coucha
Guinea Multimammate Mouse - Mastomys erythroleucus
Hubert's Mastomys - Mastomys huberti
Kollmannsperger's Mastomys-Mastomys kollmannspergeri
Natal Multimammate Mouse - Mastomys natalensis
Dwarf Multimammate Mouse - Mastomys pernanus
Shortridge's Multimammate Mouse-Mastomys shortridgei
Bornean Mountain Maxomys - Maxomys alticola
Small Bornean Maxomys - Maxomys baeodon
Bartels's Javan Maxomys - Maxomys bartelsii
Dollman's Sulawesi Maxomys - Maxomys dollmani
Hellwald's Sulawesi Maxomys - Maxomys hellwaldii
Sumatran Mountain Maxomys - Maxomys hylomyoides
Malayan Mountain Maxomys - Maxomys inas
Broad-nosed Sumatran Maxomys - Maxomys inflatus
Indochinese Mountain Maxomys - Maxomys moi
Musschenbroek's Maxomys-Maxomys musschenbroekii
Ochraceous-bellied Bornean Maxomys-Maxomys ochraceiventer
Mentawai Archipelago Maxomys - Maxomys pagensis
Palawan Maxomys - Maxomys panglima
Rajah Sundaic Maxomys - Maxomys rajah
Indomalayan Maxomys - Maxomys surifer
Watts's Sulawesi Maxomys - Maxomys wattsi
Whitheead's Spiny Rat - Maxomys whiteheadi
Diurnal Sulawesian Shrew Rat - Melasmothrix naso
Dusky Seram Melomys - Melomys aerosus
Rossel Island Melomys - Melomys arcium
Great Kai Island Melomys - Melomys bannisteri
Bougainville Melomys - Melomys bougainville
Grassland Melomys - Melomys burtoni
Cape York Melomys - Melomys capensis
Short-tailed Talaud Melomys - Melomys caurinus
Fawn-footed Melomys - Melomys cervinipes
Yamdena Island Melomys - Melomys cooperae
Dollman's Melomys - Melomys dollmani


Manusela Melomys - Melomys fraterculus
Snow Mountains Grassland Melomys - Melomys frigicola
Seram Long-tailed Melomys - Melomys fulgens
Riama Island Melomys - Melomys howi
White-bellied Melomys - Melomys leucogaster
Grassland Melomys - Melomys lutillus
Manus Melomys - Melomys matambuai
Obi Island Melomys - Melomys obiensis
Pavel's Seram Melomys - Melomys paveli
Bramble Cay Melomys - Melomys rubicola
Black-tailed Melomys - Melomys rufescens
Long-tailed Talaud Melomys - Melomys talaudium
Arabian Jird - Meriones arimalius
Cheng's Jird - Meriones chengi
Sundevall's Jird - Meriones crassus
Dahl's Jird - Meriones dahli
Meriones grandis
Indian Desert Gerbil - Meriones hurrianae
Libyan Jird - Meriones libycus
Mid-day Gerbil - Meriones meridianus
Persian Jird - Meriones persicus
King Jird - Meriones rex
Buxton's Jird - Meriones sacramenti
Shaw's Jird - Meriones shawi
Tamarisk Gerbil - Meriones tamariscinus
Tristram's Jird - Meriones tristrami
Mongolian Gerbil - Meriones unguiculatus
Vinogradov's Jird - Meriones vinogradovi
Zarundny's Jird - Meriones zarudnyi
Black-footed Tree Rat - Mesembriomys gouldii
Golden-backed Tree Rat - Mesembriomys macrurus
Somali Pygmy Gerbil - Microdillus peeli
Musser's Shrew Mouse - Microhydromys musseri
Groove-toothed Shrew Mouse - Microhydromys richardsoni
Harvest Mouse - Micromys minutus
Sand-colored Metad - Millardia gleadowi
Burmese Metad - Millardia kathleenae
Kondana Rat - Millardia kondana
Soft-furred Metad - Millardia meltada
Ethiopian Striped Mouse - Muriculus imberbis
Baoule's Mouse - Mus baoulei
Little Indian Field Mouse - Mus booduga
Toad Mouse - Mus bufo
Callewaert's Mouse - Mus callewaerti
Ryukyu Mouse - Mus caroli
Fawn-colored Mouse - Mus cervicolor
Ryley's Spiny Mouse - Mus cookii
Sumatran Shrewlike Mouse - Mus crociduroides
Mus cypriacus
Bonhote's Mouse - Mus famulus
Ceylon Spiny Mouse - Mus fernandoni
Sheath-tailed Mouse - Mus fragilicauda
Gounda Mouse - Mus goundae
Hausa Mouse - Mus haussa
Desert Pygmy Mouse - Mus indutus
Macedonian Mouse - Mus macedonicus
Mahomet Mouse - Mus mahomet
Matthey's Mouse - Mus mattheyi
Mayor's Mouse - Mus mayori
Pygmy Mouse - Mus minutoides
Mus musculoides
House Mouse - Mus musculus
Neave's Mouse - Mus neavei
Free State Pygmy Mouse - Mus orangiae
Oubangui Mouse - Mus oubanguii
Gairdner's Shrewmouse - Mus pahari
Wroughton's Small Spiny Mouse - Mus phillipsi
Brown Spiny Mouse - Mus platythrix
Brown Spiny Mouse - Mus saxicola
Peter's Mouse - Mus setulosus
Setzer's Pygmy Mouse - Mus setzeri
Shortridge's Mouse - Mus shortridgei
Thomas's Pygmy Mouse - Mus sorella
Mound-building Mouse - Mus spicilegus
Western Mediterranean Mouse - Mus spretus
Delicate Mouse - Mus tenellus
Earth-colored Mouse - Mus terricolor
Gray-bellied Pygmy Mouse - Mus triton
Javan Shrew-like Mouse - Mus vulcani
African Groove-toothed Rat - Mylomys dybowskii
Ethiopian Mylomys - Mylomys rex
Angolan Multimammate Mouse - Myomyscus angolensis
Brockman's Myomyscus - Myomyscus brockmani
Verreaux's White-footed Rat - Myomyscus verreauxii
Yemeni Mouse - Myomyscus yemeni
Bunn's Short-tailed Bandicoot Rat - Nesokia bunnii
Short-tailed Bandicoot Rat - Nesokia indica
Seram Island Mountain Rat - Nesoromys ceramicus
Ethiopian Amphibious Rat - Nilopegamys plumbeus
Anderson's Niviventer - Niviventer andersoni
Brahma White-bellied Rat - Niviventer brahma
Cameron Highlands Niviventer - Niviventer cameroni
Confucian Niviventer - Niviventer confucianus
Spiny Taiwan Niviventer - Niviventer coninga
Sundaic Arboreal Niviventer - Niviventer cremoriventer
Soft-furred Taiwan Niviventer - Niviventer culturatus
Little Himalayan Rat - Niviventer eha
Sichuan Niviventer - Niviventer excelsior
Montane Sumatran Niviventer - Niviventer fraternus
Chestnut White-bellied Rat - Niviventer fulvescens
Limestone Niviventer - Niviventer hinpoon
Lang Bian White-bellied Rat - Niviventer langbianis
Montane Javan Niviventer - Niviventer lepturus
Himalayan White-bellied Rat - Niviventer niviventer
Montane Bornean Niviventer - Niviventer rapit
Indochinese Mountain Niviventer - Niviventer tenaster
Spinifex Hopping Mouse - Notomys alexis
Short-tailed Hopping Mouse - Notomys amplus
Northern Hopping Mouse - Notomys aquilo
Fawn Hopping Mouse - Notomys cervinus
Dusky Hopping Mouse - Notomys fuscus
Long-tailed Hopping Mouse - Notomys longicaudatus
Big-eared Hopping Mouse - Notomys macrotis
Mitchell's Hopping Mouse - Notomys mitchellii
Darling Downs Hopping Mouse - Notomys mordax
Rufous-nosed Rats - Oenomys hypoxanthus
Ghana Rufous-nosed Rat - Oenomys ornatus
Angolan Vlei Rat - Otomys anchietae
Angoni Vlei Rat - Otomys angoniensis
Barbour's Vlei Rat - Otomys barbouri
Burton's Vlei Rat - Otomys burtoni
Cuanza Vlei Rat - Otomys cuanzensis
Dent's Vlei Rat - Otomys denti
Southern African Vlei Rat - Otomys irroratus
Tanzanian Vlei Rat - Otomys lacustris
Laminate Vlei Rat - Otomys laminatus
Western Vlei Rat - Otomys occidentalis
Saunder's Vlei Rat - Otomys saundersiae
Sloggett's Vlei Rat - Otomys sloggetti
Tropical Vlei Rat - Otomys tropicalis
Typical Vlei Rat - Otomys typus
Karoo Bush Rat - Otomys unisulcatus
Fat-tailed Gerbil - Pachyuromys duprasi
Palawan Mountain Rat - Palawanomys furvus
Armandville's Papagomys - Papagomys armandvillei
Waterside Rat - Parahydromys asper
Northern Hydromyine - Paraleptomys rufilatus
Short-haired Hydromyine - Paraleptomys wilhelmina
Gressitt's Paramelomys - Paramelomys gressitti
Papuan Lowland Paramelomys - Paramelomys levipes
Lorentz's Paramelomys - Paramelomys lorentzii
Montane Soft-furred Paramelomys - Paramelomys mollis
Moncton's Paramelomys - Paramelomys moncktoni
Long-nosed Paramelomys - Paramelomys naso
Common Lowland Paramelomys - Paramelomys platyops
Mountain Paramelomys - Paramelomys rubex
Stein's Paramelomys - Paramelomys steini ]
Brants's Whistling Rat - Parotomys brantsii
Littledale's Whistling Rat - Parotomys littledalei
Giant Sulawesi Rat - Paruromys dominator
Paula's Long-nosed Rat - Paulamys naso
Bell Groove-toothed Swamp Rat - Pelomys campanae
Creek Groove-toothed Swamp Rat - Pelomys fallax
Hopkins's Groove-toothed Swamp Rat - Pelomys hopkinsi
Issel's Groove-toothed Swamp Rat - Pelomys isseli
Least Groove-toothed Swamp Rat - Pelomys minor
Southern Luzon Phloeomys - Phloeomys cumingi
Northern Luzon Phloeomys - Phloeomys pallidus
Javan Pithecheir - Pithecheir melanurus
Malay Peninsula Pithecheir - Pithecheir parvus
Bornean Pithecheirops - Pithecheirops otion
Gray Pogonomelomys - Pogonomelomys brassi
Bruijn's Pogonomelomys - Pogonomelomys bruijnii
Shaw Mayer's Pogonomelomys - Pogonomelomys mayeri
Champion's Tree Mouse - Pogonomys championi
D'entrecasteaux Pogonomys - Pogonomys fergussoniensis
Loria's Pogonomys - Pogonomys loriae
Chestnut Tree Mouse - Pogonomys macrourus
Gray-bellied Tree Mouse - Pogonomys sylvestris
Dalton's Praomys - Praomys daltoni
De Graaff's Praomys - Praomys degraaffi
East African Praomys - Praomys delectorum
Deroo's Praomys - Praomys derooi
Hartwig's Soft-furred Mouse - Praomys hartwigi
Jackson's Soft-furred Mouse - Praomys jacksoni
Lukolela Swamp Rat - Praomys lukolelae
Least Soft-furred Mouse - Praomys minor
Misonne's Soft-furred Mouse - Praomys misonnei
Cameroon Soft-furred Mouse - Praomys morio
Muton's Soft-furred Mouse - Praomys mutoni
Praomys obscurus
Petter's Praomys - Praomys petteri
Forest Soft-furred Mouse - Praomys rostratus
Tullberg's Soft-furred Mouse - Praomys tullbergi
Verschuren's Swamp Rat - Praomys verschureni
Red-bellied Protochromys - Protochromys fellowsi
Fat Sand Rat - Psammomys obesus
Thin Sand Rat - Psammomys vexillaris
One-toothed Shrew Mouse - Pseudohydromys ellermani
Mottled-tailed Shrew Mouse - Pseudohydromys fuscus
German's One-toothed Moss Mouse - Pseudohydromys germani
Eastern Shrew Mouse - Pseudohydromys murinus
Western Shrew Mouse - Pseudohydromys occidentalis
Ash-gray Mouse - Pseudomys albocinereus
Silky Mouse - Pseudomys apodemoides
Plains Mouse - Pseudomys australis
Bolam's Mouse - Pseudomys bolami
Kakadu Pebble Mouse - Pseudomys calabyi
Western Pebble Mouse - Pseudomys chapmani
Delicate Mouse - Pseudomys delicatulus
Desert Mouse - Pseudomys desertor
Shark Bay Mouse - Pseudomys fieldi
Smoky Mouse - Pseudomys fumeus
Blue-gray Mouse - Pseudomys glaucus
Gould's Mouse - Pseudomys gouldii
Eastern Chestnut Mouse - Pseudomys gracilicaudatus
Sandy Inland Mouse - Pseudomys hermannsburgensis
Long-tailed Mouse - Pseudomys higginsi
Central Pebble Mouse - Pseudomys johnsoni
Western Chestnut Mouse - Pseudomys nanus
New Holland Mouse - Pseudomys novaehollandiae
Western Mouse - Pseudomys occidentalis
Hastings River Mouse - Pseudomys oralis
Eastern Pebble Mouse - Pseudomys patrius
Pilliga Mouse - Pseudomys pilligaensis
Heath Mouse - Pseudomys shortridgei
Burnished Enggano Rat - Rattus adustus
Indochinese Forest Rat - Rattus andamanensis
Annandale's Sundaic Rat - Rattus annandalei
Vogelkop Mountain Rat - Rattus arfakienis
Ricefield Rat - Rattus argentiventer
Western New Guinea Mountain Rat - Rattus arrogans
Kinabalu Rat - Rattus baluensis
Aceh Rat - Rattus blangorum
Southwestern Xanthurus Rat - Rattus bontanus
Miller's Nicobar Rat - Rattus burrus
Dusky Rat - Rattus colletti
Sula Archipelago Rat - Rattus elaphinus
Enggano Island Rat - Rattus enganus
Philippine Forest Rat - Rattus everetti
Polynesian Rat - Rattus exulans
Spiny Seram Island Rat - Rattus feliceus
Bush Rat - Rattus fuscipes
Giluwe Rat - Rattus giluwensis
Hainald's Flores Island Rat - Rattus hainaldi
Hoffmann's Sulawesi Rat - Rattus hoffmanni
Hoogerwerf's Sumatran Rat - Rattus hoogerwerfi
Yapen Rat - Rattus jobiensis
Koopman's Peleng Island Rat - Rattus koopmani
Sumatran Mountain Rat - Rattus korinchi
Cape York Rat - Rattus leucopus
Losea Rat - Rattus losea
Mentawai Archipelago Rat - Rattus lugens
Australian Swamp Rat - Rattus lutreolus
Maclear's Rat - Rattus macleari
Marmoset Xanthurus Rat - Rattus marmosurus
Mindoro Mountain Rat - Rattus mindorensis
Lampobatang Sulawesi Rat - Rattus mollicomulus
Sri Lankan Mountain Rat - Rattus montanus
Eastern Rat - Rattus mordax
Halmahara Rat - Rattus morotaiensis
Bulldog Rat - Rattus nativitatis
Moss-forest Rat - Rattus niobe
Himalayan Field Rat - Rattus nitidus
Norway Rat - Rattus norvegicus
New Guinea Rat - Rattus novaeguineae
Arianus's Rat - Rattus omichlodes
Osgood's Vietnamese Rat - Rattus osgoodi
Zelebor's Nicobar Rat - Rattus palmarum
Peleng Island Xanthurus Rat - Rattus pelurus
Pocock's Highland Rat - Rattus pococki
Large Spiny Rat - Rattus praetor
Himalayan Rat - Rattus pyctoris
Ranjini's Field Rat - Rattus ranjiniae
Black Rat - Rattus rattus
Glacier Rat - Rattus richardsoni
Southeastern Xanthurus Rat - Rattus salocco
Sahyadris Forest Rat - Rattus satarae
Simalur Archipelago Rat - Rattus simalurensis
Canefield Rat - Rattus sordidus
Small Spiny Rat - Rattus steini
Andaman Rat - Rattus stoicus
Oriental House Rat - Rattus tanezumi
Tawitawi Forest Rat - Rattus tawitawiensis
Timor Forest Rat - Rattus timorensis
Malaysian Field Rat - Rattus tiomanicus
Pale Field Rat - Rattus tunneyi
Van Deusen's Rat - Rattus vandeuseni
Slender Rat - Rattus verecundus
Long-haired Rat - Rattus villosissimus
Northeastern Xanthurus Rat - Rattus xanthurus
Four-striped Grass Mouse - Rhabdomys pumilio
Great Gerbil - Rhombomys opimus
Rhynchomys banahao
Isarog Rhynchomys - Rhynchomys isarogensis
Northern Luzon Rhynchomys - Rhynchomys soricoides
Rhynchomys tapulao
Paulina's Limestone Rat - Saxatilomys paulinae
Bushy-tailed Jird - Sekeetamys calurus
Poncelet's Giant Rat - Solomys ponceleti
Florida Giant Rat - Solomys salamonis
Bougainville Giant Rat - Solomys salebrosus
Isabel Giant Rat - Solomys sapientis
Sommer's Sulawesi Rat - Sommeromys macrorhinos
Ohiya Rat - Srilankamys ohiensis
Ethiopian White-footed Mouse - Stenocephalemys albipes
Ethiopian Narrow-headed Rat - Stenocephalemys albocaudata
Gray-tailed Narrow-headed Rat-Stenocephalemys griseicauda
Rupp's Stenocephalemys - Stenocephalemys ruppi
Target Rat - Stochomys longicaudatus
Mountain Sundamys - Sundamys infraluteus
Javan Sundamys - Sundamys maxi
Müller's Sundamys - Sundamys muelleri
Southeastern Mountain Taeromys - Taeromys arcuatus
Greater Taeromys - Taeromys callitrichus
Long-tailed Taeromys - Taeromys celebensis
Central Mountain Taeromys - Taeromys hamatus
Small-eared Taeromys - Taeromys microbullatus
Reddish-furred Taeromys - Taeromys punicans
Northeastern Mountain Taeromys - Taeromys taerae
Dusky Tarsomys - Tarsomys apoensis
Spiny Tarsomys - Tarsomys echinatus
Long-tailed Sulawesian Shrew Rat - Tateomys macrocercus
Tate's Sulawesian Shrew Rat - Tateomys rhinogradoides
Indian Gerbil - Tatera indica
Robbins's Tateril - Taterillus arenarius
Congo Tateril - Taterillus congicus
Emin's Tateril - Taterillus emini
Gracile Tateril - Taterillus gracilis
Lake Chad Tateril - Taterillus lacustris
Petter's Tateril - Taterillus petteri
Senegal Tateril - Taterillus pygargus
Tranieri's Tateril - Taterillus tranieri
Loring's Rat - Thallomys loringi
Black-tailed Tree Rat - Thallomys nigricauda
Acacia Rat - Thallomys paedulcus
Shortridge's Rat - Thallomys shortridgei
Kemp's Thicket Rat - Thamnomys kempi
Schouteden's Thicket Rat - Thamnomys schoutedeni
Charming Thicket Rat - Thamnomys venustus
Okinawa Spiny Rat - Tokudaia muenninki
Ryukyu Spiny Rat - Tokudaia osimensis
Tokudaia tokunoshimensis
Daovantien's Limestone Rat - Tonkinomys daovantieni
Luzon Tryphomys - Tryphomys adustus
Rudd's Bristle-furred Rat - Uranomys ruddi
Black-tailed Giant Rat - Uromys anak
Biak Giant Rat - Uromys boeadii
White-tailed Giant Rat - Uromys caudimaculatus
Emma's Giant Rat - Uromys emmae
Pygmy White-tailed Rat - Uromys hadrourus
Emperor Rat - Uromys imperator
Bismarck Giant Rat - Uromys neobritannicus
Guadalcanal Rat - Uromys porculus
King Rat - Uromys rex
Great Key Island Uromys - Uromys siebersi
Long-tailed Climbing Rat - Vandeleuria nilagirica
Sri Lankan Highland Tree Mouse - Vandeleuria nolthenii
Asiatic Long-tailed Climbing Mouse - Vandeleuria oleracea
Vernay's Climbing Mouse - Vernaya fulva
Rock-dwelling Giant Rat - Xenuromys barbatus
False Swamp Rat - Xeromys myoides
Hildegarde's Broad-headed Mouse - Zelotomys hildegardeae
Woosnam's Broad-headed Mouse - Zelotomys woosnami
Common Rock Rat - Zyzomys argurus
Arnhem Land Rock Rat - Zyzomys maini
Carpentarian Rock Rat - Zyzomys palatalis
Central Rock Rat - Zyzomys pedunculatus
Kimberley Rock Rat - Zyzomys woodwardi
Additional Information
Key:

Profile

Photos

Video

Audio
Anderson's Gerbil - Gerbillus andersoni






Anderson's gerbil is found in Egypt, Israel, Jordan, Libyaa, and Tunisia.
Source: Arkive Intended Audience: General Reading Level: Middle School
Arabian Spiny Mouse - Acomys dimidiatus







The Arabian spiny mouse is found in Egypt, Iran, Iraq, Israel, Jordan, Lebanon, Oman, Pakistan, Palestinian Territory , Saudi Arabia, Syria, United Arab Emirates, and Yemen.
Source: Arkive Intended Audience: General Reading Level: Middle School
Asia Minor Spiny Mouse - Acomys cilicicus




The Asia Minor spiny mouse is found in Turkey.
Source: Arkive Intended Audience: General Reading Level: Middle School
Black Rat - Rattus rattus








The black rat is native to India and Pakistan, but it was introduced, beginning in ancient times, to other regions in Asia as well as Africa and Europe.
Source: Arkive Intended Audience: General Reading Level: Middle School
Blick's Grass Rat - Arvicanthis blicki





Blick's grass rat is found in Ethiopia.
Source: Arkive Intended Audience: General Reading Level: Middle School
Brants's Whistling Rat - Parotomys brantsii




Brants's whistling rat is found in Botswana, Namibia, and South Africa.
Source: Arkive Intended Audience: General Reading Level: Middle School
Broad-toothed Mouse - Mastacomys fuscus





The Broad-toothed mouse is found in Australia.
Source: Arkive Intended Audience: General Reading Level: Middle School
Norway Rat - Rattus norvegicus







The Norway rat is native to China, Japan, and the Russian Federation, but it has been introduced around the world.
Source: Arkive Intended Audience: General Reading Level: Middle School
Bushy-tailed Jird - Sekeetamys calurus






The Bushy-tailed jird is found in Egypt, Israel, Jordan, Saudi Arabia, and Sudan.
Source: Arkive Intended Audience: General Reading Level: Middle School
Cairo Spiny Mouse - Acomys cahirinus






The Cairo spiny mouse is found in blank.
Source: Arkive Intended Audience: General Reading Level: Middle School
Cameroon Soft-furred Mouse - Praomys morio




The Cameroon soft-furred mouse is found in Cameroon and Equatorial Guinea.
Source: Arkive Intended Audience: General Reading Level: Middle School
Camiguin Forest Mouse - Apomys camiguinensis






The Camiguin forest mouse is found in the Philippines.
Source: Arkive Intended Audience: General Reading Level: Middle School
Camiguin Forest Rat - Bullimus gamay





The Camiguin forest rat is found in the Philippines.
Source: Arkive Intended Audience: General Reading Level: Middle School
Central Rock-rat - Zyzomys pedunculatus






The central rock-rat is found in Australia.
Source: Arkive Intended Audience: General Reading Level: Middle School
Cheesman's Gerbil - Gerbillus cheesmani




Cheesman's gerbil is found in Iran, Iraq, Jordan, Kuwait, Oman, Saudi Arabia, Syria, United Arab Emirates, and Yemen .
Source: Arkive Intended Audience: General Reading Level: Middle School
Dusky Hopping Mouse - Notomys fuscus





The dusky hopping mouse is found in Australia.
Source: Arkive Intended Audience: General Reading Level: Middle School
False Swamp Rat - Xeromys myoides




The false swamp rat is found in Australia and Papua New Guinea.
Source: Arkive Intended Audience: General Reading Level: Middle School
Fat Sand Rat - Psammomys obesus






The fat sand rat is found in Algeria, Egypt, Israel, Jordan, Libya, Mauritania, Morocco, Saudi Arabia, Sudan, Syriac, and Tunisia.
Source: Arkive Intended Audience: General Reading Level: Middle School
Fat-tailed Gerbil - Pachyuromys duprasi





The fat-tailed gerbil is found in Algeria, Egypt, Libya, Mauritania, Morocco, Tunisia, and Western Sahara.
Source: Arkive Intended Audience: General Reading Level: Middle School
Fawn Hopping Mouse - Notomys cervinus




The fawn hopping mouse is found in Australia.
Source: Arkive Intended Audience: General Reading Level: Middle School
Luzon Crateromys - Crateromys schadenbergi





The Luzon crateromys is found in Philippines.
Source: Arkive Intended Audience: General Reading Level: Middle School
Golden Spiny Mouse - Acomys russatus






The golden spiny mouse is found in Egypt, Israel, Jordan, Oman, Saudi Arabia, and Yemen.
Source: Arkive Intended Audience: General Reading Level: Middle School
Golden Spiny Mouse - Acomys russatus






The golden spiny mouse is found in deserts and savannas.
Source: Animal Diversity Web Intended Audience: General Reading Level: Middle School
Gould's Mouse - Pseudomys gouldii




Gould's mouse was found in Australia.
Source: Arkive Intended Audience: General Reading Level: Middle School
Greater Egyptian Gerbil - Gerbillus pyramidum





The greater Egyptian gerbil is found in Chad, Egypt, Mali, Niger, and Sudan.
Source: Arkive Intended Audience: General Reading Level: Middle School
Greater Stick-nest Rat - Leporillus conditor





The greater stick-nest rat is found in Australia.
Source: Arkive Intended Audience: General Reading Level: Middle School
Harvest Mouse - Micromys minutus







The harvest mouse is found in Armenia, Austria, Azerbaijan, Belarus, Belgium, Bosnia and Herzegovina, Bulgaria, China, Croatia, Czech Republic, Denmark, Estonia, Finland, France, Georgia, Germany, Greece, Hungary, India, Italy, North Korea, South Korea, Latvia, Lithuania, Luxembourg, Macedonia, Moldova, Mongolia, Montenegro, Myanmar, Netherlands, Poland, Romania, the Russian Federation, Serbia, Slovakia, Slovenia, Spain, Switzerland, Taiwan, Turkey, Ukraine, United Kingdom, and Vietnam.
Source: Arkive Intended Audience: General Reading Level: Middle School
Hastings River Mouse - Pseudomys oralis




Hastings river mouse is found in Australia.
Source: Arkive Intended Audience: General Reading Level: Middle School
House Mouse - Mus musculus









The house mouse is found on all continents, except for Antarctica. It is an introduced species in North America, South America, and Australia.
Source: Arkive Intended Audience: General Reading Level: Middle School
Isabel Naked-tailed Rat - Solomys sapientis



The Isabel naked-tailed rat is found in blank.
Source: Arkive Intended Audience: General Reading Level: Middle School
Koopman's Pencil-tailed Tree Mouse - Chiropodomys karlkoopmani




Koopman's pencil-tailed tree mouse is found in Indonesia .
Source: Arkive Intended Audience: General Reading Level: Middle School
Lakeland Downs Mouse - Leggadina lakedownensis





The Lakeland Downs mouse is found in Australia.
Source: Arkive Intended Audience: General Reading Level: Middle School
Lataste's Gerbil - Gerbillus latastei




Lataste's gerbil is found in Libya and Tunisia.
Source: Arkive Intended Audience: General Reading Level: Middle School
Lesser Egyptian Gerbil - Gerbillus gerbillus






The lesser Egyptian gerbil is found in Algeria, Chad, Egypt, Israel, Jordan, Libya, Mali, Mauritania, Morocco, Niger, Sudan, Tunisia, and Western Sahara .
Source: Arkive Intended Audience: General Reading Level: Middle School
Lesser Marmoset Rat - Hapalomys delacouri




The lesser marmoset rat is found in China, Laos, and Vietnam.
Source: Arkive Intended Audience: General Reading Level: Middle School
Lesser Stick-nest Rat - Leporillus apicalis




The lesser stick-nest rat is found in Australia.
Source: Arkive Intended Audience: General Reading Level: Middle School
Libyan Jird - Meriones libycus






The Libyan jird is found in Afghanistan, Algeria, Azerbaijan, China, Egypt, Iran, Iraq, Jordan, Kazakhstan, Kuwait, Libya, Mauritania, Morocco, Pakistan, Qatar, Saudi Arabia, Syria, Tajikistan, Tunisia, Turkey, Turkmenistan, Uzbekistan, and Western Sahara.
Source: Arkive Intended Audience: General Reading Level: Middle School
Long-tailed Climbing Mouse - Vandeleuria nilagirica





The Long-tailed climbing mouse is found in India.
Source: Arkive Intended Audience: General Reading Level: Middle School
Luzon Batomys - Batomys granti




The Luzon batomys is found in the Philippines.
Source: Arkive Intended Audience: General Reading Level: Middle School
Margaret's Haeromys - Haeromys margarettae



Margaret's haeromys is found in Malaysia.
Source: Arkive Intended Audience: General Reading Level: Middle School
Mayor's Mouse - Mus mayori




Mayor's mouse is found in Sri Lanka.
Source: Arkive Intended Audience: General Reading Level: Middle School
Mentawai Long-tailed Giant Rat - Leopoldamys siporanus




The Mentawai long-tailed giant rat is found in Indonesia.
Source: Arkive Intended Audience: General Reading Level: Middle School
Mindanao Montane Forest Apomys - Apomys insignis




The Mindanao montane forest apomys is found in the Philippines.
Source: Arkive Intended Audience: General Reading Level: Middle School
Mindanao Shrew Mouse - Crunomys melanius





The Mindanao shrew mouse is found in Philippines.
Source: Arkive Intended Audience: General Reading Level: Middle School
North African Gerbil - Gerbillus campestris





The North African gerbil is found in Algeria, Egypt, Libya, Mali, Morocco, Niger, Sudan, and Tunisia.
Source: Arkive Intended Audience: General Reading Level: Middle School
Northern Hopping Mouse - Notomys aquilo





The northern hopping mouse is found in Australia.
Source: Arkive Intended Audience: General Reading Level: Middle School
Northern Luzon Phloeomys - Phloeomys pallidus





The Northern Luzon phloeomys is found in the Philippines.
Source: Arkive Intended Audience: General Reading Level: Middle School
Okinawa Spiny Rat - Tokudaia muenninki





The Okinawa spiny rat is found in blank.
Source: Arkive Intended Audience: General Reading Level: Middle School
Pale Gerbil - Gerbillus perpallidus





The pale gerbil is found in Egypt.
Source: Arkive Intended Audience: General Reading Level: Middle School
Panay Crateromys - Crateromys heaneyi





The Panay crateromys is found in the Philippines.
Source: Arkive Intended Audience: General Reading Level: Middle School
Pleasant Gerbil - Gerbillus amoenus




The pleasant gerbil is found in Egypt and Libya.
Source: Arkive Intended Audience: General Reading Level: Middle School
Pygmy Gerbil - Gerbillus henleyi






The pygmy gerbil is found in Algeria, Burkina Faso, Chad, Egypt, Israel, Jordan, Libya, Mali, Mauritania, Morocco, Niger, Oman, Saudi Arabia, Senegal, Sudan, Tunisia, and Yemen.
Source: Arkive Intended Audience: General Reading Level: Middle School
Rajah Sundaic Maxomy - Maxomys rajah




The Rajah Sundaic maxomy is found in Brunei Darussalam, Indonesia, Malaysia, and Thailand.
Source: Arkive Intended Audience: General Reading Level: Middle School
Russet Batomys - Batomys russatus





The russet batomys is found in the Philippines.
Source: Arkive Intended Audience: General Reading Level: Middle School
Sahyadris Forest Rat - Rattus satarae




The Sahyadris forest rat is found in India.
Source: Arkive Intended Audience: General Reading Level: Middle School
Shark Bay Mouse - Pseudomys fieldi





The Shark Bay mouse is found in Australia.
Source: Arkive Intended Audience: General Reading Level: Middle School
Shaw's Jird - Meriones shawi





Shaw's jird is found in Algeria, Egypt, Libyaa, Morocco, and Tunisia.
Source: Arkive Intended Audience: General Reading Level: Middle School
Smoky Mouse - Pseudomys fumeus




The smokey mouse is found in Australia.
Source: Arkive Intended Audience: General Reading Level: Middle School
Southern Luzon Phloeomys - Phloeomys cumingi





The southern Luzon phloeomys is found in the Philippines.
Source: Arkive Intended Audience: General Reading Level: Middle School
Sundaic Arboreal Niviventer - Niviventer cremoriventer





The Sundaic arboreal niviventer is found in Indonesia, Malaysia, Singapore, and Thailand.
Source: Arkive Intended Audience: General Reading Level: Middle School
Sundevall's Jird - Meriones crassus







Sundevall's jird is found in Afghanistan, Algeria, Bahrain, Egypt, Iran, Iraq, Israel, Jordan, Kuwait, Libya, Morocco, Niger, Oman, Pakistan, Saudi Arabia, Sudan, Syria, Tunisia, Turkey, United Arab Emirates, and Western Sahara.
Source: Arkive Intended Audience: General Reading Level: Middle School
Sundevall's Jird - Meriones crassus






Sundevall's jirds live in sandy soil in hot and dry environments.
Source: Animal Diversity Web Intended Audience: General Reading Level: Middle School
Wagner's Gerbil - Gerbillus dasyurus






Wagner's gerbil is found in Egypt, Iraq, Israel, Jordan, Lebanon, Oman, Saudi Arabia, Syria, Turkey, United Arab Emirates, and Yemen.
Source: Arkive Intended Audience: General Reading Level: Middle School
White-footed Rabbit-Rat - Conilurus albipes




The white-footed rabbit-rat was found in Australia.
Source: Arkive Intended Audience: General Reading Level: Middle School
Whitheead's Spiny Rat - Maxomys whiteheadi





Whitheead's spiny rat is found in Brunei Darussalam, Indonesia, Malaysia, and Thailand.
Source: Arkive Intended Audience: General Reading Level: Middle School
Wood Mouse - Apodemus sylvaticus






The wood mouse is found in found throughout most of Europe and in northern Africa..
Source: Arkive Intended Audience: General Reading Level: Middle School
Yellow-necked Mouse - Apodemus flavicollis







The yellow-necked mouse is found in most of Europe and in parts of Asia.
Source: Arkive Intended Audience: General Reading Level: Middle School