Mephitidae - skunks, stink badgers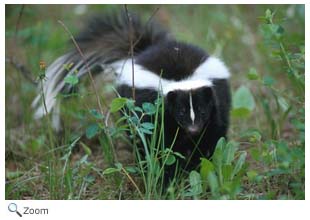 There are 12 species of in this family. Skunks are found in North, Central, and South America. Stink badgers are found in Indonesia and the Philippines.
Members of this family are black, brown, or gray and have white stripes or spots. Skunks and stink badgers are about the size of a domestic cat and have squat bodies; bushy tails; and powerful, stubby legs. They have a gland under their tails that emits a spray with strong odor. This spray is used to warn away predators. In addition to smelling bad, this spay also causes a stinging sensation.
Skunks and stink badgers are nocturnal and spend the day in a burrow or den or hidden under rocks or a log. They have strong front claws that help them dig into the soil for food. They are omnivores and eat vegetation, insects, larvae, worms, small birds, eggs, small mammals, and reptiles. Skunks and stink badgers are solitary, although some species may gather together in a den in cold weather.
World Status Key


Least Concern

Near Threatened

Vulnerable

Endangered

Critically Endangered

Extinct in Wild

Extinct
Status and range is taken from ICUN Redlist. If no status is listed, there is not enough data to establish status.
US Status Key


Threatened in US

Threatened in NH

Endangered in US

Endangered in NH

Introduced
Status taken from US Fish and Wildlife and NH Fish and Game
New Hampshire Species

North/Central American Species

Striped Skunk - Mephitis mephitis

Southern Spotted Skunk - Spilogale angustifrons
Western Spotted Skunk - Spilogale gracilis
Eastern Spotted Skunk - Spilogale putorius
Pygmy Spotted Skunk - Spilogale pygmaea

North/Central American Species

American Hog-nosed Skunk - Conepatus leuconotus
Striped Hog-nosed Skunk - Conepatus semistriatus
Hooded Skunk - Mephitis macroura
Other Species Around the World

Africa Asia Australia/Oceania Europe North/Central America South America NH Species

Molina's Hog-nosed Skunk - Conepatus chinga
Humboldt's Hog-nosed Skunk - Conepatus humboldtii
American Hog-nosed Skunk - Conepatus leuconotus
Striped Hog-nosed Skunk - Conepatus semistriatus
Hooded Skunk - Mephitis macroura
Striped Skunk - Mephitis mephitis
Sunda Stink-badger - Mydaus javanensis
Palawan Stink-badger - Mydaus marchei
Southern Spotted Skunk - Spilogale angustifrons
Western Spotted Skunk - Spilogale gracilis
Eastern Spotted Skunk - Spilogale putorius
Pygmy Spotted Skunk - Spilogale pygmaea

Additional Information

Key: Profile Photos Video Audio

American Hog-nosed Skunk - Conepatus leuconotus[ in]
The American hog-nosed skunk is found from southeastern Texas, southern Arizona and southern New Mexico south through Central America to northern Nicaragua.
Source: Audubon Guides Intended Audience: General Reading Level: Middle School

Eastern Spotted Skunk - Spilogale putorius
Eastern spotted skunks are found throughout much of the eastern United State south through Central America to El Salvador.
Source: Animal Diversity Web Intended Audience: General Reading Level: Middle School

Eastern Spotted Skunk - Spilogale putorius
Eastern spotted skunks are good climbers.
Source: Audubon Guides Intended Audience: General Reading Level: Middle School

Hooded Skunk - Mephitis macroura
The hooded skunk is found in El Salvador, Guatemala, Honduras, Mexico, Nicaragua, and in the United States in southwestern Texas, southwestern New Mexico, and southeastern Arizona.
Source: Animal Diversity Web Intended Audience: General Reading Level: Middle School

Hooded Skunk - Mephitis macroura
Most of the hooded skunk's diet is made up of insects.
Source: Audubon Guides Intended Audience: General Reading Level: Middle School

Humboldt's Hog-nosed Skunk - Conepatus humboldtii
Humboldt's hog-nose skunk is found in Argentina and Chile.
Source: Animal Diversity Web Intended Audience: General Reading Level: Middle School

Molina's Hog-nosed Skunk - Conepatus chinga
Molina's hog-nosed skunk is found in Argentina, Bolivia, Brazil, Chile, Paraguay, Peru, and Uruguay.
Source: Animal Diversity Web Intended Audience: General Reading Level: Middle School

Palawan Stink-badger - Mydaus marchei
The Palawan stink-badger is found in the Philippines.
Source: Arkive Intended Audience: General Reading Level: Middle School

Palawan Stink-badger - Mydaus marchei
Unlike most species in this family, the Palawan stink-badger is diurnal. That means it is active during the day.
Source: Animal Diversity Web Intended Audience: General Reading Level: Middle School

Pygmy Spotted Skunk - Spilogale pygmaea
The pygmy spotted skunk is found along the Pacific coast of Mexico.
Source: Animal Diversity Web Intended Audience: General Reading Level: Middle School

Striped Hog-nosed Skunk - Conepatus semistriatus
The striped hog-nosed skunk is found in Belize, Brazil, Colombia, Costa Rica, Ecuador, Honduras, Mexico, Nicaragua, Panama, Peru, and Venezuela.
Source: Animal Diversity Web Intended Audience: General Reading Level: Middle School

Striped Skunk - Mephitis mephitis
The striped skunk is found throughout most of the United States. It is also found in Canada and Mexico.
Source: Arkive Intended Audience: General Reading Level: Middle School

Striped Skunk - Mephitis mephitis
Striped skunks are nocturnal. They spend the day sleeping in underground burrows.
Source: Animal Diversity Web Intended Audience: General Reading Level: Middle School

Striped Skunk - Mephitis mephitis
The striped skunk is black with two broad white stripes on back.
Source: Audubon Guides Intended Audience: General Reading Level: Middle School

Sunda Stink-badger - Mydaus javanensis
The sunda stink-badger is found on the Indonesian islands of Sumatra, Java, Borneo, and North Natuna Islands.
Source: Animal Diversity Web Intended Audience: General Reading Level: Middle School

Western Spotted Skunk - Spilogale gracilis
The western spotted skunk is found in the western United States.
Source: Animal Diversity Web Intended Audience: General Reading Level: Middle School

Western Spotted Skunk - Spilogale gracilis
The western spotted skunk is black, with horizontal white stripes on its neck and and shoulders.
Source: Audubon Guides Intended Audience: General Reading Level: Middle School