Lipotidae - Chinese river dolphins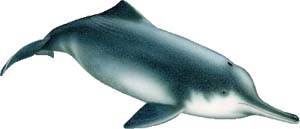 There is one species of dolphin in this family, the Baiji. It is found in the middle and lower reaches of the Yangtze River in China. It is also known as the Chinese River Dolphin and Yangtze River Dolphin. The Baiji is endangered from recent industrial development in China, pollution, and by the dolphins getting caught by accident by commercial fishing. A recent survey of the species resulted in no sightings, and scientists think the species may be extinct.
They have rounded flippers; a long, slightly upturned beak; and small eyes. They are bluish-gray on their uppersides and white on their undersides. Baiji use their long beaks to poke through the mud for fish. They use echolocation for locate their prey. Baijis are 4.5-7.5 feet in length. Females are larger than males.
World Status Key


Least Concern

Near Threatened

Vulnerable

Endangered

Critically Endangered

Extinct in Wild

Extinct
Status and range is taken from ICUN Redlist. If no status is listed, there is not enough data to establish status.
US Status Key


Threatened in US

Threatened in NH

Endangered in US

Endangered in NH

Introduced
Status taken from US Fish and Wildlife and NH Fish and Game
New Hampshire Species

North/Central American Species

None
None

Other Species Around the World

Africa Asia Australia/Oceania Europe North America South America NH Species

Baiji - Lipotes vexillifer


Additional Information

Key: Profile Photos Video Audio

Baiji - Lipotes vexillifer
Baiji are usually found in pairs.
Source: Animal Diversity Web Intended Audience:General Reading Level: Middle School

Baiji - Lipotes vexillifer
The Baiji is attracted to areas where tributaries meet the river, particularly where there are sand bars with large eddies.
Source: Arkive Intended Audience: General Reading Level: Middle School

Baiji - Lipotes vexillifer
According to Chinese legend, the Baiji is the reincarnation of a drowned princess.
Source: EDGE Intended Audience: General Reading Level: High School

Baiji - Lipotes vexillifer
If it is not extinct, the baiji is the rarest and most endangered cetacean in the world.
Source: Convention of Migratory Species Intended Audience: General Reading Level: Middle School

Baiji - Lipotes vexillifer
The Baiji feeds on a variety of fish.
Source: NOAA Fisheries Intended Audience: General Reading Level: Middle School