Indicatoridae - Honeyguides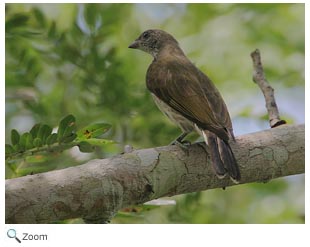 There are 16 species of birds in this family. They are found in forests in Sub-Saharan Africa and Asia.

Honeyguides range in size from 4-8 inches in length. Most species are a dull green or brown and have white breasts and bellies.

Honeyguides have short wings and short to medium tails. Honeyguides eat beeswax and insects.

Honeyguides are nest parasites. The female honeyguide will lay an egg in the nest of another bird and then leave. She may also destroy any other eggs she finds in the nest to give her chick a better chance of survival. Eggs are usually left in tree cavity nests of woodpeckers or barbets.

Indicatoridae Photo Gallery
World Status Key


Least Concern

Near Threatened

Vulnerable

Endangered

Critically Endangered

Extinct in Wild

Extinct
Status taken from ICUN Redlist. If no status is listed, there is not enough data to establish status, or there is no status data for the species.
US Status Key

Threatened in US

Threatened in NH

Endangered in US

Endangered in NH

Introduced
Status taken from US Fish and Wildlife and NH Fish and Game
| | | |
| --- | --- | --- |
| New Hampshire Species | | North/Central American Species |
| None | | None |
Species Around the World

Location Key
Africa Asia Australia/Oceania Europe North/Central America South America NH Species

Malaysian Honeyguide - Indicator archipelagicus
Least Honeyguide - Indicator exilis
Greater Honeyguide - Indicator indicator
Spotted Honeyguide - Indicator maculatus
Pallid Honeyguide - Indicator meliphilus
Lesser Honeyguide - Indicator minor
Dwarf Honeyguide - Indicator pumilio
Scaly-throated Honeyguide - Indicator variegatus


Willcocks's Honeyguide - Indicator willcocksi
Yellow-rumped Honeyguide - Indicator xanthonotus
Lyre-tailed Honeyguide - Melichneutes robustus
Yellow-footed Honeyguide - Melignomon eisentrauti
Zenker's Honeyguide - Melignomon zenkeri
Cassin's Honeyguide - Prodotiscus insignis
Wahlberg's Honeyguide - Prodotiscus regulus
Green-backed Honeyguide - Prodotiscus zambesiae

Additional Information
Resource Key


Profile

Photos

Video

Audio
Honeyguides



Honeyguides have very thick skin, probably to protect them from bee stings.
Source: Nashville Zoo Intended Audience: General Reading Level: Middle School
Cassin's Honeyguide - Prodotiscus insignis




Cassin's honeyguide is found in Angola, Benin, Cameroon, Central African Republic, Congo, Côte d'Ivoire, Ethiopia, Gabon, Ghana, Guinea, Kenya, Liberia, Nigeria, Sierra Leone, Sudan, Togo, and Uganda.
Source: Internet Bird Collection Intended Audience: General Reading Level: Middle School
Dwarf Honeyguide - Indicator pumilio




The dwarf honeyguide is found in Congo, Rwanda, and Uganda.
Source: Arkive Intended Audience: General Reading Level: Middle School
Greater Honeyguide - Indicator indicator





The greater honeyguide is found in Angola, Benin, Botswana, Burkina Faso, Burundi, Cameroon, Central African Republic, Chad, Congo, Côte d'Ivoire, Eritrea, Ethiopia, Gabon, Gambia, Ghana, Guinea, Guinea-Bissau, Kenya, Lesotho, Liberia, Malawi, Mali, Mauritania, Mozambique, Namibia, Niger, Nigeria, Rwanda, Senegal, Sierra Leone, Somalia, South Africa, Sudan, Swaziland, Tanzania, Togo, Uganda, Zambia, and Zimbabwe.
Source: Internet Bird Collection Intended Audience: General Reading Level: Middle School
Greater Honeyguide - Indicator indicator





Greater honeyguides are the largest bird of the Indicatoridae family.
Source: Animal Diversity Web Intended Audience: General Reading Level: Middle School
Lesser Honeyguide - Indicator minor





The lesser honeyguide is found in Angola, Benin, Botswana, Burkina Faso, Burundi, Cameroon, Central African Republic, Chad, Congo, Côte d'Ivoire, Equatorial Guinea, Eritrea, Ethiopia, Gabon, Gambia, Ghana, Guinea, Guinea-Bissau, Kenya, Liberia, Malawi, Mali, Mozambique, Namibia, Niger, Nigeria, Rwanda, Senegal, Sierra Leone, Somalia, South Africa, Sudan, Swaziland, Tanzania, Togo, Uganda, Zambia, and Zimbabwe.
Source: Internet Bird Collection Intended Audience: General Reading Level: Middle School
Malaysian Honeyguide - Indicator archipelagicus




The Malaysian honeyguide is found in Brunei Darussalam, Indonesia, Malaysia, and Thailand.
Source: Arkive Intended Audience: General Reading Level: Middle School
Malaysian Honeyguide - Indicator archipelagicus





The Malaysian honeyguide is also known as the Sunda honeyguide.
Source: Internet Bird Collection Intended Audience: General Reading Level: Middle School
Pallid Honeyguide - Indicator meliphilus




The pallid honeyguide is found in Angola, Congo, Kenya, Malawi, Mozambique, Tanzania, Uganda, Zambia, and Zimbabwe.
Source: Internet Bird Collection Intended Audience: General Reading Level: Middle School
Scaly-throated Honeyguide - Indicator variegatus





Scaly-throated honeyguide is found in Angola, Burundi, Congo, Ethiopia, Kenya, Malawi, Mozambique, Rwanda, Somalia, South Africa, Sudan, Swaziland, Tanzania, Uganda, Zambia, and Zimbabwe.
Source: Internet Bird Collection Intended Audience: General Reading Level: Middle School
Willcocks's Honeyguide - Indicator willcocksi





Willcock's honeyguide is found in Cameroon, Central African Republic, Congo, Côte d'Ivoire, Equatorial Guinea, Gabon, Ghana, Guinea-Bissau, Liberia, Nigeria, Rwanda, Sierra Leone, and Uganda.
Source: Internet Bird Collection Intended Audience: General Reading Level: Middle School
Yellow-footed Honeyguide - Melignomon eisentrauti



The yellow-footed honeyguide is found in Cameroon, Guinea, Liberia, and Sierra Leone.
Source: Internet Bird Collection Intended Audience: General Reading Level: Middle School
Yellow-rumped Honeyguide - Indicator xanthonotus






The yellow-rumped honeyguide is found in Bhutan, China, India, Myanmar, Nepal, and Pakistan.
Source: Internet Bird Collection Intended Audience: General Reading Level: Middle School