Hyaenidae - aardwolf, hyenas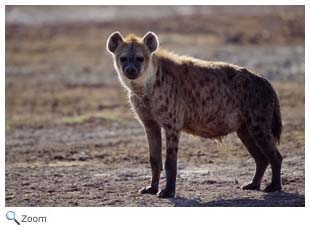 There are four species in this family. They have rounded ears; long, bushy tails; large heads; and powerful jaws. Their front legs are longer than their rear legs. The females in this family are larger than the males. Three species in this family have stripes or spots. Three of the species in this family hunt and scavenge for food. The fourth species, the aardwolf, eats termites. The species in this family live in packs that are dominated by a female.
The striped hyena is found in northern Africa in dry savannas and rocky deserts. It is smaller than the spotted hyena. It is about 4 feet in length and weighs about 120 pounds. It has a brownish-gray coat with black stripes. It has a dark crest on its back and black stripes on its legs. It hunts for food at night, usually alone or in pairs. It eats small mammals, birds, reptiles, and carrion.

The brown hyena is found in Africa from Angola to Mozambique and south to Northern South Africa. It lives in the dry savanna. It has striped legs, long brown fur, and a mane of lighter brown fur on its neck and shoulders. It hunts at night for small mammals, birds, and carrion.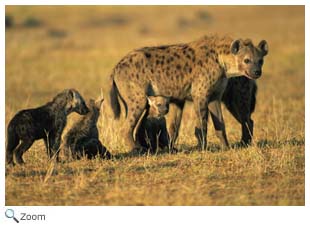 The spotted hyena is the largest member of this family and is known for its laughing call. It is found in Sub-Saharan Africa. It is usually found in open habitats. It is 2-5 feet in length and is 2-3 feet in height from its shoulder to its feet. It weighs 120-170 pounds and females are larger than males. The spotted hyena usually hunts alone, but it hunt in packs when going after larger prey. It preys on zebra, wildebeest, topi, and gazelles. It also eats carrion. It has powerful jaws and eats the bones of the animals it kills. The female spotted hyena give birth to 1-4 pups three months after mating. The pups are born their eyes open and with teeth! Shortly after birth, pups that are the same sex begin fighting for dominance!
World Status Key


Least Concern

Near Threatened

Vulnerable

Endangered

Critically Endangered

Extinct in Wild

Extinct
Status taken from ICUN Redlist. If no status is listed, there is not enough data to establish status, or there is no status data for the species.
US Status Key

Threatened in US

Threatened in NH

Endangered in US

Endangered in NH

Introduced
Status taken from US Fish and Wildlife and NH Fish and Game
| | | |
| --- | --- | --- |
| New Hampshire Species | | North/Central American Species |
| None | | None |
Species Around the World

Location Key
Africa Asia Australia/Oceania Europe North/Central America South America NH Species


Spotted Hyaena - Crocuta crocuta
Brown Hyaena - Hyaena brunnea


Striped Hyaena - Hyaena hyaena
Aardwolf - Proteles cristata

Additional Information
Resource Key


Profile

Photos

Video

Audio
Hyena




The hyena is Africa's most common large carnivore.
Source: African Wildlife Foundation Intended Audience: General Reading Level: Middle School
Aardwolf - Proteles cristata





Aardwolves are only found in Africa.
Source: Animal Diversity Web Intended Audience: General Reading Level: Middle/High School
Aardwolf - Proteles cristata





Aardwolves are nocturnal insectivores! They eat harvester termites.
Source: The Living Desert Intended Audience: Students Reading Level: Elementary/Middle School
Brown Hyena - Hyaena brunnea






The brown hyena has a long shaggy coat and pointed ears.
Source: Arkive Intended Audience: General Reading Level: Middle School
Brown Hyena - Hyaena brunnea





Brown hyenas are found in the southern tip of Africa. The largest populations are in the southern Kalahari and the coastal areas of southwest Africa.
Source: Animal Diversity Web Intended Audience: General Reading Level: Middle/High School
Spotted Hyena - Crocuta crocuta





Spotted hyenas are good swimmers and can run as fast as 30 mile per hour.
Source: San Diego Zoo Intended Audience: General Reading Level: Elementary/Middle School
Spotted Hyena - Crocuta crocuta






The spotted hyena has sloping shoulders, large ears, and spots!
Source: Arkive Intended Audience: General Reading Level: Middle School
Spotted Hyena - Crocuta crocuta






Spotted hyenas are scavengers and eat the leftovers of other predators.
Source: National Geographic Intended Audience: General Reading Level: Middle School
Spotted Hyena - Crocuta crocuta





Spotted hyenas occur throughout Sub-Saharan Africa.
Source: Animal Diversity Web Intended Audience: General Reading Level: Middle/High School
Spotted Hyena - Crocuta crocuta






Spotted hyenas are the largest of the hyenas.
Source: Honolulu Zoo Intended Audience: General Reading Level: Middle School
Spotted Hyena - Crocuta crocuta





Spotted hyenas are also known as laughing hyenas.
Source: Oakland Zoo Intended Audience: General Reading Level: Middle School
Spotted Hyena - Crocuta crocuta





Spotted hyena packs are made up of up of 20 or more related individuals.
Source: St. Louis Zoo Intended Audience: General Reading Level: Elementary/Middle School
Striped Hyena - Hyaena hyaena






Striped hyenas were once found from Great Britain to China.
Source: San Diego Zoo Intended Audience: General Reading Level: Elementary/Middle School
Striped Hyena - Hyaena hyaena







The striped hyena has a brown coat with zebra-like stripes.
Source: Arkive Intended Audience: General Reading Level: Middle School
Striped Hyena - Hyaena hyaena






The striped hyena is a scavenger. It can digest parts of animals that other species can't handle.
Source: The Living Desert Intended Audience: Students Reading Level: Elementary/Middle School
Striped Hyena - Hyaena hyaena






Striped hyenas are found in Northern and Eastern Africa, the Middle East, India, and Asia extending north to the Caucasus and southern Siberia.
Source: Animal Diversity Web Intended Audience: General Reading Level: Middle/High School