Hexanchidae - cow sharks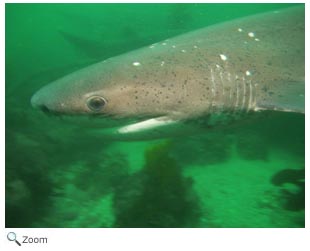 There are four species in this family of sharks. They are found in Atlantic, Indian, and Pacific Oceans, usually in deep water. They are 5-15 feet in length. The have a single dorsal fin placed well down on their backs; an anal fin; and six or seven pairs of gill slits, most shark species only have five gill slits.
The species in this family eat sharks, rays, bony fish, carrion, squid, and crustaceans. Females give birth to live young.
The species in this family include the bluntnose sixgill shark, the big eyed sixgill shark, and the bluntnose sevengill shark.


World Status Key


Least Concern

Near Threatened

Vulnerable

Endangered

Critically Endangered

Extinct in Wild

Extinct
Status taken from ICUN Redlist. If no status is listed, there is not enough data to establish status, or there is no status data for the species.
US Status Key


Threatened in US

Threatened in NH

Endangered in US

Endangered in NH

Introduced
Status taken from US Fish and Wildlife and NH Fish and Game
New Hampshire Species

North/Central American Species

None
Sharpnose Sevengill Shark - Heptranchias perlo
Bluntnose Sixgill Shark - Hexanchus griseus
Bigeyed Sixgill Shark - Hexanchus nakamurai
Broadnose Sevengill Shark - Notorynchus cepedianus
Species Around the World

Location Key
Africa Asia Australia/Oceania Europe North/Central America South America NH Species
Atlantic Ocean Arctic Ocean Indian Ocean Mediterranean/Black Sea Pacific Ocean


Sharpnose Sevengill Shark - Heptranchias perlo
Bluntnose Sixgill Shark - Hexanchus griseus
Bigeyed Sixgill Shark - Hexanchus nakamurai [dd]
Broadnose Sevengill Shark - Notorynchus cepedianus [dd]
Additional Information
Resource Key


Profile

Photos

Video

Audio

Broadnose Sevengill Shark - Notorynchus cepedianus












In the United States, the broadnose sevengill shark is found off the coasts of California, Oregon, and Washington.
Source: Arkive Intended Audience: General Reading Level: Middle School
Broadnose Sevengill Shark - Notorynchus cepedianus












Broadnose sevengill sharks have been known to hunt in packs for seals.
Source: Monterey Bay Aquarium Intended Audience: General Reading Level: Middle School
Broadnose Sevengill Shark - Notorynchus cepedianus












The broadnose sevengill shark has a broad head, small eyes, and a short, blunt snout.
Source: Florida Museum of Natural History Intended Audience: General Reading Level: High School
Sharpnose Sevengill Shark - Heptranchias perlo














In the United States, the sharpnose sevengill shark is found off the coasts of Alabama, Florida, Louisiana, Mississippi, and Texas.
Source: Arkive Intended Audience: General Reading Level: Middle School

Bluntnose Sixgill Shark - Hexanchus griseus















In the United States, the bluntnose sixgill shark is found off the coasts of California, Oregon, and Washington.
Source: Arkive Intended Audience: General Reading Level: Middle School