Herpestidae - mongooses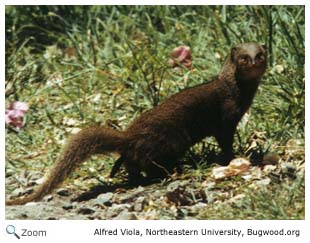 There are 34 species in this family. They are native to Africa and Asia, but they have been introduced all over the world. Mongooses have long bodies; small heads; pointed snouts; short, rounded ears; and long tails. Most species are gray or brown.
Most species in this family eat small mammals, birds, reptiles, eggs, and insects. They strike their prey quickly and are well-known for their ability to kill poisonous snakes without getting bitten.
The species in this family are found in a wide variety of habitats from forests to deserts. Some species live in colonies, other species are more solitary. Some species in this family are semi-aquatic and other species are at home in trees.
The Indian mongoose was introduced in Hawaii in 1883 in an attempt to kill the rats that were eating the sugar cane crops. Unfortunately, the Indian mongoose hunts during the day and the rats come out at night! Today, the Indian mongoose preys on native Hawaiian animals, especially birds.
World Status Key


Least Concern

Near Threatened

Vulnerable

Endangered

Critically Endangered

Extinct in Wild

Extinct
Status taken from ICUN Redlist. If no status is listed, there is not enough data to establish status, or there is no status data for the species.
US Status Key


Threatened in US

Threatened in NH

Endangered in US

Endangered in NH

Introduced
Status taken from US Fish and Wildlife and NH Fish and Game
| | | |
| --- | --- | --- |
| New Hampshire Species | | North/Central American Species |
| None | | Indian Mongoose - Herpestes javanicus |
Species Around the World

Location Key
Africa Asia Australia/Oceania Europe North/Central America South America NH Species


Marsh Mongoose - Atilax paludinosus
Bushy-tailed Mongoose - Bdeogale crassicauda
Jackson's Mongoose - Bdeogale jacksoni
Black-footed Mogoose - Bdeogale nigripes
Sokoke Bushy-tailed Mongoose - Bdeogale omnivora
Alexander's Cusimanse - Crossarchus alexandri
Ansorge's Cusimanse - Crossarchus ansorgei
Common Cusimanse - Crossarchus obscurus
Cameroon Cusimanse - Crossarchus platycephalus
Yellow Mongoose - Cynictis penicillata
Pousargues' Mongoose - Dologale dybowskii
Somali Dwarf Mongoose - Helogale hirtula
Common Dwarf Mongoose - Helogale parvula
Short-tailed Mongoose - Herpestes brachyurus
Indian Gray Mongoose - Herpestes edwardsii
Kaokoveld Slender Mongoose - Herpestes flavescens
Indian Brown Mongoose - Herpestes fuscus


Egyptian Mongoose - Herpestes ichneumon
Indian Mongoose - Herpestes javanicus
Long-nosed Mongoose - Herpestes naso
Somali Slender Mongoose - Herpestes ochraceus
Cape Gray Mongoose - Herpestes pulverulentus
Slender Mongoose - Herpestes sanguineus
Collared Mongoose - Herpestes semitorquatus
Ruddy Mongoose - Herpestes smithii
Crab-eating Mongoose - Herpestes urva
Stripe-necked Mongoose - Herpestes vitticollis
White-tailed Mongoose - Ichneumia albicauda
Liberian Mongoose - Liberiictis kuhni
Gambian Mongoose - Mungos gambianus
Banded Mongoose - Mungos mungo
Selous' Mongoose - Paracynictis selousi
Meller's Mongoose - Rhynchogale melleri
Meerkat - Suricata suricatta
Additional Information
Resource Key


Profile

Photos

Video

Audio
Mongoose



Mongoose are known to break open bird eggs by throwing them at a solid object.
Source: National Geographic Intended Audience: General Reading Level: Middle School
Mongoose



The mongoose uses its sharp claws to dig burrows.
Source: Enchanted Learning Intended Audience: Students Reading Level: Elementary School
Banded Mongoose - Mungos mungo





The banded mongoose is found in Angola, Botswana, Burkina Faso, Burundi, Cameroon, Central African Republic, Chad, Congo, Côte d'Ivoire, Eritrea, Ethiopia, Gabon, Gambia, Guinea, Guinea-Bissau, Kenya, Malawi, Mali, Mozambique, Namibia, Nigeria, Rwanda, Senegal, Somalia, South Africa, Sudan, Swaziland, Tanzania, Uganda, Zambia, and Zimbabwe.
Source: Arkive Intended Audience: General Reading Level: Middle School
Banded Mongoose - Mungos mungo





The banded mongoose is 12 to 16 inches long and has an eight-inch tail.
Source: National Zoo Intended Audience: General Reading Level: Middle School
Common Dwarf Mongoose - Helogale parvula





The common dwarf mongoose is found in Angola, Botswana, Congo, Ethiopia, Gambia, Kenya, Malawi, Mozambique, Namibia, Somalia, South Africa, Sudan, Swaziland, Tanzania, Uganda, and Zambia.
Source: Arkive Intended Audience: General Reading Level: Middle School
Common Dwarf Mongoose - Helogale parvula





The common dwarf mongoose is the smallest species of mongoose found in Africa.
Source: African Wildlife Foundation Intended Audience: General Reading Level: Middle School
Common Dwarf Mongoose - Helogale parvula





Dwarf mongooses live in groups of 12 to 15 individuals.
Source: Oregon Zoo Intended Audience: General Reading Level: Middle School
Egyptian Mongoose - Herpestes ichneumon






The Egyptian mongoose is found in Angola, Benin, Botswana, Burkina Faso, Burundi, Cameroon, Central African Republic, Chad, Congo, Côte d'Ivoire, Egypt, Eritrea, Ethiopia, Gabon, Gambia, Ghana, Guinea, Guinea-Bissau, Israel, Jordan, Kenya, Lebanon, Liberia, Libya, Malawi, Mali, Mauritania, Mozambique, Namibia, Niger, Nigeria, Rwanda, Senegal, Sierra Leone, Somalia, South Africa, Sudan, Syria, Tanzania, Togo, Turkey, Uganda, Western Sahara, Zambia, and Zimbabwe.
Source: Arkive Intended Audience: General Reading Level: Middle School
Indian Brown Mongoose - Herpestes fuscus




The Indian brown mongoose is found in India, and Sri Lanka.
Source: Arkive Intended Audience: General Reading Level: Middle School
Indian Gray Mongoose - Herpestes edwardsii







The Indian gray mongoose is found in Afghanistan, Bahrain, Bhutan, India, Indonesia, Iran, Kuwait, Malaysia, Mauritius , Nepal, Pakistan, Saudi Arabia, and Sri Lanka.
Source: Arkive Intended Audience: General Reading Level: Middle School
Jackson's Mongoose - Bdeogale jacksoni




Jackson's mongoose is found in Kenya, Tanzania, and Uganda.
Source: Arkive Intended Audience: General Reading Level: Middle School
Liberian Mongoose - Liberiictis kuhni




The Liberian mongoose is found in Côte d'Ivoire and Liberia.
Source: Arkive Intended Audience: General Reading Level: Middle School
Meerkat - Suricata suricatta






The meerkat is found in Angola, Botswana, Namibia, and South Africa.
Source: Arkive Intended Audience: General Reading Level: Middle School
Meerkat - Suricata suricatta





Meerkats usually live in burrows dug by other animals.
Source: San Diego Zoo Intended Audience: General Reading Level: Middle School
Meerkat - Suricata suricatta





Meerkats are the size of a squirrel.
Source: Enchanted Learning Intended Audience: Students Reading Level: Elementary School
White-tailed Mongoose - Ichneumia albicauda







The white-tailed mongoose is found in Angola, Benin, Botswana, Burkina Faso, Cameroon, Central African Republic, Chad, Congo, Côte d'Ivoire, Djibouti, Egypt, Eritrea, Ethiopia, Gambia, Ghana, Guinea, Guinea-Bissau, Kenya, Malawi, Mali, Mozambique, Namibia, Niger, Nigeria, Oman, Saudi Arabia, Senegal, Sierra Leone, Somalia, South Africa, Sudan, Swaziland, Uganda, Yemen, Zambia, and Zimbabwe.
Source: Arkive Intended Audience: General Reading Level: Middle School