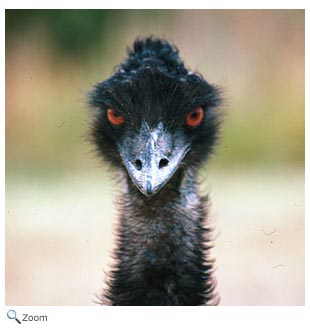 Emus are large, flightless, ostrich-like birds. They are the largest bird found in Australia and the second largest bird in the world. They are around 6 feet tall and can run at speeds of up to 30 miles per hours.

Emus are found in a variety of habitats including dry plains and lightly forested woodlands. Emus have powerful legs, long necks, round heads, small wings, and shaggy gray feathers.

Emus move from place to place in search of food. They eat insects, grass, leaves, berries, flowers, fruit, and seeds.

The female emu lays 5-20 eggs in a nest on the ground. The male incubates the eggs for 8-10 weeks and raises the chicks. The chicks may stay with their father for up to two years.

Dromaiidae Photo Gallery
World Status Key


Least Concern

Near Threatened

Vulnerable

Endangered

Critically Endangered

Extinct in Wild

Extinct
Status and range is taken from ICUN Redlist. If no status is listed, there is not enough data to establish status.
US Status Key


Threatened in US

Threatened in NH

Endangered in US

Endangered in NH

Introduced
Status taken from US Fish and Wildlife and NH Fish and Game
| | | |
| --- | --- | --- |
| New Hampshire Species | | North/Central American Species |
| None | | None |
Other Species Around the World

Africa Asia Australia/Oceania Europe North/Central America South America NH Species

King Island Emu - Dromaius ater
Kangaroo Island Emu - Dromaius baudinianus
Emu - Dromaius novaehollandiae

Additional Information
Key:

Profile

Photos

Video

Audio
Emu - Dromaius novaehollandiae






The emu is an omnivore.
Source: Arkive Intended Audience: General Reading Level: Middle School
Emu - Dromaius novaehollandiae





The emu has tiny wings.
Source: Animal Diversity Web Intended Audience: General Reading Level: Middle School