BIRDS SEEN IN COUNTING ON BIRDS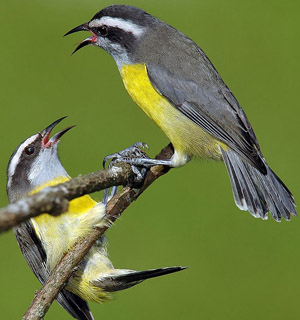 COUNTING ON BIRDS featured birds found in New Hampshire, Ecuador, and Cuba.
Below you will find audio of the calls and songs of the birds featured in COUNTING ON BIRDS along with images of the birds. In some cases, you will find a link that will take you to an exapnded profile of the birds featured in the program.
World Status Key
Least Concern Near Threatened Vulnerable Endangered Critically Endangered Extinct in the Wild Extinct
Status and range is taken from ICUN Redlist. If no status is listed, there is not enough data to establish status.

US Status Key
Threatened in US Threatened in NH Endangered in US Endangered in NH Introduced Breeds in NH (Birds)
Status taken from US Fish and Wildlife and NH Fish and Game

Location
Africa Asia Australia/Oceania Europe North America South America NH Click for More Info Click for Image

Species

Sounds

Location

American Goldfinch - Spinus tristis
New Hampshire
Audio Credit: xeno-canto.org Andrew Spencer
American Tree Sparrow - Spizelloides arborea

New Hampshire
Audio Credit: xeno-canto.org Allen T. Chartier
Tufted Titmouse - Baeolophus bicolor

New Hampshire
Audio Credit: xeno-canto.org Paul Marvin
Cedar Waxwing - Bombycilla cedrorum

New Hampshire, Cuba
Audio Credit: xeno-canto.org Tayler Brooks
Black-capped Chickadee - Parus atricapillus

New Hampshire
Audio Credit: xeno-canto.org Andrew Spencer
Bald Eagle - Haliaeetus leucocephalus

New Hampshire
Audio Credit: xeno-canto.org Jon King
Mallard -Anas platyrhynchos

New Hampshire, Cuba

Audio Credit: xeno-canto.org Allen T. Chartier
Downy Woodpecker - Picoides pubescens

New Hampshire
Audio Credit: xeno-canto.org Mike Nelson
Rufous Motmot - Baryphthengus martii

Ecuador
Audio Credit: xeno-canto.org Sebastian K. Herzog
Cuban Pygmy-owl - Glaucidium siju

Cuba
Audio Credit: xeno-canto.org John King
Cuban Trogon - Priotelus temnurus

Cuba
Audio Credit: xeno-canto.org Laura Gooch
Cuban Green Woodpecker - Xiphidiopicus percussus

Cuba
Audio Credit: xeno-canto.org Gerard Gorman
Common Merganser - Mergus merganser

New Hampshire
Audio Credit: xeno-canto.org Laura Gooch
Common Redpoll - Carduelis flammea

New Hampshire
Audio Credit: xeno-canto.org Tony Whitheead
Blue Jay - Cyanocitta cristata

New Hampshire
Audio Credit: xeno-canto.org Chris Parrish
Gray Jay - Perisoreus canadensis

New Hampshire
Audio Credit: xeno-canto.org Andrew Spencer
Eastern Bluebird - Sialia sialis

New Hampshire
Audio Credit: xeno-canto.org Stuart Fisher
Pine Grosbeak - Pinicola enucleator

New Hampshire
Audio Credit: xeno-canto.org Andrew Spencer
Common Loon - Gavia immer

New Hampshire
Audio Credit: xeno-canto.org Todd Wilson
Bobolink - Dolichonyx oryzivorus

New Hampshire
Audio Credit: xeno-canto.org Andrew Spencer
Northern Cardinal - Cardinalis cardinalis

New Hampshire
Audio Credit: xeno-canto.org Allen T. Chartier
Wood Duck -Aix sponsa

New Hampshire, Cuba
Audio Credit: xeno-canto.org Robin Carter
Broad-winged Hawk - Buteo platypterus

New Hampshire, Cuba, Ecuador
Audio Credit: xeno-canto.org Allen Creek
Dark-eyed Junco - Junco hyemalis

New Hampshire
Audio Credit: xeno-canto.org Andrew Spencer
Mourning Dove - Zenaida macroura

New Hampshire, Cuba
Audio Credit: xeno-canto.org Andrew Spencer
Orange-billed Sparrow - Arremon aurantiirostris

Ecuador
Audio Credit: xeno-canto.org Scoot Olmstead

Plate-billed Mountain-toucan -

Andigena laminirostris

Ecuador
Audio Credit: xeno-canto.org Andrew Spencer
Black-mandibled Toucan - Ramphastos ambiguus

Ecuador
Audio Credit: xeno-canto.org Sander Bot
Club-winged Manakin - Machaeropterus deliciosus

Ecuador
Audio Credit: xeno-canto.org Eric Defonso
Golden-winged Manakin - Masius chrysopterus

Ecuador
Audio Credit: xeno-canto.org Andrew Spencer

Crimson-rumped Toucanet

- Aulacorhynchus haematopygus

Ecuador
Audio Credit: xeno-canto.org Mauricio Álvarez Rebolledo
Orange-bellied Euphonia - Euphonia xanthogaster

Ecuador
Audio Credit: xeno-canto.org Leonardo Pimentel
Bananquit - Coereba flaveola

Ecuador
Audio Credit: xeno-canto.org Oswaldo Cortes
Palm Tanager - Thraupis palmarum

Ecuador
Audio Credit: xeno-canto.org Oscar Laverde
Red-breasted Nuthatch - Sitta canadensis

New Hampshire
Audio Credit: xeno-canto.org Andrew Spencer
Bee Hummingbird- Mellisuga helenae

Cuba
Audio Credit: xeno-canto.org William Adsett
Cuban Pygmy-owl - Glaucidium siju

Cuba
Audio Credit: xeno-canto.org John King
Green Heron - Butorides virescens

New Hampshire, Cuba
Audio Credit: xeno-canto.org Chris Parrish
Cuban Amazon - Amazona leucocephala

Cuba
Audio Credit: xeno-canto.org Laura Gooch
Cuban Trogon - Priotelus temnurus

Cuba
Audio Credit: xeno-canto.org Laura Gooch
Cuban Black Hawk - Buteogallus gundlachii

Cuba

Audio Credit: xeno-canto.org Laura Gooch
Cattle Egret- Bubulcus ibis

New Hampshire, Cuba, Ecuador
Audio Credit: xeno-canto.org Miguel Angel Roda
White Ibis - Eudocimus albus

Cuba, Ecuador
Audio Credit: xeno-canto.org Doug Knapp
Cuban Green Woodpecker - Xiphidiopicus percussus

Cuba
Audio Credit: xeno-canto.org Gerard Gorman
Prairie Warbler - Dendroica discolor

New Hampshire, Cuba
Audio Credit: xeno-canto.org Mike Nelson
Eastern Meadowlark - Sturnella magna

New Hampshire, Cuba
Audio Credit: xeno-canto.org Alexandre Renaudierr
Cuban Tody - Todus multicolor

Cuba
Audio Credit: xeno-canto.org Laura Gooch
Olive-capped Warbler - Dendroica pityophila

Cuba
Audio Credit: xeno-canto.org Scott Connop

Yellow-headed Warbler - Teretistris fernandinae

Cuba
Audio Credit: xeno-canto.org William Adsett
Northern Flicker - Colaptes auratus

New Hampshire, Cuba
Audio Credit: xeno-canto.org Paul Jaszczak
Cuban Sparrow - Torreornis inexpectata

Cuba
Audio Credit: xeno-canto.org Desmond Allen
Cuban Nightjar - Caprimulgus cubanensis

Cuba
Audio Credit: xeno-canto.org WScott Connop
Mangrove Cuckoo - Coccyzus minor

Cuba
Audio Credit: xeno-canto.org Jesse Fagan
Cuban Gnatcatcher - Polioptila lembeyei

Cuba
Audio Credit: xeno-canto.org Laura Gooch
Great Lizard-cuckoo - Coccyzus merlini

Cuba
Audio Credit: xeno-canto.org William Adsett
Black-necked Stilt - Himantopus mexicanus

Cuba

Audio Credit: xeno-canto.org Myriam Velazquez