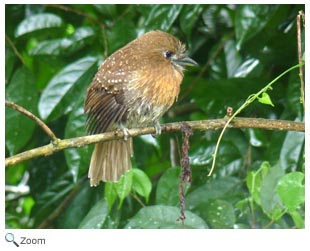 There are 35 species in this family. They are found from Mexico to South America.

Puffbirds are tropical birds, but they are not brightly colored. They are usually brown or gray. They get their name because their loosely packed feathers make them look puffy.

Puffbirds have large heads and flattened bills with a hooked tip. They eat insects and small invertebrates. they range in size from 5-11.5 inches.

Puffbirds lay their eggs in a hole in the ground.

Bucconidae Photo Gallery
World Status Key


Least Concern

Near Threatened

Vulnerable

Endangered

Critically Endangered

Extinct in Wild

Extinct
Status and range is taken from ICUN Redlist. If no status is listed, there is not enough data to establish status.
US Status Key


Threatened in US

Threatened in NH

Endangered in US

Endangered in NH

Introduced
Status taken from US Fish and Wildlife and NH Fish and Game
New Hampshire Species

North/Central American Species

None



White-fronted Nunbird - Monasa morphoeus
Gray-cheeked Nunlet - Nonnula frontalis
White-necked Puffbird - Notharchus hyperrhynchus
Black-breasted Puffbird - Notharchus pectoralis
Pied Puffbird - Notharchus tectus
Barred Puffbird - Nystalus radiatus

North/Central American Species

White-whiskered Puffbird - Malacoptila panamensis
Lanceolated Monklet - Micromonacha lanceolata
Species Around the World

Africa Asia Australia/Oceania Europe North/Central America South America NH Species

Collared Puffbird - Bucco capensis
Chestnut-capped Puffbird - Bucco macrodactylus
Sooty-capped Puffbird - Bucco noanamae
Spotted Puffbird - Bucco tamatia
Swallow-winged Puffbird- Chelidoptera tenebrosa
White-faced Nunbird - Hapaloptila castanea
Russet-throated Puffbird - Hypnelus ruficollis
Black-streaked Puffbird - Malacoptila fulvogularis
White-chested Puffbird - Malacoptila fusca
Moustached Puffbird - Malacoptila mystacalis
White-whiskered Puffbird - Malacoptila panamensis
Rufous-necked Puffbird - Malacoptila rufa
Semicollared Puffbird - Malacoptila semicincta
Crescent-chested Puffbird - Malacoptila striata
Lanceolated Monklet - Micromonacha lanceolata
Black Nunbird - Monasa atra
Yellow-billed Nunbird - Monasa flavirostris
White-fronted Nunbird - Monasa morphoeus

Black-fronted Nunbird - Monasa nigrifrons
Chestnut-headed Nunlet - Nonnula amaurocephala
Brown Nunlet - Nonnula brunnea
Gray-cheeked Nunlet - Nonnula frontalis
Rusty-breasted Nunlet - Nonnula rubecula
Rufous-capped Nunlet - Nonnula ruficapilla
Fulvous-chinned Nunlet - Nonnula sclateri
White-necked Puffbird-Notharchus hyperrhynchus
Guianan Puffbird - Notharchus macrorhynchos
Brown-banded Puffbird - Notharchus ordii
Black-breasted Puffbird - Notharchus pectoralis
Buff-bellied Puffbird - Notharchus swainsoni
Pied Puffbird - Notharchus tectus
White-eared Puffbird - Nystalus chacuru
Spot-backed Puffbird - Nystalus maculatus
Barred Puffbird - Nystalus radiatus
Striolated Puffbird - Nystalus striolatus
Additional Information
Key:

Profile

Photos

Video

Audio
Barred Puffbird - Nystalus radiatus







The barred puffbird is found in Colombia, Ecuador, and Panama.
Source: Internet Bird Collection Intended Audience: General Reading Level: Middle School
Black-breasted Puffbird - Notharchus pectoralis







The black-breasted puffbird is found in Colombia, Ecuador, and Panama.
Source: Internet Bird Collection Intended Audience: General Reading Level: Middle School
Black Nunbird - Monasa atra






The black nunbird is found in Brazil, French Guiana, Guyana, Suriname, and Venezuela.
Source: Internet Bird Collection Intended Audience: General Reading Level: Middle School
Black Nunbird - Monasa atra





The black nunbird is black with white to gray edges on its wings.
Source: Birds of South America Intended Audience: General Reading Level: Middle School
Black-fronted Nunbird - Monasa nigrifrons






The black-fronted nunbird is found in Bolivia, Brazil, Colombia, Ecuador, and Peru.
Source: Internet Bird Collection Intended Audience: General Reading Level: Middle School
Black-fronted Nunbird - Monasa nigrifrons





The black-fronted nunbird is the largest member of the puffbird family.
Source: Birds of South America Intended Audience: General Reading Level: Middle School
Black-streaked Puffbird - Malacoptila fulvogularis






The black-streaked puffbird is found in Bolivia, Colombia, Ecuador, and Peru.
Source: Internet Bird Collection Intended Audience: General Reading Level: Middle School
Brown-banded Puffbird - Notharchus ordii






The brown-banded puffbird is found in Bolivia, Brazil, Colombia, Peru, and Venezuela.
Source: Internet Bird Collection Intended Audience: General Reading Level: Middle School
Brown-banded Puffbird - Notharchus ordii





The brown-banded puffbird is found in Bolivia, Brazil, Colombia, Peru, and Venezuela.
Source: South American Birds Intended Audience: General Reading Level: Middle School
Brown Nunlet - Nonnula brunnea





The brown nunlet is found in Colombia, Ecuador, and Peru.
Source: Internet Bird Collection Intended Audience: General Reading Level: Middle School
Buff-bellied Puffbird - Notharchus swainsoni






The buff-bellied puffbird has a rusty-red breast, a black cap and a white throat.
Source: Internet Bird Collection Intended Audience: General Reading Level: Middle School
Buff-bellied Puffbird - Notharchus swainsoni





The buff-bellied puffbird is found in Argentina, Brazil, and Paraguay.
Source: South American Birds Intended Audience: General Reading Level: Middle School
Chestnut-capped Puffbird - Bucco macrodactylus





The chestnut-capped puffbird is found in Bolivia, Brazil, Colombia, Ecuador, Peru, and Venezuela.
Source: Internet Bird Collection Intended Audience: General Reading Level: Middle School
Chestnut-capped Puffbird - Bucco macrodactylus





The chestnut-capped puffbird has an reddish-orange cap and a white eye-stripe.
Source: Internet Bird Collection Intended Audience: General Reading Level: Middle School
Collared Puffbird - Bucco capensis






The collared puffbird is found in Bolivia, Brazil, Colombia, Ecuador, French Guiana, Guyana, Peru, Suriname, and Venezuela.
Source: Internet Bird Collection Intended Audience: General Reading Level: Middle School
Collared Puffbird - Bucco capensis





The collared puffbird has a bright orange bill and orange feet and eyes.
Source: Birds of South America Intended Audience: General Reading Level: Middle School
Crescent-chested Puffbird - Malacoptila striata






The crescent-chested puffbird is found in Brazil and Colombia .
Source: Internet Bird Collection Intended Audience: General Reading Level: Middle School
Crescent-chested Puffbird - Malacoptila striata





The crescent-chested puffbird is found in the interior of humid forests.
Source: Birds of South America Intended Audience: General Reading Level: Middle School
Gray-cheeked Nunlet - Nonnula frontalis






The gray-cheeked nunlet is found in Colombia and Panama.
Source: Internet Bird Collection Intended Audience: General Reading Level: Middle School
Lanceolated Monklet - Micromonacha lanceolata





The lanceolated monklet is native to Bolivia, Brazil, Colombia, Costa Rica, Ecuador, Panama, and Peru.
Source: Arkive Intended Audience: General Reading Level: Middle School
Lanceolated Monklet - Micromonacha lanceolata







The lanceolated monklet is found in subtropical and tropical forests.
Source: Internet Bird Collection Intended Audience: General Reading Level: Middle School
Moustached Puffbird - Malacoptila mystacalis






The moustached puffbird is found in Colombia and Venezuela.
Source: Internet Bird Collection Intended Audience: General Reading Level: Middle School
Pied Puffbird - Notharchus tectus







The pied puffbird is found in Bolivia, Brazil, Colombia, Costa Rica, Ecuador, French Guiana, Guyana, Panama, Peru, Suriname, and Venezuela.
Source: Internet Bird Collection Intended Audience: General Reading Level: Middle School
Pied Puffbird - Notharchus tectus






At only six inches in length, the pied puffbird is one of the smaller puffbirds.
Source: Birds of South America Intended Audience: General Reading Level: Middle School
Rusty-breasted Nunlet - Nonnula rubecula





The rusty-breasted nunlet is found in Argentina, Brazil, Colombia, Ecuador, French Guiana, Paraguay, Peru, Suriname, and Venezuela.
Source: Birds of South America Intended Audience: General Reading Level: Middle School
Rufous-capped Nunlet - Nonnula ruficapilla





The rufous-capped nunlet is found in Bolivia, Brazil, and Peru.
Source: Internet Bird Collection Intended Audience: General Reading Level: Middle School
Rufous-necked Puffbird - Malacoptila rufa






The rufous-necked puffbird is found in Bolivia, Brazil, and Peru.
Source: Internet Bird Collection Intended Audience: General Reading Level: Middle School
Russet-throated Puffbird - Hypnelus ruficollis





The russet-throated puffbird is found in Colombia and Venezuela.
Source: Internet Bird Collection Intended Audience: General Reading Level: Middle School
Rusty-breasted Nunlet - Nonnula rubecula





The rusty-breasted nunlet is found in Argentina, Brazil, Colombia, Ecuador, French Guiana, Paraguay, Peru, Suriname, and Venezuela.
Source: Internet Bird Collection Intended Audience: General Reading Level: Middle School
Semicollared Puffbird - Malacoptila semicincta




The semicollared puffbird is found in Bolivia, Brazil, and Peru.
Source: Internet Bird Collection Intended Audience: General Reading Level: Middle School
Spot-backed Puffbird - Nystalus maculatus





The spot-backer puffbird is found in Argentina, Bolivia, Brazil, and Paraguay.
Source: Internet Bird Collection Intended Audience: General Reading Level: Middle School
Spot-backed Puffbird - Nystalus maculatus





The spot-backed puffbird builds its nest either by excavating in a bank or on flat ground.
Source: Birds of South America Intended Audience: General Reading Level: Middle School
Spotted Puffbird - Bucco tamatia






The spotted puffbird is found in Bolivia, Brazil, Colombia, Ecuador, French Guiana, Guyana, Peru, Suriname, and Venezuela.
Source: Internet Bird Collection Intended Audience: General Reading Level: Middle School
Spotted Puffbird - Bucco tamatia





The spotted puffbird has a black bill, red eyes, and an orange forehead, throat and upper chest.
Source: Birds of South America Intended Audience: General Reading Level: Middle School
Striolated Puffbird - Nystalus striolatus






The striolated puffbird is found in Bolivia, Brazil, Ecuador, and Peru.
Source: Internet Bird Collection Intended Audience: General Reading Level: Middle School
Striolated Puffbird - Nystalus striolatus





The striolated puffbird is found in forest edges.
Source: Birds of South America Intended Audience: General Reading Level: Middle School
Swallow-winged Puffbird - Chelidoptera tenebrosa






The swallow-winged puffbird is found in Bolivia, Brazil, Colombia, Ecuador, French Guiana, Guyana, Peru, Suriname, and Venezuela.
Source: Internet Bird Collection Intended Audience: General Reading Level: Middle School
Swallow-winged Puffbird - Chelidoptera tenebrosa





The swallow-winged puffbird is usually seen perched on trees by rivers and lakes waiting to capture insects.
Source: Birds of South America Intended Audience: General Reading Level: Middle School
White-chested Puffbird - Malacoptila fusca





The white-chested puffbird is found in Brazil, Colombia, Ecuador, French Guiana, Guyana, Peru, Suriname, and Venezuela.
Source: Internet Bird Collection Intended Audience: General Reading Level: Middle School
White-eared Puffbird - Nystalus chacuru






The white-eared puffbird is found in Argentina, Bolivia, Brazil, Paraguay, and Peru.
Source: Internet Bird Collection Intended Audience: General Reading Level: Middle School
White-eared Puffbird - Nystalus chacuru





The white-eared puffbird has a bright orange-red bill and white patches over its ears.
Source: Birds of South America Intended Audience: General Reading Level: Middle School
White-faced Nunbird - Hapaloptila castanea






The white-faced nunbird is found in Colombia, Ecuador, and Peru.
Source: Internet Bird Collection Intended Audience: General Reading Level: Middle School
White-fronted Nunbird - Monasa morphoeus







The white-fronted nunbird is found in Bolivia, Brazil, Colombia, Costa Rica, Ecuador, Honduras, Nicaragua, Panama, Peru, and Venezuela.
Source: Internet Bird Collection Intended Audience: General Reading Level: Middle School
White-fronted Nunbird - Monasa morphoeus






The white-fronted nunbird is gray to black with a white forehead and chin.
Source: Birds of South America Intended Audience: General Reading Level: Middle School
White-necked Puffbird - Notharchus hyperrhynchus







The white-necked puffbird is found in Belize, Bolivia, Brazil, Colombia, Costa Rica, Ecuador, El Salvador, Guatemala, Honduras, Mexico, Nicaragua, Panama, Peru, and Venezuela.
Source: Internet Bird Collection Intended Audience: General Reading Level: Middle School
White-necked Puffbird - Notharchus hyperrhynchus






The white-necked puffbird has a white forehead and a broad black breast band.
Source: South American Birds Intended Audience: General Reading Level: Middle School
White-whiskered Puffbird - Malacoptila panamensis







The white-whiskered puffbird is found in Belize, Colombia, Costa Rica, Ecuador, Guatemala, Honduras, Mexico, Nicaragua, and Panama.
Source: Internet Bird Collection Intended Audience: General Reading Level: Middle School
Yellow-billed Nunbird - Monasa flavirostris





The yellow-billed nunbird is found in Bolivia, Brazil, Colombia, Ecuador, and Peru.
Source: Internet Bird Collection Intended Audience: General Reading Level: Middle School