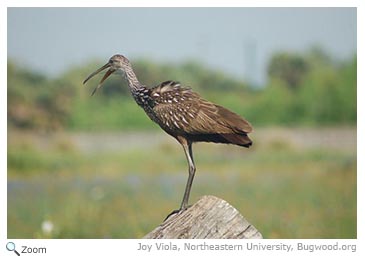 There is one species in this family. The limpkin is found in the Southeastern United States, Mexico, Central and South America, and the Caribbean.

It lives in lakes, swamps, and marshes. It is a little over two feet tall and has long legs and a long bill. It is brown with white spots and streaks. The limpkin hunts at night. A large part of its diet is made up of apple snails, but it also eats frogs, tadpoles, and insects.

Aramidae Photo Gallery
World Status Key


Least Concern

Near Threatened

Vulnerable

Endangered

Critically Endangered

Extinct in Wild

Extinct

Not Enough Data
Status and range is taken from ICUN Redlist.
U.S. Status Key
Threatened in US Endangered in US Introduced
Status taken from US Fish and Wildlife. Click on U.S. status icon to go to the U.S. Fish and Wildlife species profile.
New Hampshire Status Key
Threatened in NH Endangered in NH
Status taken from NH Fish and Game
Location Key


Africa

Asia

Australia/Oceania

Europe

North America

South America

NH

Click for More Info

Click for Image
| | | |
| --- | --- | --- |
| New Hampshire Species | | North/Central American Species |
| None | | Limpkin - Aramus guarauna |
Additional Information
Resource Key


Profile

Photos

Video

Audio

Limpkin - Aramus guarauna







The limpkin feeds almost exclusively on apple snails.
Source: Cornell Lab of Ornithology Intended Audience: General Reading Level: Middle School Teacher Section: Yes
Limpkin - Aramus guarauna






The limpkin looks like a cross between a crane and a rail.
Source: Animal Diversity Web Intended Audience: General Reading Level: Middle School Teacher Section: Yes
Limpkin - Aramus guarauna







The limpkin looks like a cross between a crane and a rail.
Source: Internet Bird Collection Intended Audience: General Reading Level: Middle School Teacher Section: No
Limpkin - Aramus guarauna





The limpkin lives in woody swamps and marshes.
Source: National Zoo Bird Photo Gallery Intended Audience: General Reading Level: N/A Teacher Section: Yes