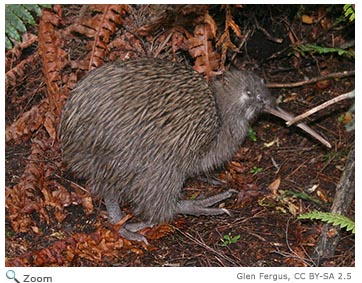 There are five species of stout, chicken-sized birds in this family. All species are found in the forests of New Zealand.
Kiwis have long, flexible bills with nostrils at the tip; small, rounded heads; and small, round eyes. They have soft, shaggy, fur-like, grayish brown feathers; very small wings that are hidden by their feathers; strong legs; and clawed toes on their feet. Unlike most birds, they have very poor eyesight but a good sense of smell!
Kiwis are nocturnal, they use the long rictal bristles at the base of their bill to navigate around in the dark. Kiwis use their long bills to poke in the leaf litter on the forest floor to search for food like worms, insects, crayfish, fruit and berries.
The female lays 1-2 very large eggs in a burrow in the ground and the male incubates them for 70-80 days. The chicks, unlike most birds, don't have an eyetooth and have to kick their way out of their shell with their legs! Kiwi chicks are precocial and feed themselves shortly after birth.
World Status Key


Least Concern

Near Threatened

Vulnerable

Endangered

Critically Endangered

Extinct in Wild

Extinct

Not Enough Data
Status and range is taken from ICUN Redlist.
U.S. Status Key
Threatened in US Endangered in US Introduced
Status taken from US Fish and Wildlife. Click on U.S. status icon to go to the U.S. Fish and Wildlife species profile.
New Hampshire Status Key
Threatened in NH Endangered in NH Breeds in NH (birds)
Status taken from NH Fish and Game
Location Key


Africa

Asia

Australia/Oceania

Europe

North America

South America

NH

Click for More Info

Click for Image
| | | |
| --- | --- | --- |
| New Hampshire Species | | North/Central American Species |
| None | | None |
Other Species Around the World

Great Spotted Kiwi - Apteryx haastii
Little Spotted Kiwi - Apteryx owenii
Northern Brown Kiwi - Apteryx mantelli

Okarito Kiwi - Apteryx rowi
Southern Brown Kiwi - Apteryx australis

Additional Information
Resource Key


Profile

Photos

Video

Audio
Kiwis




The kiwi is New Zealand's national bird. Learn more about this flightless bird!
Source: New Zealand Department of Conservation Intended Audience: General Reading Level: Middle School
Kiwis



The kiwi is the only bird in the world that has nostrils at the tip of its bill.
Source: San Diego Zoo Intended Audience: Students Reading Level: Elementary/Middle School
Kiwis




The total number of kiwis in the wild is around 70,000.
Source: National Zoo Intended Audience: Students Reading Level: Elementary/Middle School
Great Spotted Kiwi - Apteryx haastii






The great spotted kiwi is found on South Island in New Zealand.
Source: Arkive Intended Audience: General Reading Level: Middle School
Great Spotted Kiwi - Apteryx haastii





Great spotted kiwi live in forested mountains from sea level to 4,900 feet.
Source: Save the Kiwi Intended Audience: General/Students Reading Level: Elementary/Middle School
Great Spotted Kiwi - Apteryx haastii





The great spotted kiwi, like other species of kiwi, is nocturnal.
Source: Animal Diversity Web Intended Audience: General Reading Level: Middle School
Great Spotted Kiwi - Apteryx haastii





The great spotted kiwi is also known as the roroa.
Source: Birds of New Zealand Intended Audience: General Reading Level: Middle School
Little Spotted Kiwi - Apteryx owenii





The little spotted kiwi is the smallest kiwi species.
Source: Save the Kiwi Intended Audience: General/Students Reading Level: Elementary/Middle School
Little Spotted Kiwi - Apteryx owenii




The little spotted kiwi is found on Kapiti Island and in remote forests of South Island in New Zealand.
Source: Arkive Intended Audience: General Reading Level: Middle School
Little Spotted Kiwi - Apteryx owenii





The male little spotted kiwi, not the female, tends to the nest during the 70-day incubation period.
Source: Animal Diversity Web Intended Audience: General Reading Level: Middle School
Little Spotted Kiwi - Apteryx owenii






The little spotted kiwi is also known as the Kiwi puku–puku.
Source: Birds of New Zealand Intended Audience: General Reading Level: Middle School
Little Spotted Kiwi - Apteryx owenii





The little spotted kiwi was found in forested areas throughout New Zealand before European settlement.
Source: BirdLife International Intended Audience: General Reading Level: High School
Northern Brown Kiwi - Apteryx mantelli






The northern brown kiwi is also known as the North Island brown kiwi.
Source: Save the Kiwi Intended Audience: General/Students Reading Level: Elementary/Middle School
Northern Brown Kiwi - Apteryx mantelli





The northern brown kiwi was once found throughout the North and northern South Islands of New Zealand.
Source: Save the Kiwi Intended Audience: General/Students Reading Level: Elementary/Middle School
Northern Brown Kiwi - Apteryx mantelli





One of the biggest threats to the northern brown kiwi is introduced predators.
Source: BirdLife International Intended Audience: General Reading Level: High School
Northern Brown Kiwi - Apteryx mantelli





The northern brown kiwi has a thick covering of shaggy hairlike gray-brown feathers.
Source: National Zoo Intended Audience: Students Reading Level: Middle School
Okarito Kiwi - Apteryx rowi





The rowi is only found in the south Okarito forest in west South Island, New Zealand where it is limited to an area of around 6.2 square miles.
Source: Arkive Intended Audience: General Reading Level: Middle School
Okarito Kiwi - Apteryx rowi





The rowi was only identified as a distinct kiwi species in 2003.
Source: Save the Kiwi Intended Audience: General/Students Reading Level: Elementary/Middle School
Southern Brown Kiwi - Apteryx australis






The southern brown kiwi is found on Stewart Island and Fiordland on South Island in New Zealand.
Source: Arkive Intended Audience: General Reading Level: Middle School
Southern Brown Kiwi - Apteryx australis





The southern brown kiwi is found in subtropical and temperate forests and grasslands.
Source: Animal Diversity Web Intended Audience: General Reading Level: Middle School
Southern Brown Kiwi - Apteryx australis





The southern brown kiwi is also known as the Tokoeka.
Source: Save the Kiwi Intended Audience: General/Students Reading Level: Elementary/Middle School
Southern Brown Kiwi - Apteryx australis





The southern brown kiwi population in the wild is around 27,000 individuals.
Source: BirdLife International Intended Audience: General Reading Level: High School
Southern Brown Kiwi - Apteryx australis





Southern brown kiwis live in a variety of habitats, including scrub, sand dunes, grasslands and forests.
Source: Melbourne Museum Intended Audience: Students Reading Level: Elementary School