Alcidae - Auks, Murres, Puffins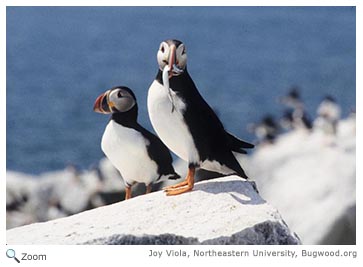 The Alcidae family includes the auks, puffins, and murres. The birds in this family look a lot like penguins. They are black and white and stand upright. Like penguins, they are very good swimmers and divers, but unlike penguins, they can fly.
Auks, murres and puffins have short wings and webbed feet. They live on the open ocean, except during the breeding season. Species in this family are found in the Northern Hemisphere in areas with cold water.
One species in this family, the great auk, is extinct. It once was found in breeding colonies on rocky islands and coasts in the North Atlantic in Canada, Greenland, Iceland, the British Isles, and Scandinavia. In the winter, the great auk migrated as far south as Florida.
The great auk was a little over two feet tall. It was black with a white belly, and it had an oval white patch over its eyes. The great auk was hunted for food and fish bait and for its feathers. The last known pair was killed by collectors in Iceland in 1844.

Alcidae Photo Gallery
World Status Key


Least Concern

Near Threatened

Vulnerable

Endangered

Critically Endangered

Extinct in Wild

Extinct

Not Enough Data
Status and range is taken from ICUN Redlist.

U.S. Status Key


Threatened in US

Endangered in US

Introduced
Status taken from US Fish and Wildlife. Click on U.S. status icon to go to the U.S. Fish and Wildlife species profile.

New Hampshire Status Key


Threatened in NH

Endangered in NH

Breeds in NH (birds)
Status taken from NH Fish and Game
Location Key


Africa

Asia

Australia/Oceania

Europe

North America

South America

NH
More Info


Click for More Info

Click for Image
Resource Key


Profile

Photos

Video

Audio
New Hampshire Species
North/Central American Species
Species Around the World
Additional Information
Ancient Murrelet - Synthliboramphus antiquus







The ancient murrelet breeds on offshore islets of North Pacific and mainland shores south to central British Columbia . It is also found in Asia.
Source: Audubon Guide to North American Birds Intended Audience: General Reading Level: Middle School
Ancient Murrelet - Synthliboramphus antiquus







The ancient murrelet is the only seabird that raises its young entirely at sea.
Source: All About Birds Cornell Lab of Ornithology Intended Audience: General Reading Level: Middle School
Ancient Murrelet - Synthliboramphus antiquus








The ancient murrelet and will often plunge directly from the air into the water to forage for food.
Source: eBird Cornell Lab of Ornithology Intended Audience: General Reading Level: Middle School
Atlantic Puffin - Fratercula arctica










The Atlantic puffin is the only puffin species found in the Atlantic Ocean.
Source: eBird Cornell Lab of Ornithology Intended Audience: General Reading Level: Middle School
Atlantic Puffin - Fratercula arctica









The Atlantic Puffin can live to be more than 30 years old.
Source: All About Birds Cornell Lab of Ornithology Intended Audience: General Reading Level: Middle School
Atlantic Puffin - Fratercula arctica









The Atlantic puffin is sometimes called "sea parrot" because of its colorful bill.
Source: National Geographic Intended Audience: General Reading Level: Middle School
Atlantic Puffin - Fratercula arctica









The Atlantic puffin can dive to depths of 200 feet.
Source: National Geographic Creature Feature Intended Audience: General Reading Level: Elementary School
Atlantic Puffin - Fratercula arctica








When they are feeding their young, Atlantic puffin can carry back as many as 30 fish at a time in their bills
Source: Animal Diversity Web Intended Audience: General Reading Level: Middle School
Atlantic Puffin - Fratercula arctica









Both parents feed nestlings.
Source: Audubon Guide to North American Birds Intended Audience: General Reading Level: Middle School
Atlantic Puffin - Fratercula arctica










Atlantic puffins nest in much smaller colonies than most other alcids.
Source: Audubon Project Puffin Intended Audience: General Reading Level: Middle School
Black Guillemot - Cepphus grylle








The black guillemot has bright red feet.
Source: All About Birds Cornell Lab of Ornithology Intended Audience: General Reading Level: Middle School
Black Guillemot - Cepphus grylle







In North America, the black guillemot breeds on rocky shores, cliffs, and islands on the the on the northern coasts of Alaska on the Pacific Coast, along the northern Arctic coast of Canada, and on the Atlantic coast as far south as Maine. The black guillemot usually winters in its breeding range. It is also found in Europe.
Source: Animal Diversity Web Intended Audience: General Reading Level: Middle School
Cassin's Auklet - Ptychoramphus aleuticus






Cassin's auklet breeds from the Aleutians to central Baja California, Mexico.
Source: Audubon Guide to North American Birds Intended Audience: General Reading Level: Middle School
Cassin's Auklet - Ptychoramphus aleuticus






The Cassin's auklet is the only alcid known to produce two broods in a single breeding season.
Source: All About Birds Cornell Lab of Ornithology Intended Audience: General Reading Level: Middle School
Cassin's Auklet - Ptychoramphus aleuticus







Cassin's auklets feed in flocks and nest in large colonies.
Source: eBird Cornell Lab of Ornithology Intended Audience: General Reading Level: Middle School
Common Murre - Uria aalge










The common murre is also known as the guillemot.
Source: eBird Cornell Lab of Ornithology Intended Audience: General Reading Level: Middle School
Common Murre - Uria aalge








The common murre spends the winter at sea.
Source: All About Birds Cornell Lab of Ornithology Intended Audience: General Reading Level: Middle School
Common Murre - Uria aalge









The common murre is found in both the Atlantic and Pacific Oceans.
Source: Audubon Guide to North American Birds Intended Audience: General Reading Level: Elementary/Middle School
Common Murre - Uria aalge








The common murre nests in large colonies on rocky offshore islands.
Source: Animal Diversity Web Intended Audience: General Reading Level: Middle School
Craveri's Murrelet - Synthliboramphus craveri







Craveri's murrelet is found along the Pacific coast of California and Mexico.
Source: eBird Cornell Lab of Ornithology Intended Audience: General Reading Level: Middle School
Craveri's Murrelet - Synthliboramphus craveri




Cats and rats are probably the greatest threat to Craveri's murrelet.
Source: BirdLife International Intended Audience: General Reading Level: High School
Craveri's Murrelet - Synthliboramphus craveri





At about nine inches in length, Craveri's murrelet is the smallest species of murrelet.
Source: Audubon Guide to North American Birds Intended Audience: General Reading Level: Elementary/Middle School
Crested Auklet - Aethia cristatella







The crested auklet breeds in the Aleutians and other islands and coasts around the Bering Sea.
Source: Audubon Guide to North American Birds Intended Audience: General Reading Level: Elementary/Middle School

Crested Auklet - Aethia cristatella








The crested auklet is slightly larger than a sparrow.
Source: eBird Cornell Lab of Ornithology Intended Audience: General Reading Level: Middle School
Crested Auklet - Aethia cristatella






Crested auklets are monogamous,
Source: Animal Diversity Web Intended Audience: General Reading Level: Middle School
Dovekie - Alle alle










The dovekie is also known as the little auk.
Source: eBird Cornell Lab of Ornithology Intended Audience: General Reading Level: Middle School
Dovekie - Alle alle









The Dovekie breeds along high Arctic coasts. In the winter, it can be found far south as New England.
Source: All About Birds Cornell Lab of Ornithology Intended Audience: General Reading Level: Middle School
Dovekie - Alle alle








The Dovekie is considered by some experts to be the world's most abundant bird.
Source: Audubon Guide to North American Birds Intended Audience: General Reading Level: Middle School
Dovekie - Alle alle








The Dovekie only comes ashore to breed,
Source: Animal Diversity Web Intended Audience: General Reading Level: Middle School
Great Auk - Pinguinus impennis






The last great auk was seen in 1852 off the Newfoundland Banks.
Source: Animal Diversity Web Intended Audience: General Reading Level: Middle School
Great Auk - Pinguinus impennis







The great auk wintered as far south as Florida and southern Spain.
Source: Canadian Museum of Nature Intended Audience: General Reading Level: Elementary School
Horned Puffin - Fratercula corniculata






The horned puffin breeds from northern Alaska south to British Columbia border.
Source: Audubon Guide to North American Birds Intended Audience: General Reading Level: Middle School
Horned Puffin - Fratercula corniculata







The horned puffin nests in rock crevices and cliffs.
Source: All About Birds Cornell Lab of Ornithology Intended Audience: General Reading Level: Middle School
Horned Puffin - Fratercula corniculata








The horned puffin feeds on small fish.
Source: eBird Cornell Lab of Ornithology Intended Audience: General Reading Level: Middle School
Horned Puffin - Fratercula corniculata







The horned puffin is usually not vocal, unless it is theatened.
Source: Animal Diverstiy Web Intended Audience: General Reading Level: Middle School
Japanese Murrelet - Synthliboramphus wumizusume







The Japanese Murrelet is also known as Crested murrelet.
Source: eBird Cornell Lab of Ornithology Intended Audience: General Reading Level: Middle School
Japanese Murrelet - Synthliboramphus wumizusume




The Japanese murrelet breeds on islands off the southern coasts of Japan and South Korea.
Source: BirdLife International Intended Audience: General Reading Level: High School
Kittlitz's Murrelet - Brachyramphus brevirostris








Kittlitz's murrelet is found in the waters off Alaska and Eastern Siberia.
Source: eBird Cornell Lab of Ornithology Intended Audience: General Reading Level: Middle School
Kittlitz's Murrelet - Brachyramphus brevirostris






Kittlitz's murrelet does not breed until until it is two to four years old.
Source: U.S. Fish and Wildlife Intended Audience: General Reading Level: Middle School
Kittlitz's Murrelet - Brachyramphus brevirostris






Kittlitz's murrelet nests on talus slopes of high mountains.
Source: Audubon Guide to North American Birds Intended Audience: General Reading Level: Middle School
Least Auklet - Aethia pusilla







The least auklet breeds on the Aleutians and islands in the Bering Sea.
Source: Audubon Guide to North American Birds Intended Audience: General Reading Level: Middle School
Least Auklet - Aethia pusilla






At a little over 6 inches in length, the least auklet is the smallest species of auklet.
Source: Animal Diversity Web Intended Audience: General Reading Level: Middle School
Least Auklet - Aethia pusilla








The least auklet in large colonies in the summer.
Source: eBird Cornell Lab of Ornithology Intended Audience: General Reading Level: Middle School
Long-billed Murrelet - Brachyramphus perdix





The long-billed murrelet is found in the North Pacific.
Source: Audubon Guide to North American Birds Intended Audience: General Reading Level: Middle School
Long-billed Murrelet - Brachyramphus perdix






In 1996 the long-billed murrelet was recognized as a separate species from the marbled murrelet.
Source: ebird Cornell Lab of Ornithology Intended Audience: General Reading Level: Middle School
Marbled Murrelet - Brachyramphus marmoratus







The marbled murrelet is found in the Pacific Ocean.
Source: eBird Cornell Lab of Ornithology Intended Audience: General Reading Level: Middle School
Marbled Murrelet - Brachyramphus marmoratus






Unlike other birds in this family that nest on rocky outcroppings, the marbled murrelet nests in trees.
Source: All About Birds Cornell Lab of Ornithology Intended Audience: General Reading Level: Middle School
Marbled Murrelet - Brachyramphus marmoratus






The female marbled murrelet lays one egg and both parents take turns incubating it.
Source: Audubon Guide to North American Birds Intended Audience: General Reading Level: Elementary/Middle School
Marbled Murrelet - Brachyramphus marmoratus





The marbled murrelet is a plump, robin-sized seabird.
Source: National Park Service Intended Audience: General Reading Level: Middle School
Parakeet Auklet - Aethia psittacula







The parakeet auklet breeds on Bering Sea islands and nearby coasts.
Source: Audubon Guide to North American Birds Intended Audience: General Reading Level: Elementary/Middle School
Parakeet Auklet - Aethia psittacula







The parakeet auklet has a thick, rounded, upturned red bill.
Source: All About Birds Cornell Lab of Ornithology Intended Audience: General Reading Level: Middle School
Parakeet Auklet - Aethia psittacula








In breeding season, the parakeet auklet has aa long white "whisker" extending down from behind its eyes.
Source: eBird Cornell Lab of Ornithology Intended Audience: General Reading Level: Middle School
Pigeon Guillemot - Cepphus columba








The pigeon guillemot breeds on coasts and islands from southern Alaska south to southern California.
Source: eBird Cornell Lab of Ornithology Intended Audience: General Reading Level: Middle School
Pigeon Guillemot - Cepphus columba







The pigeon guillemot is black with white wing patches and bright red feet.
Source: All About Birds Cornell Lab of Ornithology Intended Audience: General Reading Level: Middle School
Pigeon Guillemot - Cepphus columba







The pigeon guillemot uses it wings and feet to propel itself underwater.
Source: Audubon Guide to North American Birds Intended Audience: General Reading Level: Elementary/Middle School
Razorbill - Alca torda











The razorbill breeds on coastal cliffs and rock stacks in summer.
Source: eBird Cornell Lab of Ornithology Intended Audience: General Reading Level: Middle School
Razorbill - Alca torda










In non -breeding season, the razorbill is found in the waters of the northern Atlantic Ocean,
Source: All About Birds Cornell Lab of Ornithology Intended Audience: General Reading Level: Middle School
Razorbill - Alca torda









Razorbills use their their wings to swim underwater.
Source: Animal Diversity Web Intended Audience: General Reading Level: Middle School
Razorbill - Alca torda









Razorbills don't breed until the are four to six years old.
Source: Maine Department of Inland Fisheries and Wildlife Intended Audience: General Reading Level: Middle School
Razorbill - Alca torda









Razorbills feed mostly on fish, shrimp, and squid.
Source: Audubon Guide to North American Birds Intended Audience: General Reading Level: Elementary/Middle School
Rhinoceros Auklet - Cerorhinca monocerata







The rhinoceros auklet breeds from Aleutians south to central California.
Source: Audubon Guide to North American Birds Intended Audience: General Reading Level: Elementary/Middle School
Rhinoceros Auklet - Cerorhinca monocerata







The rhinoceros auklet is gray with a white belly.
Source: All About Birds Cornell Lab of Ornithology Intended Audience: General Reading Level: Middle School
Rhinoceros Auklet - Cerorhinca monocerata








In breeding season, the rhinoceros auklet has a bright orange-yellow bill with a whitish horn.
Source: eBird Cornell Lab of Ornithology Intended Audience: General Reading Level: Middle School
Spectacled Guillemot - Cepphus carbo







The spectacled guillemot is found on coasts and islands of the north-west Pacific Ocean. It breeds from the Kamchatkan Peninsula, Russia and Sea of Okhotsk to North Korea. It winters in in open ocean waters near its breeding ground south to Japan.
Source: eBird Cornell Lab of Ornithology Intended Audience: General Reading Level: Middle School
Thick-billed Murre - Uria lomvia










The thick-billed murre is also known as the Thick-billed guillemot.
Source: eBird Cornell Lab of Ornithology Intended Audience:General Reading Level: Middle School
Thick-billed Murre - Uria lomvia









The thick-billed murre is found in Arctic waters all across the globe.
Source: All About Birds Cornell Lab of Ornithology Intended Audience: General Reading Level: Middle School
Thick-billed Murre - Uria lomvia









The thick-billed murre is black on its upperside and white on its underside.
Source: Audubon Guide to North American Birds Intended Audience: General Reading Level: Middle School
Thick-billed Murre - Uria lomvia








The thick-billed murre can fly at speeds of up to 75 miles an hour.
Source: Animal Diversity Web Intended Audience: General Reading Level: Middle School
Tufted Puffin - Fratercula cirrhata






The tufted puffin breeds from northern Alaska south to northern California. It is also found in Asia.
Source: Audubon Guide to North American Birds Intended Audience: General Reading Level: Middle School
Tufted Puffin - Fratercula cirrhata







During the breeding season, the tufted puffin is all black except for a white face and long, golden plumes that curl over the back of its head and neck.
Source: All About Birds Cornell Lab of Ornithology Intended Audience: General Reading Level: Middle School
Tufted Puffin - Fratercula cirrhata








The tufted puffin needs a running start to take flight.
Source: eBird Cornell Lab of Ornithology Intended Audience: General Reading Level: Middle School
Tufted Puffin - Fratercula cirrhata






Tufted puffins fly very close the the water and feed by diving under the water catching their prey in their mouths.
Source: Animal Diversity Web Intended Audience: General Reading Level: Middle School
Whiskered Auklet - Aethia pygmaea






In the U.S., the whiskered auklet breeds throughout the Aleutian Islands in Alaska. It winters on the open water. It is also found in Japan and Russia.
Source: Audubon Guide to North American Birds Intended Audience: General Reading Level: Middle School
Whiskered Auklet - Aethia pygmaea








Breeding adult whiskered auklets have ornge bills and white feathers that look like whiskers on their faces.
Source: eBird Cornell Lab of Ornithology Intended Audience: General Reading Level: Middle School
Guadalupe Murrelet - Synthliboramphus hypoleucus





Guadalupe murrelets nest in as few as ten known locations.
Source: Audubon Guide to North American Birds Intended Audience: General Reading Level: Middle School
Guadalupe Murrelet - Synthliboramphus hypoleucus






The Guadalupe murrelet has black upperparts and white underparts.
Source: eBird Cornell Lab of Ornithology Intended Audience: General Reading Level: Middle School
Scripps's Murrelet - Synthliboramphus scrippsi





Scripp's murrelets breed on islands off southern California and Baja California, Mexico.
Source: Audubon Guide to North American Birds Intended Audience: General Reading Level: Middle School
Scripps's Murrelet - Synthliboramphus scrippsi







Scripp's murrelets and Guadalupe murrelets are sometimes groups together as Xantus's murrelet.
Source: eBird Cornell Lab of Ornithology Intended Audience: General Reading Level: Middle School