Tytonidae - Barn Owls, Masked Owls, Grass Owls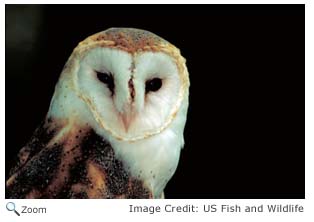 There are 16 species of owl in this family. They are found in most parts of the world, except for Antarctica. They live in a variety of habitats including forests, grasslands, and deserts.
The owls in this family have heart-shaped faces; long, flattened bills; long wings; long, rounded tails; and long legs with powerful talons. Their eyes are smaller than the eyes of the owls in the Strigidae family.
The barn owl is the only species in this family found in the United States. The ashy-faced owl, which was once though to be a barn owl subspecies, is found in Haiti and the Dominican Republic.


Tytonidae Photo Gallery
World Status Key


Least Concern

Near Threatened

Vulnerable

Endangered

Critically Endangered

Extinct in Wild

Extinct

Not Enough Data
Status and range is taken from ICUN Redlist.
U.S. Status Key
Threatened in US Endangered in US
Status taken from US Fish and Wildlife Click on U.S. status icon to go to the U.S. Fish and Wildlife species profile.

New Hampshire Status Key
Threatened in NH Endangered in NH Introduced
Status taken from NH Fish and Game
Location Key


Africa

Asia

Australia/Oceania

Europe

North America

South America

NH

Click for More Info

Click for Image
New Hampshire Species

North/Central American Species

None
Barn Owl - Tyto alba
Ashy-faced Owl - Tyto glaucops
Other Species Around the World

Sri Lanka Bay-owl - Phodilus assimilis
Oriental Bay-owl - Phodilus badius
Congo Bay-owl - Phodilus prigoginei  
Seram Masked-owl - Tyto Almae
Golden Masked-owl - Tyto aurantia
African Grass-owl - Tyto capensis  
Minahasa Golden Owl - Tyto inexspectata  



Eastern Grass-owl -  Tyto longimembris  
Lesser Sooty Owl - Tyto multipunctata
Taliabu Masked-owl -  Tyto nigrobrunnea  
Australian Masked-owl - Tyto novaehollandiae
Sulawesi Masked-owl - Tyto rosenbergii  
Madagascar Red Owl - Tyto soumagnei  
Greater Sooty Owl -  Tyto tenebricosa  
Additional Information

Key:

Profile

Photos

Video

Audio
Barn Owl - Tyto alba











The barn owl is found from British Columbia , North Dakota, Michigan, and southern New England south to South America. It is also found in Europe, Africa, Australia, and Asia.
Source: Cornell Lab of Ornithology Intended Audience: General Reading Level: Middle School Teacher Section: No
Barn Owl - Tyto alba










Most of the barn owl's diet is made up of rodents, especially voles.
Source: National Audubon Society Intended Audience: General Reading Level: Middle School Teacher Section: No
Barn Owl - Tyto alba











Barn owls are nocturnal.
Source: Animal Diversity Web Intended Audience: General Reading Level: Middle School Teacher Section: No
Barn Owl - Tyto alba











Barn owls are nocturnal.
Source: Animal Diversity Web Intended Audience: General Reading Level: Middle School Teacher Section: No
Barn Owl - Tyto alba











Barn owls do not hoot.
Source: Arkive Intended Audience: General Reading Level: Middle School Teacher Section: Yes
Ashy-faced Owl - Tyto glaucops






The ashy-face owl is found in the Dominican Republic and Haiti.
Source: Cornell Lab of Ornithology Neotropical Birds Intended Audience: General Reading Level: Middle School Teacher Section: No
Ashy-faced Owl - Tyto glaucops







The ashy-face owl preys on small mammals and birds. It also eats reptiles, amphibians, and invertebrates.
Source: HBW Alive Intended Audience: General Reading Level: Middle School Teacher Section: No
Sri Lanka Bay-owl - Phodilus assimilis






The Sri Lanka bay-owl is found in India and Sri Lanka.
Source: HBW Alive Intended Audience: General Reading Level: Middle School Teacher Section: No
Oriental Bay-owl - Phodilus badius







The oriental bay-owl is found in Bangladesh, Brunei Darussalam, Cambodia, China, India, Indonesia, Laos, Malaysia, Myanmar, Thailand, and Vietnam.
Source: HBW Alive Intended Audience: General Reading Level: Middle School Teacher Section: No
Oriental Bay-owl - Phodilus badius






The oriental bay-owl has long, feathered legs.
Source: Arkive Intended Audience: General Reading Level: Middle School Teacher Section: Yes
Congo Bay-owl - Phodilus prigoginei





The Congo bay-owl is found in The Democratic Republic of the Congo.
Source: HBW Alive Intended Audience: General Reading Level: Middle School Teacher Section: No
Congo Bay-owl - Phodilus prigoginei




The Congo bay-owl is also known as the African bay-owl.
Source: Arkive Intended Audience: General Reading Level: Middle School Teacher Section: Yes
Seram Masked-owl - Tyto Almae




The Seram bay-owl is found in Indonesia.
Source: HBW Alive Intended Audience: General Reading Level: Middle School Teacher Section: No
Golden Masked-owl - Tyto aurantia






The golden masked-owl is found in Indonesia.
Source: HBW Alive Intended Audience: General Reading Level: Middle School Teacher Section: No
African Grass-owl - Tyto capensis






The African grass-owl is found in Angola, Burundi, Cameroon, Congo, The Democratic Republic of the Congo, Kenya, Lesotho, Malawi, Mozambique, Rwanda, South Africa, Swaziland, Tanzania, Uganda, Zambia, and Zimbabwe.
Source: HBW Alive Intended Audience: General Reading Level: Middle School Teacher Section: No
African Grass-owl - Tyto capensis




The African grass-owl is usually found near bodies of water and unlike most owls, roosts on the ground in tall grass.
Source: Animal Diversity Web Intended Audience: General Reading Level: Middle School Teacher Section: No
Minahasa Golden Owl - Tyto inexspectata






The Minahasa golden owl is found in Indonesia.
Source: HBW Alive Intended Audience: General Reading Level: Middle School Teacher Section: No
Eastern Grass-owl - Tyto longimembris







The eastern grass owl is found in Australia, China, India, Indonesia, Myanmar, Nepal, New Caledonia, Papua New Guinea, Philippines, Taiwan, Thailand, and Vietnam.
Source: HBW Alive Intended Audience: General Reading Level: Middle School Teacher Section: No
Eastern Grass-owl - Tyto longimembris








The eastern grass owl is found in habitats with tall grass.
Source: NSW Office of Environment & Heritage Intended Audience: General Reading Level: Middle School Teacher Section: No
Lesser Sooty Owl - Tyto multipunctata








The lesser sooty owl is found in Australia, Indonesia, and Papua New Guinea.
Source: HBW Alive Intended Audience: General Reading Level: Middle School Teacher Section: No
Taliabu Masked-owl - Tyto nigrobrunnea





The Taliabu masked-owl is found in Indonesia.
Source: HBW Alive Intended Audience: General Reading Level: Middle School Teacher Section: No
Australian Masked-owl - Tyto novaehollandiae








The Australian Masked-owl is found in Australia, Indonesia, and Papua New Guinea.
Source: HBW Alive Intended Audience: General Reading Level: Middle School Teacher Section: No
Australian Masked-owl - Tyto novaehollandiae







The Australian Masked-owl is found is usually found in forests or forest edges.
Source: NSW Office of Environment & Heritage Intended Audience: General Reading Level: Middle School Teacher Section: No
Sulawesi Masked-owl - Tyto rosenbergii






The Sulawesi masked-owl is found in Indonesia.
Source: HBW Alive Intended Audience: General Reading Level: Middle School Teacher Section: No
Madagascar Red Owl - Tyto soumagnei





The Madagascar red owl is found in Madagascar.
Source: HBW Alive Intended Audience: General Reading Level: Middle School Teacher Section: No
Madagascar Red Owl - Tyto soumagnei





The Madagascar red owl's call sounds like a hiss.
Source: Arkive Intended Audience: General Reading Level: Middle School Teacher Section: Yes
Madagascar Red Owl - Tyto soumagnei




The Madagascar red owl is nocturnal.
Source: Animal Diversity Web Intended Audience: General Reading Level: Middle School Teacher Section: No
Greater Sooty Owl - Tyto tenebricosa







The greater sooty owl is found in Australia, Indonesia, and Papua New Guinea.
Source: HBW Alive Intended Audience: General Reading Level: Middle School Teacher Section: No
Greater Sooty Owl - Tyto tenebricosa






The greater sooty owl is nocturnal.
Source: NSW Office of Environment & Heritage Intended Audience: General Reading Level: Middle School Teacher Section: No