Ramphastidae - Toucans, Barbets, Toucanets, Aracaris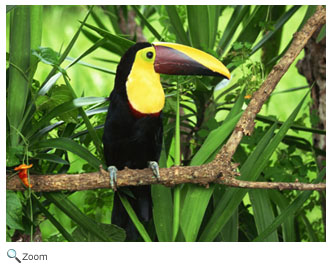 The birds in this family are found in forests in South America, Central America, Africa, and Asia.
Barbets live in forests and eat fruits, nuts and berries, and some insects. They are small, brightly colored birds with large heads and strong bills. Most species are green with some combination of red, blue, and yellow markings.
Toucans are large birds with very large and colorful bills. They eat fruits and berries and may also eat insects, reptiles, and amphibians.




Ramphastidae Photo Gallery
World Status Key


Least Concern

Near Threatened

Vulnerable

Endangered

Critically Endangered

Extinct in Wild

Extinct
Status taken from ICUN Redlist. If no status is listed, there is not enough data to establish status, or there is no status data for the species.
US Status Key


Threatened in US

Threatened in NH

Endangered in US

Endangered in NH

Breeds in NH

Introduced
Status taken from US Fish and Wildlife and NH Fish and Game
New Hampshire Species

North/Central American Species

None
Channel-billed Toucan- Ramphastos vitellinus
Chestnut-mandibled Toucan- Ramphastos swainsonii
Choco Toucan- Ramphastos brevis
Collared Aracari- Pteroglossus torquatus
Emerald Toucanet- Aulacorhynchus prasinus
Fiery-billed Aracari- Pteroglossus frantzii
Keel-billed Toucan- Ramphastos sulfuratus
Prong-billed Barbet- Semnornis frantzii
Red-headed Barbet- Eubucco bourcierii
Spot-crowned Barbet- Capito maculicoronatus
Yellow-eared Toucanet- Selenidera spectabilis
Other Species Around the World

Africa Asia Australia/Oceania Europe North America South America NH

African Green-tinkerbird- Pogoniulus simplex
Anchieta's Barbet- Stactolaema anchietae
Banded Barbet- Lybius undatus
Bearded Barbet- Lybius dubius
Black-backed Barbet- Lybius minor
Black-banded Barbet- Megalaima javensis
Black-billed Barbet- Lybius guifsobalito
Black-billed Mountain- toucan- Andigena nigrirostris
Black-breasted Barbet- Lybius rolleti
Black-browed Barbet- Megalaima oorti
Black-collared Barbet- Lybius torquatus
Black-girdled Barbet- Capito dayi
Black-mandibled Toucan- Ramphastos ambiguus
Black-necked Aracari- Pteroglossus aracari
Black-spotted Barbet- Capito niger
Black-throated Barbet- Tricholaema melanocephala
Blue-banded Toucanet- Aulacorhynchus coeruleicinctis
Blue-eared Barbet- Megalaima australis
Blue-throated Barbet- Megalaima asiatica
Bornean Barbet- Megalaima eximia
Bristle-nosed Barbet- Gymnobucco peli
Brown Barbet- Calorhamphus fuliginosus
Brown-breasted Barbet- Lybius melanopterus
Brown-chested Barbet- Capito brunneipectus
Brown-headed Barbet- Megalaima zeylanica
Brown-throated Barbet- Megalaima corvina
Channel-billed Toucan- Ramphastos vitellinus
Chestnut-eared Aracari- Pteroglossus castanotis
Chestnut-mandibled Toucan- Ramphastos swainsonii
Chestnut-tipped Toucanet- Aulacorhynchus derbianus
Chinese Barbet- Megalaima faber
Choco Toucan- Ramphastos brevis
Collared Aracari- Pteroglossus torquatus
Coppersmith Barbet- Megalaima haemacephala
Crested Barbet- Trachyphonus vaillantii
Crimson-fronted Barbet- Megalaima rubricapillus
Crimson-rumped Toucanet- Aulacorhynchus haematopygus
Curl-crested Aracari- Pteroglossus beauharnaesii
D'Arnaud's Barbet- Trachyphonus darnaudii
Double-toothed Barbet- Lybius bidentatus
Emerald Toucanet- Aulacorhynchus prasinus
Fiery-billed Aracari- Pteroglossus frantzii
Fire-tufted Barbet- Psilopogon pyrolophus
Five-colored Barbet- Capito quinticolor
Flame-fronted Barbet- Megalaima armillaris
Gilded Barbet- Capito auratus
Golden-collared Toucanet- Selenidera reinwardtii
Golden-naped Barbet- Megalaima pulcherrima
Golden-throated Barbet- Megalaima franklinii
Gold-whiskered Barbet- Megalaima chrysopogon
Gould's Toucanet- Selenidera gouldii
Great Barbet- Megalaima virens
Green Aracari- Pteroglossus viridis
Green Barbet- Stactolaema olivacea
Green-eared Barbet- Megalaima faiostricta
Grey-breasted Mountain- toucan- Andigena hypoglauca
Grey-throated Barbet- Gymnobucco bonapartei
Groove-billed Toucanet- Aulacorhynchus sulcatus
Guianan Toucanet- Selenidera piperivora
Hairy-breasted Barbet- Tricholaema hirsuta
Hooded Mountain- toucan- Andigena cucullata
Ivory-billed Aracari- Pteroglossus azara


Keel-billed Toucan- Ramphastos sulfuratus
Lemon-throated Barbet- Eubucco richardsoni
Lettered Aracari- Pteroglossus inscriptus
Lineated Barbet- Megalaima lineata
Many-banded Aracari- Pteroglossus pluricinctus
Miombo Barbet- Tricholaema frontata
Mountain Barbet- Megalaima monticola
Moustached Barbet- Megalaima incognita
Moustached Green- tinkerbird- Pogoniulus leucomystax
Naked-faced Barbet- Gymnobucco calvus
Orange-fronted Barbet- Capito squamatus
Pied Barbet- Tricholaema leucomelas
Plate-billed Mountain- toucan- Andigena laminirostris
Prong-billed Barbet- Semnornis frantzii
Red-and-yellow Barbet- Trachyphonus erythrocephalus
Red-breasted Toucan- Ramphastos dicolorus
Red-crowned Barbet- Megalaima rafflesii
Red-faced Barbet- Lybius rubrifacies
Red-fronted Barbet- Tricholaema diademata
Red-fronted Tinkerbird- Pogoniulus pusillus
Red-headed Barbet- Eubucco bourcierii
Red-necked Aracari- Pteroglossus bitorquatus
Red-rumped Tinkerbird- Pogoniulus atroflavus
Red-throated Barbet- Megalaima mystacophanos
Red-vented Barbet- Megalaima lagrandieri
Saffron Toucanet- Pteroglossus bailloni
Scarlet-banded Barbet- Capito wallacei
Scarlet-crowned Barbet- Capito aurovirens
Scarlet-hooded Barbet- Eubucco tucinkae
Sladen's Barbet- Gymnobucco sladeni
Speckled Tinkerbird- Pogoniulus scolopaceus
Spot-billed Toucanet- Selenidera maculirostris
Spot-crowned Barbet- Capito maculicoronatus
Spot-flanked Barbet- Tricholaema lacrymosa
Taiwan Barbet- Megalaima nuchalis
Tawny- tufted Toucanet- Selenidera nattereri
Toco Toucan- Ramphastos toco
Toucan Barbet- Semnornis ramphastinus
Usambiro Barbet- Trachyphonus usambiro
Versicolored Barbet- Eubucco versicolor
Vieillot's Barbet- Lybius vieilloti
Western Green- tinkerbird- Pogoniulus coryphaeus
White-cheeked Barbet- Megalaima viridis
White-chested Tinkerbird- Pogoniulus makawai  
White-eared Barbet- Stactolaema leucotis
White-headed Barbet- Lybius leucocephalus
White-mantled Barbet- Capito hypoleucus
White-throated Toucan- Ramphastos tucanus
Whyte's Barbet- Stactolaema whytii
Yellow-billed Barbet- Trachyphonus purpuratus
Yellow-breasted Barbet- Trachyphonus margaritatus
Yellow-browed Toucanet- Aulacorhynchus huallagae
Yellow-crowned Barbet- Megalaima henricii
Yellow-eared Toucanet- Selenidera spectabilis
Yellow-fronted Barbet- Megalaima flavifrons
Yellow-fronted Tinkerbird- Pogoniulus chrysoconus
Yellow-rumped Tinkerbird- Pogoniulus bilineatus
Yellow-spotted Barbet- Buccanodon duchaillui
Yellow-throated Tinkerbird- Pogoniulus subsulphureus
Zambian Barbet- Lybius chaplini