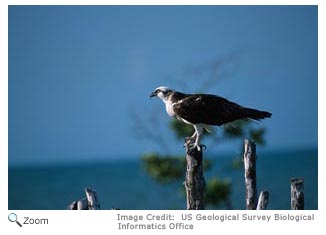 There is one species in this family, the osprey. The osprey is a large bird of prey found on every continent, except Antarctica. It is found on lakes, rivers, and seacoasts where there is shallow water and plenty of fish!
When it locates a fish, it dives feet-first with its talons outstretched straight into the water and grabs its prey. It takes off from the water and adjusts the fish in its talons so the fish is facing head first. This makes the fish more aerodynamic and easier to carry! The osprey then flies to a perch to eat its catch.
World Status Key


Least Concern

Near Threatened

Vulnerable

Endangered

Critically Endangered

Extinct in Wild

Extinct

Not Enough Data
Status and range is taken from ICUN Redlist.
U.S. Status Key
Threatened in US Endangered in US Introduced
Status taken from US Fish and Wildlife. Click on U.S. status icon to go to the U.S. Fish and Wildlife species profile.
New Hampshire Status Key
Threatened in NH Endangered in NH Breeds in NH (birds)
Status taken from NH Fish and Game
Location Key


Africa

Asia

Australia/Oceania

Europe

North America

South America

NH

Click for More Info

Click for Image
| | | |
| --- | --- | --- |
| New Hampshire Species | | North/Central American Species |
| Osprey - Pandion haliaetus | | |
Additional Information
Key:

Profile

Photos

Video

Audio
Osprey - Pandion haliaetus













The osprey is also known as the fish hawk.
Source: Audubon Guide to North American Birds Intended Audience: General Reading Level: Middle School Yes
Osprey - Pandion haliaetus













The osprey is found on all continents except Antarctica.
Source: All About Birds Cornell Lab of Ornithology Intended Audience: General Reading Level: Middle School
Osprey - Pandion haliaetus














The osprey plunges feet first into the water to catch fish.
Source: eBirds Cornell Lab of Ornithology Intended Audience: General Reading Level: Middle School
Osprey - Pandion haliaetus












Ospreys build large stick nests high off the ground.
Source: Animal Diversity Web Intended Audience: General Reading Level: Middle School