NHPBS Is Rooting For Runner Ron Abramson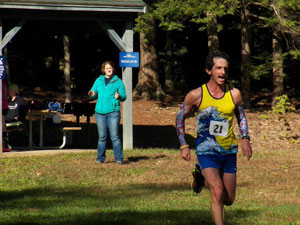 Attorney Ron Abramson, who's on NHPBS's Board of Directors, likes to run. A lot . Having completed over 20 marathons and ultramarathons, having been a marathon pace group leader, and having guided disabled athletes, Ron was ready for a new challenge.
So, on July 19, 2014, Ron will set out on the roads and trails of eastern Vermont to run the Vermont 100 Endurance Race . It's one of the original 100-mile runs in the U.S. and a part of the Grand Slam Series of Ultrarunning. Each year, 300 runners attempt to finish this hilly race under the 30-hour cutoff point.
Ron's run will support four of his favorite causes, including New Hampshire PBS.
Four great causes: the equivalent of four marathons. Run, Ron, Run! We're all rooting for you!
Thanks for your donation to NHPBS and supporting great television and educational services!